« EMT 02/19/17
|
Main
|
Journalist Or Comedian: You Make The Call »
February 19, 2017
Sunday Morning Book Thread 02-19-2017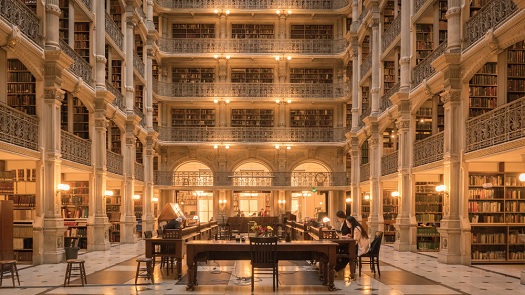 Main Reading Room, George Peabody Library, Baltimore
(h/t Mike Hammer for the Peabody pics)
Good morning to all you 'rons, 'ettes, lurkers, and lurkettes. Welcome once again to the stately, prestigious, internationally acclaimed and high-class Sunday Morning Book Thread, where men are men, all the 'ettes are hotties, safe spaces are underneath your house and are used as protection against actual dangers, like natural disasters, or rioting in the streets, and special snowflakes do not get respect, but instead, a big load of guffaws. And unlike other AoSHQ comment threads, the Sunday Morning Book Thread is so hoity-toity, pants are required. Even if it's these pants, both of which should be taken out and shot.
And welcome back, Vic!

Nothing To See Here, Move Along
The Federalist asks the question, Did The New York Times Deliberately Snub 'Gosnell' Book From Its Bestseller List?
When Gosnell: The Untold Story of America's Most Prolific Serial Killer launched last week, it was No. 3 on Amazon's bestseller list, and took the top slot on the retailer's "Hot New Release" list. Currently, Gosnell is No. 15 on Amazon's "Hot New Release" list, and No. 13 on NYT's "Combined Print & E-Book Nonfiction" list, yet NYT won't include it on its bestseller nonfiction list.
Amazon sales are not the same thing as NY Times sales, which are measured differently. That's why the the best-seller lists are different. On the other hand, the NY Times explanation actually explains nothing:
The Times's best-seller lists are based on a detailed analysis of book sales from a wide range of retailers who provide us with specific and confidential context of their sales each week. These standards are applied consistently, across the board in order to provide Times readers our best assessment of what books are the most broadly popular at that time.
Sounds kind of weasely. And what is "specific and confidential context" supposed to mean?
But regardless, here is the book: Gosnell: The Untold Story of America's Most Prolific Serial Killer by Ann McElhinney and Philem McAleer
When the Grand Jury indicted abortion doctor Dr. Kermit Gosnell in 2011, it wrote: "This case is about a doctor who killed babies... What we mean is that he regularly and illegally delivered live, viable babies in the third trimester of pregnancy—and then murdered these newborns by severing their spinal cords with scissors... Over the years, many people came to know that something was going on here. But no one put a stop to it."
So Gosnell couldn't have done it without help:
The complicit role activist media, social radicals, medical colleagues, and incompetent (politicized) government played in perpetuating his crimes is an indictment of the moral wasteland we're becoming. This is not about equating Gosnell's crime to the horrific actions of Mengele, except to illustrate contemporary society's refusal to learn from the past. If we did care, these blood-curdling crimes against babies would have ended earlier. If we did care, a caring nation would collectively march in the streets demanding answers. Instead, there's muted silence and politicized obfuscation.
Not to mention the national press infamously dismissing it as, well, you know, a "local crime" story:
And here is the disturbing part:
In a sense, you can understand why Gosnell would feel unfairly picked on. Under the system created by Roe and Doe, the worst that can be said of his efforts is that he cut too many corners, was sloppy and fudged some paperwork... As Claremont McKenna College professor Jon A. Shields notes, under Roe and Doe, Gosnell's only "clear legal violation[s]" are "relatively minor ones." Under Pennsylvania law, for instance, an abortionist needs a second opinion from another doctor to perform a third trimester abortion. "Is that failure really a capital crime?" Shields archly asks. "Had Gosnell performed the same late term abortion across the river in Cherry Hill, New Jersey - or in 40 other states - he would not have committed even a procedural offense."
This graf was from Jonah Goldberg's introduction to Blackout: The Gosnell Grand Jury Report the Media Does Not Want You to Read. Kindle edition is $4.99, but you can read it for free (sans Goldberg's intro) here.
You can listen to a short (4 min.), but very worthwhile interview with the authors McAleer and McElhinney here. They're also filming a movie that has been financed entirely by crowd-funding.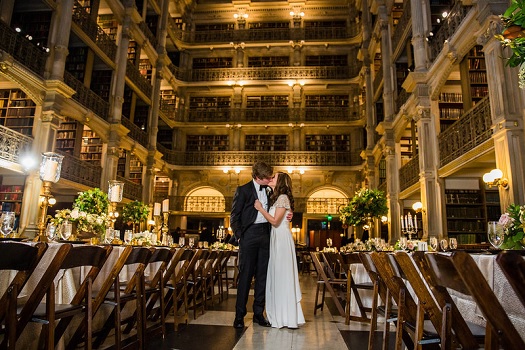 The Peabody Library - Also Good For Weddings

Recommended Reading for Shemp Smith, F. Chuck Todd, Jerry Rivers, Other MSM Snowflakes
I always had doubts that Trump would win. And to be honest, he wasn't my first choice, I wanted Ted Cruz. But we didn't get Cruz. Instead, we got Trump. OK, fine. I'll vote for him. I won't like it, but I will. Anything has to be better than the corrupt, shrieking she-gorgon of Chicago.
Others had more confidence than I did. One of those was internet pundit Don Surber, and he's got not one, but two books on the subject. The first one Trump the Press: Don Surber's take on how the pundits blew the 2016 Republican race came out in July, shortly after PDT won the Republican nomination.
I don't think anyone in the MSM probably read it.
As a group, the MSM are astoundingly un-self-aware and un-self-critical. They spend so much time time patting each other on the back and handing out awards to themselves that they have no idea how they appear to those of us to whom they're trying to sell their product. The difference between who they think they are, and who they actually are, is comically large. Any other profession, when it becomes apparent that something is broken, the members of that profession get together and try to: 1. fix it and 2. take steps to keep it from getting broken again. I know the military does this a lot, especially when they lose a battle. They do extensive analyses of what failed, what went wrong, how it could be improved, and how to avoid getting beat next time.
Now, you'd think that in the face of their massive failures to get the 2016 election right, the MSM would've done something like that. You'd think they would have entered a period of self-reflection, held conferences, consulted with independent experts, etc., in order to understand and correct their mistakes and improve their product. And actually, I did see what I thought was going to be the beginning of this process. In the first week or two after the election, there did appear a sprinkling of "well, we sure screwed the pooch there, didn't we?" articles wherein some in the media tried to confront the endemic problems in their profession (for example, here's one).
But there it stopped. And they doubled down, and then tripled down, on stupid, and they've been cranking out the stupid ever since. It was as if the MSM all looked at each other and said "no, it really isn't our fault after all." They're like a bunch of drunks who sobered up just long enough to realize they've got a serious drinking problem, but realized how hard it would be to actually give up drinking, so they said to hell with it, and started drinking again, only even more heavily than before.
So they're probably not going to want to read Mr. Surber's latest book, Trump the Establishment: The Elitists Never Learned in 2016
From Clinton's questionable activities to the media's inability to grasp the difference between Trump the celebrity and Trump the CEO, Surber shows how Trump challenged and beat the establishment on his own terms. Voters in thirty states chose to dump the status quo in Washington, and Make America Great Again.

Trump won despite Clinton's massive campaign war chest. He won despite overwhelmingly negative news coverage. He won despite losing every debate. He won despite a tumultuous personal and financial past, and still, the elitists don't understand why.

Surber explains why. Just don't expect him to have any sympathy for the elitists and media personalities left adrift and defeated in Trump's passing.

And after all, why should he?
No, they're probably not going to read that one, either. The MSM reminds me of the main character in this new Kindle book, My Safe Space:
Unable to cope with the reality of President Grump, Special Snowflake wishes on a star to enter an alternate reality where everything is the way she wants it to be, with President Zanders in the White House and gluten-free pastries in every Starbucks. But when she wakes up on January 21 and reads on Facebook that the inauguration never happened, that Grump decided to cancel at the last minute, she can't believe her wish came true. That just doesn't happen...right? Special Snowflake begins to question everything and can't decide which is worse: a reality she can't accept or a dream that isn't real.
Truly the dilemma for most of the post-election MSM. The $3.33 Kindle book will be available on March 21st, but can be pre-ordered now.
The MSM needs a sober reassessment of how it reports the news. Without it, what happened at Trump's press conference on Thursday will become the norm.

Amazon Notes
JTB asks:
I noticed a number of posts on various recent threads about people cancelling their Amazon accounts in protest over Bezos' anti-Trump declarations. We wondered if they do that, will they lose the e-books on their Kindles and other devices? I can't find a direct answer. I suspect (only suspect) that books stored on a dedicated e-reader like the Paperwhite can't be reclaimed by Amazon if the internet connection is turned off. But for devices like the Kindle Fire where it is used for more than books, can Amazon reach through the internet connection to take back e-books stored on that device? Will whatever software needed to read Kindle books still function? I have no idea.
I couldn't find a definitive answer, either, so, in the best AoSHQ tradition, I'll make one up. If you want to disassociate from Amazon, then why are you keeping your Kindle? Since (most of) your Kindle books are wrapped in a layer of DRM, I would think that after a while, the Kindle device will want to check in with some Amazon DRM server to verify your Kindle library, only it won't be able to since you've cancelled your account. And then you'll be shut down. Is it possible in this day and age to own a Kindle that *never* talks to the internet and you can only download books to it via a USB cable? If so, perhaps then you'll be able to keep the books indefinitely. But I don't know for sure.
If you want to push Amazon out of your life, my advice would be to finish reading all your Kindle books, then sell your device (after resetting it to factory specs as per the manual), and then never buy another e-book from them. I don't know if "cancelling" your account is really necessary, simply not using it should be good enough. That's what I would do if I no longer wanted to patronize Amazon.
___________
Anna Puma sent me an Amazon link re: publishing your book as a paperback:
We're excited to offer the opportunity to publish paperbacks in addition to Kindle eBooks. We'll be adding even more print-related features in the future, like proof copies, author (wholesale) copies, and expanded distribution to bookstores and non-Amazon websites. CreateSpace still offers these features, and KDP will offer them as well.

Publishing a paperback can help you reach new readers. KDP prints your book on demand and subtracts your printing costs from your royalties, so you don't have to pay any costs upfront or carry any inventory.
All the information to get you started with Kindle Direct Publishing's dead tree option is here.

Books By Morons
Moron jwpaine has put together a collection of his short stories under his pen named Tom Elliot, some previously published in various venues, and has published it on Kindle. Papa Jack & Other Stories can be purchased and downloaded for 99 cents.
This collection of short stories from horror author Tom Elliott includes the title story, told by a young southern woman dealing with an inner demon. Other stories explore: an ailing old woman's relationship with her devoted pet; a hardened mercenary who finds he must now ask people if they "want fries with that"; and a man who travels in bowling balls. Some poetry included.
Sounds like just what you'd want to be reading just before going to bed.
___________
Also available for 99 cents is a story written by another moron, Steve Durchin, Home To Texas: Recollections of a Texas Badman
The adventures of a Texas boy that rides off to the Civil War. Coming home he becomes a Ranger...until he steals a Comanche princess! From the plains to the brothels of New Orleans, Wallace Stevens tries to avoid the label of outlaw while he shoots and seduces his way though Texas and Mexico!
Somebody (JTB?) last week expressed a desire to read more "ripping good yarns." Well, this sounds like it might be one.

___________
Don't forget the AoSHQ reading group on Goodreads. It's meant to support horde writers and to talk about the great books that come up on the book thread. It's called AoSHQ Moron Horde and the link to it is here: https://www.goodreads.com/group/show/175335-aoshq-moron-horde.
___________
So that's all for this week. As always, book thread tips, suggestions, bribes, rumors, threats, and insults may be sent to OregonMuse, Proprietor, AoSHQ Book Thread, at the book thread e-mail address: aoshqbookthread, followed by the 'at' sign, and then 'G' mail, and then dot cee oh emm.
What have you all been reading this week? Hopefully something good, because, as you all know, life is too short to be reading lousy books.

posted by OregonMuse at
08:59 AM
|
Access Comments