« NOAA Whistleblower: NOAA Climate Warrior Rigged Data to "Debunk" Warming Pause That Began in 1998
|
Main
|
The Morning Report 2/8/17 »
February 07, 2017
Tuesday Overnight Open Thread (2/7/17) Not Your Parent's Edition
Quotes of The Day

Quote I
"Children are our most valuable resource."
— Herbert Hoover, 31st President of the United States

Quote II
"A child is a curly dimpled lunatic."
— Ralph Waldo Emerson, poet

Quote III
"It's the greatest poverty to decide that a child must die so that you may live as you wish."
— Mother Teresa, Roman Catholic nun

Quote IV
"Children must be taught how to think, not what to think."
— Margaret Mead, cultural anthropologist

Somewhere along the line, a set of parents let mankind down. Someone needed their mouthwashed out with soap. Oh yeah, that's child abuse.

Furthermore, the village (so loved by the Left) failed as well. NSFW
It must be a lonely life to be that emotionally unstable and hateful.

Don't tell the ONT about killers and fascists. To our knowledge Gavin McInnes has not sentenced anyone to death. But, Iran has.

And there you have it. A doctor is sentenced to death in Iran without a trial and a movie director who's calling the US' actions and leadership comparable to the actions and leadership in his own country.

Caroline Pauwels, headmaster of the VUB is calling for action: "A scientist who is working on important humanitarian work, is sentenced to death without a public trial. This is a severe breach of human rights, one we have to firmly oppose." Let's hope that Farhadi, Madonna, Meryl Streep, and the rest of Hollywood will do the same.
*****
As a child growing up did you have magazines at your home? What did your parents read? What did you read? As a child did you have a subscription or two to a magazine? One of the magazines my Mom subscribed to was Redbook magazine. Once in awhile I would take a look and see what Mom was reading. Never recalled seeing anything like this then. NSFW

OK, it's so bad I can't even blockquote to it.

Definitely not your parent's philosophy class or program.

1.We have had an official climate committee since Spring 2012. The purpose of the climate committee is to identify problems with the climate, e.g., by doing periodic surveys of members of the department, and to formulate policies and recommend steps to solve those problems. The climate committee is not intended to be an investigative body, and it has no authority to apply sanctions. The climate committee chair is appointed by the chair; the committee includes tenured and tenure-track professors, instructors, and graduate students.


7.In the academic year 2016-17, we have 5 rostered instructors (one of whom identifies as female), 3 assistant professors (1 of whom identifies as female), 6 associate professors (1 of whom identifies as female), and 10 full professors (2 of whom identify as female). Among the graduate students, we have 9 MA students (2 of whom identify as female), and 34 PhD students (8 of whom identify as female). Among 24 faculty members, four identify as people of color, and among 43 grad students, 10 identify as people of color.
The ONT would love to see the 1) The average student loan debt for this and 2) Placement results. The ONT is also curious as to what you identify as?

Not your parent's Jesuit university. Milo is not the only person of the Right the Left despises. Ben Shapiro is also on the hate list. He is so hated that Marquette University schemed to keep him away.
The event is tomorrow, Wednesday February 7th. Wonder what will happen? Maybe 'ette Donna V brandishing &&&&&&&& will report to us.

Speaking of Morons. Fixerupper had quite the comment in last night's ONT.


Ampersand privileges extended until February 6, 2018. &&&&&&&&& Don't abuse them. For what Ace giveth, Ace can taketh away.

As a child, my father took your humble Cob camping. One of the top lessons learned was to leave your site better than when you found it. Not your parent's kind of campsite. F*cking pigs.

"It's unfortunate," one man said. "It goes against what they're fighting against — leaving that stuff and abandoning it."

One hundred people have been helping to clean up the mess. Locals think it will take "weeks" to get rid of all the waste. They're being forced to chip away at snow and ice that has been buried by the protesters.

Churches and locals are picking through the unused food, and they plan to repurpose the blankets and tents.

Foul mouthed? Yes, they are. Pigs? Yes, they are. Selfish and completely self-centered? Yes, they are.

...the police in Connecticut should have acted faster and been a lot more forceful with this protester when he pulled this. At a protest this weekend in New Haven, Connecticut, around 5 pm, protesters filled Route 34, blocking traffic. This time, there was an ambulance with a critically ill person inside. They kept it from getting to the hospital and the EMTs had to perform life saving measures on the spot so they wouldn't lose the patient. The primary instigator was one man who stood in front of the ambulance and would not move even when police asked him to. As they guided him away, he shoved police and charged back in front of the ambulance. Only then was he subdued and cuffed on the ground.

Not your parents art of persuasion. Seriously, if they (Lunatic Lefties) want to win hearts and minds, this is not the way to do it. And secondly, the refusal of government to punish temper tantrums only encourages this type of illegal and harmful behavior.

It's not your parent's economy. Employment success? The ONT's guess, automation design, installation and maintenance. Not baristas with Philosophy degrees.

Much of the staff at the prospective automated grocery stores would be robots, according to the New York Post.

"Amazon will utilize technology to minimize labor," a source close to the situation told the New York Post. Amazon, though, denies the reports that it is building such a store, according to both the Post and Business Insider.

Internal documents show that the electronic commerce and cloud computing company is exploring the possibility of opening 2,000 supermarkets over the next decade, to further expand on its already established grocery services, like AmazonFresh.
The ONT Musical Interlude
1981, John Lennon was at No.1 on the UK singles chart with 'Woman', an ode to his wife Yoko Ono. It was Lennon's third No.1 in seven weeks after his death on December 8, 1980. via thisdayinmusic.com
After 8 years of Obama you can put up with one Lennon/Ono video. Suck it up pussies.
1962, Born on this day, Garth Brooks, US country singer, who had the 1991 US No.1 album 'Ropin' The Wind' which spent 70 weeks on the US chart, and the 1994 UK No.13 single 'The Red Strokes.' Brooks is the biggest selling artist of the 90's with over 60 million sales. via thisdayinmusic.com
*****

What brings success in the NFL? Drafting? Free agency? Trades? Coaching? Skin color? The New England Patriots are too white.

I've been writing about the now five time Super Bowl-winning coach's penchant for white players for a long time, maybe a decade now. For example, in this Super Bowl, even with superstar tight end Rob Gronkowski out injured, Belichick's white receivers (Julian Edelman, Danny Amendola, and Chris Hogan) combined for 17 receptions for 222 yards. Before Gronk got hurt, the Patriots would sometimes look like the 1986 NBA Boston Celtics and play four white receivers.
The ONT's simple opinion? Bill Belichick doesn't give a flying rat's ass what color you are. If you can play, be a decent teammate, buy into his system, you'll play. And probably be in the hunt for a Super Bowl ring.

Horseflies an issue for you? This little trap may be just the ticket for you.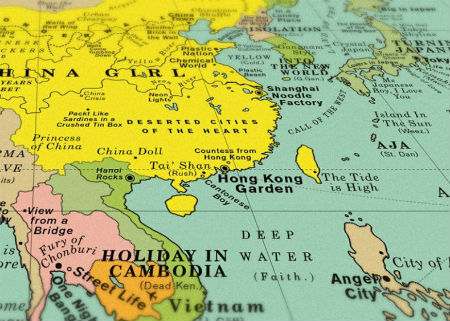 The world renamed with song titles.

Last week The ONT covered a rich prince from Saudi Arabia who flew his falcons via first class. Those falcons aren't the only weird airline passengers. Yes, an emotional support duck is involved.

The ONT Art Thread Hey, cake decorating is art. Not as fancy-shmancy as that CBD's thread. But, still art. Plus if you don't like it you can eat it. Take that Picasso fans.

Ice, snow, humans. What can go wrong?
*****

This group is supportive, but not duck like. For the ducklings Kids.
ONT tips, loose change and spare extension cords may be sent here. Or here, petmorons at gmail.

Not your parent's Genius Award Winner.
Pro-active stewardess flight attendant is Today's Feel Good Story of The Day.
*****

Tonight's ONT has been brought to you by Father & Son.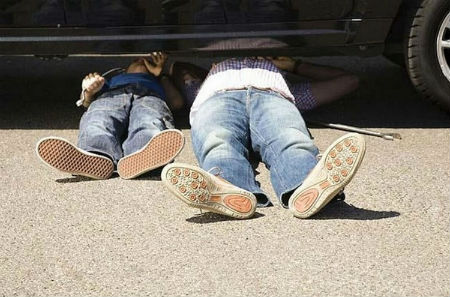 Notice: Posted with permission by AceCorp, LLC. For external use only. Do not use near any orifice.

posted by Misanthropic Humanitarian at
10:00 PM
|
Access Comments