« Some Light-hearted Video For Half-Time
|
Main
|
Super Bowl Thread, Pregame »
February 05, 2017
Food Thread: Super Bowl Edition: Ignore The Media -- Keep Calm And Have Fun (And Poke SJWs With Sharp Sticks)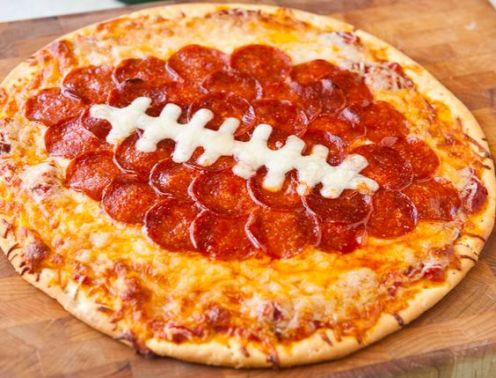 It is a spectacle that has overwhelmed America, and while I am thoroughly disgusted by what the NFL has become, for most Americans it's a fun day, filled with food and family and embarrassing commercials and sometimes even some good football.
Chez Dildo is woefully unprepared, and I blame others. The current plan is deli food, which superseded the pulled pork, which topped smoked chicken, which trumped the grilled steaks I wanted.
Yes, that is correct. I have no control over my kitchen. I do what I am told. And don't pretend you have any more authority in your house. I have the kitchen video feeds from Pixy...I can see the Morons in their aprons (Garrett has a lovely frilly polka-dot number), dutifully cooking what they have been instructed to make.
So enjoy, and instead of getting exercised by the Leftist-Media-Establishment and its burning desire to make you all subservient to the hysterical SJWs in our midst, just laugh and point and mock, and enjoy the Velveeta and Rotel dip!
******
Commenter artisanal'ette has bailed me out with lots of good content for today's Food Thread. Here is
Food & Wine
magazine's
Super Bowl Food
issue. Nothing earth shattering, but I love poking through the recipes for inspiration for the other 364 days of the year.
Who eats vegetables at a Super Bowl party? You eat fried food!
-- Michael Symon
The BA Super Bowl Headquarters
By state, very fun list:
Top Super Bowl Sunday Dishes: Most-Searched Recipes in All 50 States
Cheesy stuff:
30 Gooey, Cheesy Super Bowl Party Recipes
Ultimate Super Bowl Recipes Round up
65 best snack recipes for Super Bowl 2017 that football fans are sure to gobble up
******
Commenter Bluebell swears by this recipe for
flourless chocolate cake.
When I have more than a few people over and want to pretend that I know how to cook, this is the kind of recipe I love. It is easy, almost foolproof (even for Red Sox fans), and chocolate, sugar and butter are crowd pleasers in most civilized places...even Chez Dildo!
******
I had a strange conversation several months ago with someone who had attended a year-long cooking school at Le Cordon Bleu. He was also a Never-Trumper, and thought Hillary was well prepared to be president, so you can imagine how delicately I conversed with him. I had to be careful because I was going to be around him for three days....
But....he had no qualms about leaving cooked food out for a day or two; specifically pizza. There is no way on God's green earth that I would eat a slice of pizza that had been sitting in a box on the counter for 24 hours. I understand that food that has been thoroughly cooked is starting from zero from the perspective of bacterial growth, but with a doubling time of 20 minutes, those little buggers can multiply quickly enough to do real damage to your gastrointestinal tract in a matter of a few hours. There are common bacteria that cause illness, including staphylococcus, floating everywhere and on everything. It is impossible to prevent inoculation with bacteria, so we have learned to prevent growth by refrigerating or heating foods. And I won't even talk about heat-stable toxins produced by some of those bacteria....
Duh.

******
Anyone a big fan of sweet potatoes or yams (pretty much the same thing in America)? I have been roasting them, cut up and dressed with olive oil and salt, and they are a very pleasant change from potatoes. They also seem to be a bit more resilient to heat. I usually eat them fried, but roasting works very nicely too. But mashed seems to bring out too much of the sweetness, so I stick to potatoes as my starch vehicle for butter and cream.
******
One martini is just right, two is too many, and three is not enough.
-- James Thurber
I like to have a martini,
Two at the very most.
After three I'm under the table,
after four I'm under my host.
-- Dorothy Parker
******
I make my own granola, for two reasons. One, I am cheap, and commercial granola is stupidly expensive. Two, the commercial stuff isn't all that good, and often has inane ingredients. If I want to eat crap like quinoa, I'll have a lobotomy, become a hippie, or a hipster, vote for Bernie Sanders and move to some leftist shithole.
I made a batch recently, and I used Whole Foods oats instead of my usual Quaker Old Fashioned Oats.
And it wasn't as good, and didn't work as well. Make of that what you will, but I will extrapolate that SJWs are fools, and are willing to part with their money for substandard products, all in service of political goals and virtue signalling...but mostly virtue signalling.

******
This is the kind of food that is great for a Sunday brunch when you don't feel like making a bunch of different dishes but you still have to feed people. It's an almost infinitely modifiable recipe, although for some strange reason my recipe says that the chorizo is optional. That is, of course, absolutely ridiculous. It's mandatory.
Spanish Tortilla


3 ounces olive oil

1 1/2 pounds waxy potatoes, cut into 1/4 inch slices

1 large onion, sliced into half moons

1 bell pepper, cut into a large dice

4-5 cloves garlic, minced

4 ounces. chorizo, diced (optional)

6 eggs, lightly beaten

salt and pepper
Heat 1/4 of the olive oil in an oven-proof skillet (I like cast-iron) over medium heat. Add the potatoes, toss to coat and cook for about 20 minutes, until they've softened but are not 100% cooked. If there's too much sizzling or browning, turn the heat down a bit. When they're soft, remove them with a slotted spoon.
Preheat your oven to 375.
Add the rest of the olive oil, the onion and the bell pepper; saute for 5-7 minutes; add the garlic and chorizo and cook for another 5 minutes. The onion should be nice and soft.
Return the potatoes to the pan and toss to combine with the onion, pepper and chorizo; cook the veggies together for a few more minutes until the potato is cooked all the way through. Pat the veg down into a relatively even layer and pour the beaten egg over the top; jiggle the skillet to encourage the egg to distribute itself evenly.
Let the tortilla set on the stovetop for 5 minutes, then transfer to the oven for another 10, until the egg is set all the way through. Remove from the oven and let cool to room temperature, cut into wedges and serve.


posted by CBD at
04:00 PM
|
Access Comments