« EMT 02/05/17
|
Main
|
Some Light-hearted Video For Half-Time »
February 05, 2017
Sunday Morning Book Thread 02-05-2017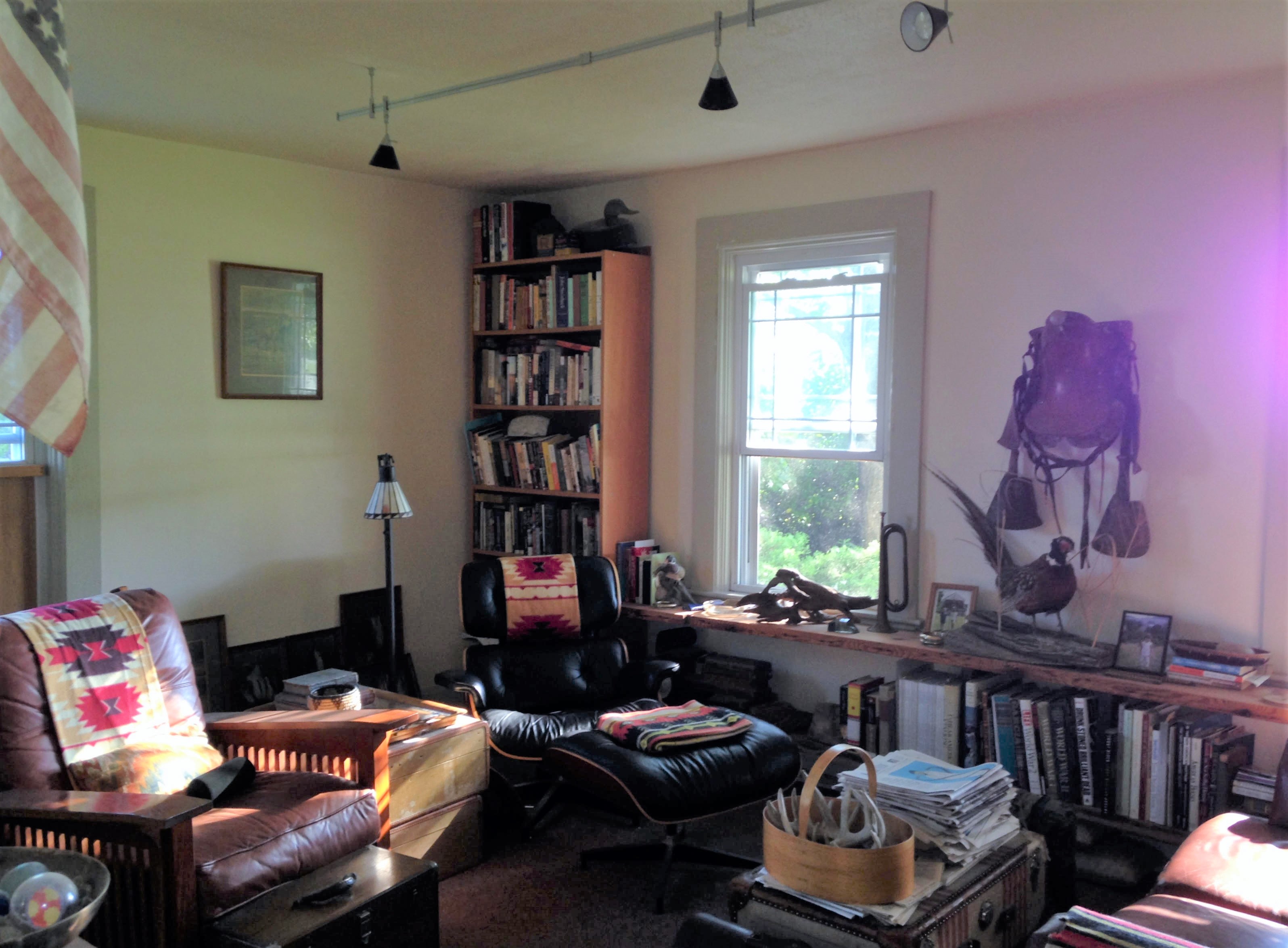 Library of Cowboyneal
Good morning to all you 'rons, 'ettes, lurkers, and lurkettes. Welcome once again to the stately, prestigious, internationally acclaimed and high-class Sunday Morning Book Thread, where men are men, all the 'ettes are hotties, safe spaces are underneath your house and are used as protection against actual dangers, like natural disasters, murderous progressive rioters, Democratic enablers of murderous progressive rioters, and special snowflakes do not get respect, but instead, a big load of guffaws. And unlike other AoSHQ comment threads, the Sunday Morning Book Thread is so hoity-toity, pants are required. Even if it's these pants, which I don't understand why they even exist.
[A]s a carpenter/cabinetmaker and avid reader since age four, I can think of few places I'd rather be (or imagine being) than a good library. When I'm asked, incredulously, why I don't own a TV (and haven't in decades), I simply reply, "Do you know how many books I haven't read yet?"
--Moron 'Cowboyneal'
Pic Note
In addition to providing me with a great book quote, Cowboyneal also writes:
Attached is a photo of the living room / library of my old farmhouse, showing only a fraction of the bookcases which lined nearly every wall. I rented this house for seven years until its sale and demolition last summer (the buyers typified the subject of my insult-for-the-times: "They know the price of everything and the value of nothing.") I will have another someday.
I hope he gets his wish.

AoSHQ Gets Results
This is so cool. Most of us know OldSailor's poet and have read his Amy Lynn novels. Well, he has been the recipient of some very good news that, if he wasn't pixybanned, he'd be telling us himself:
My first book was born at Ace of Spades HQ, in other words, many stepped up to offer support and assistance. I am announcing this to the AoS family first. I am pleased to announce that a premier, successful NYC literary agent has contacted me. He read my first book, Amy Lynn. Just like many of my fans, my protagonist, her family and adventures captivated him. I have agreed on a contract and his firm will begin the process of marketing Amy Lynn to Hollywood for Motion pictures and TV. My books will remain under my control as a self-published author with no middle person publisher. Hell, the publishers didn't want me anyway. The odds of anything coming of it are small, however, it is the first door that most Authors never get through. Thanks Rons and ronettes.
No, he's not blowing his nose with $100 bills quite yet. Here's how the process works:
The Author has very little control over Hollywood. Step one: A studio buys the rights to the book, called an option. That's usually anywhere from 5-9k. Step two: If there is one, they do a project (Movie/TV). The Author gets 100-300K. Book sales boom with a movie and they don't touch that. That's all mine. If they do the second book, the cost goes way up, and on and on. It's a filthy business. That was explained to me from the outset. However, there is an assfull of money to be made with a good story.
So OSP is struggling to get to step one, getting Amy Lynn optioned for the big screen. Hopefully the fancy-pants literary agent can open some doors for him.
The Lawyer has looked the contract over. They agreed to some changes and it will be signed on Monday...Thank you very much. The Rons and Ronnettes have been instrumental in getting this hobby of mine off the ground. It appears as of now, it may be a bit more than a hobby.
So it could be that OSP might soon be moving up into a whole new level. I just hope that when he's being driven around in his Bentley chauffeured by Donald Trump's hair, he'll remember us schlubs here at the HQ.
Seriously, congrats OSP. I hope Amy Lynn makes you filthy rich.

Fallout From The Entrumpening
So, we all know that the Trump presidency is bringing in record increases in global warming, but also in racism, sexism, homophobia, and, of course, Islamophobia. In fact, more Islamophobia than you can shake a stick at.
Of course, what's really happening is that the progressive left is losing its sh*.
They're even losing their sh* in the literary world. As mentioned in an earlier book thread, the snowflakes are boycotting Simon and Schuster, but they're also writing silly books.
This is the "resistance" (excuse me, "#TheResistance") recommended by amateur webzine Slate in this article wherein author Kyell Gold is #resisting Trump by writing Gay Muslim Furry Romance novels. No, I'm not making this up:
"One of the themes of my stories, from very early on, has been conflict between people who realize they're gay and a society that has problems with that sexuality," Gold said.
Mr. Gold is obviously a bold, innovative author, daring to go where no man has ever gone. I mean nobody has ever done one of these "hey everybody, I'm homosexual now" stories before, right? Perhaps he should be nominated for the Nobel Prize. After all, if a president who had his country at war for *every single day* of his presidency can win the Nobel Peace Prize, then surely an author whose books, once you get past the gay furry crap, have absolutely nothing new to say but simply rehash the same progressive tropes that have already been beaten to death should be a fine candidate for the Nobel Prize in Literature.
Though his previous books have touched on Christianity, "I know that Islam is also not necessarily tolerant towards homosexuality. … I also didn't understand much about Islam other than that it's a religion that hundreds of millions of people in the world follow."
A real scholar, then. His description of Islam as "not necessarily tolerant towards homosexuality" is quite a whitewash. I've seen photos of homosexuals who have been executed in Mideast countries and it seems to me that goes quite a bit beyond being "not necessarily tolerant."
It's like calling the Berkeley riots that forced Milo to cancel his speaking engagement "mostly peaceful."
The Slate piece is so full of dumb, I'm not going to inflict any more of it on you. Masochists who want to reduce their IQs can click on the link for themselves. But this being the book thread and all, I would be remiss if I didn't link to the book in question, The Time He Desires.
And by the way, I don't believe Mr. Gold is a Muslim, but he is writing about Muslim characters. What an outrage. I think he should be brought up on charges of cultural appropriation with malice aforethought.

Writers' Deadlines
Anna Puma sent me this link of some deadlines for submissions that you might actually get paid for. The Chicken Soup for the Soul site is currently accepting submissions for 6 different books that will be published in 2017. More info and submission guidelines here.
Also, the Agorist Writers Workshopp is calling for submissions for Vol. 3. of 'The Clarion Call':
The theme for The Clarion Call, Vol. 3: The Move to Somalia* is humor. It will be a volume of comedy, satire, and post-modern dissections of the futility of modern, post-political philosophy. With your proper preparation, the AWW is confident that you have what it takes to make us, and all of your fellow voluntaryists, laugh. Even if it's at our own expense.
Due date is Feb. 26th. The submission guidelines are available as a pdf document. More info at the Agorist Writers Workshop page.
(h/t votermom).

Books By Morons
Moron author Jay Slater, who mostly lurks. He has self-published the novella We Sail Off To War, which he describes as a science fiction naval war story in the tradition of Aubrey and Hornblower:
War has broken out in the Confederacy of Allied Worlds, and it falls to the brave men and women of the Naval Arm to defend their country against the Exile fleet. Over the gas giant Argo, they are losing. With few resources and little time to spare, they must find—and bring to battle—an Exile armored cruiser which has terrorized the spacelanes for too long.
His second book is the novel Nathaniel Cannon and the Lost City of Pitu, which is book 1 of the Nathaniel Cannon adventure series.
The year is 1929. In the aftermath of the Great War, the world rebuilds, and the mighty zeppelin is its instrument. Carrying trade between every nation, airship merchantmen attract an old menace for a new age: the sky pirate. One man stands out above the rest. Ace pilot, intrepid explorer, and gentleman buccaneer Nathaniel Cannon and his gang, the Long Nines, prowl the skies in hot pursuit of wealth and adventure.
Kindle pre-orders available for $1.99. the scheduled release date is Mar. 17th.

What I'm Reading
I started Sheryl Attkisson's book Stonewalled: My Fight for Truth Against the Forces of Obstruction, Intimidation, and Harassment in Obama's Washington a few months back, got distracted, and went on to something else. And just recently I tried to get back into it, but simply couldn't. If I had read this book two years ago, or one year ago, I probably would've said, "Sheryl Atkisson is one of the good guys, a journalist who is actually interested in reporting news instead of pushing a narrative, and she wrote a good book about running afoul of her bosses at CBS News for going after corruption in the Obama DOJ, so go read it." That would've been my review if I had written it last year
But what a difference an election makes.
After witnessing pretty much the entire MSM throw away even their pretense of objectivity during this election by their attempt to destroy one of the candidates, and their complete lack of understanding afterwards of the magnitude of their own failure, there is nothing left in my estimation of them other than utter contempt. And this includes not only the MSM, but the journalism profession in general. Every time I see one of those guys on TV sitting behind a desk and reading from a piece of paper or teleprompter, I assume he's lying. Or, perhaps it would be more accurate to say, he's reading sentences from a piece of paper that were written by someone who was lying.
So yes, I'm being unfair to the hardworking journalists who try to get their stories right, do adequate fact-checking, and follow the story wherever it leads regardless of politics. But you know what, I simply do not care anymore. Since they've been exposed as liars during the election cycle, and they've doubled down on lying after the election, I've lost patience. I've got a bad attitude. F them all.
And from what I've read of it, Attkisson seems to OK with the vaccines-cause-autism narrative. I suppose that's another reason why her book is leaving a bad taste in my mouth.

___________
Don't forget the AoSHQ reading group on Goodreads. It's meant to support horde writers and to talk about the great books that come up on the book thread. It's called AoSHQ Moron Horde and the link to it is here: https://www.goodreads.com/group/show/175335-aoshq-moron-horde.
___________
So that's all for this week. As always, book thread tips, suggestions, bribes, rumors, threats, and insults may be sent to OregonMuse, Proprietor, AoSHQ Book Thread, at the book thread e-mail address: aoshqbookthread, followed by the 'at' sign, and then 'G' mail, and then dot cee oh emm.
What have you all been reading this week? Hopefully something good, because, as you all know, life is too short to be reading lousy books.


posted by OregonMuse at
08:55 AM
|
Access Comments