« Buzzfeed Publishes Alleged Synopsis of Claims Made About Trump
|
Main
|
Tuesday Overnight Open Thread (1/10/17) »
January 10, 2017
Obama's Farewell Address: Parting is Such Sweet Sorrow Orgasmic Joy
It's scheduled for 9PM eastern, which means Obama will breeze in wearing his golf togs at around, oh, nine-fiftyish.
No but seriously he gets to the things he likes doing -- like talkin' about himself and accepting the adoration of his cultists -- on time, so I expect this to go off smartly.
You can watch it at the White House website, which is soon to become ours.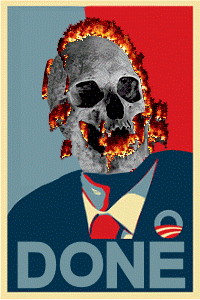 To tide you over until Prince Narcissus McScoldybutt speaks, enjoy this official White House video, produced by Hollywood, of Hollywood people recalling their favorite moments of Obama's time in the White House. (After the fold.)
Did I post that yesterday? Well, even if I did post it yesterday, enjoy this Newsbusters recap of the #FakeNewsMedia's no-hands-full-eye-contact deep-glottal appreciation for Obama.
When Obama ran for President four years later, news reporters led the cheers. "It's almost hard to remain objective because it's infectious, the energy, I think," then-NBC reporter Lee Cowan confessed in an MSNBC.com video posted January 7, 2008. On CNN a few days later, Politico editor John Harris admitted: "A couple years ago, you would send a reporter out with Obama, and it was like they needed to go through detox when they came back -- 'Oh, he's so impressive, he's so charismatic,' and we're kind of like, 'Down, boy.'"

As a candidate, the Associated Press celebrated Obama as "something special," while as President-elect, the Washington Post drooled over his "chiseled pectorals," on display during a vacation in Hawaii. As President, reporters touted his "prodigious talents," his "amazing legislative agenda," and his "huge achievements." And as an individual, journalists fawned over Obama, calling him "one of our brightest presidents," a "huge visionary," "the perfect American," "our national poet," and "the most noble man who has ever lived in the White House."
That's just a bit of it, and there's a video montage at the link.
The media's been teary-eyed and has something caught at the back of their throats. It's called "Barack Obama's glans."


posted by Ace at
08:06 PM
|
Access Comments