« EMT 01/08/17
|
Main
|
Using The Language Of The Left Against Them...Palestinian Colonialism! »
January 08, 2017
Sunday Morning Book Thread 01-08-2017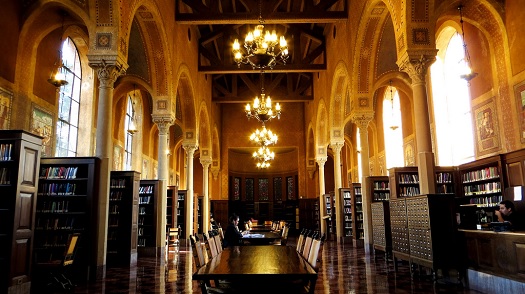 Philosophy Library, Mudd Hall, University of Southern California

Good morning to all you 'rons, 'ettes, lurkers, and lurkettes. Welcome once again to the stately, prestigious, internationally acclaimed and high-class Sunday Morning Book Thread, where men are men, all the 'ettes are hotties, safe spaces are underneath your house and are used as protection against actual dangers, like natural disasters, and somebody sneaking carrots into your chili, and special snowflakes do not get respect, but instead, belly laughs. And unlike other AoSHQ comment threads, the Sunday Morning Book Thread is so hoity-toity, pants are required. Even if it's these pants, which, like last week's pants, do not improve simply by being photographed on a young, attractive woman.
604 596 Virginia Woolf was a terrible author.
Posted by: dagny at January 04, 2017 03:37 PM (pH7uT)

Thank you! Reading her crap is like getting beaten with a bag of oranges.
Posted by: josephistan at January 04, 2017 03:38 PM (7HtZB)

Democratic Party Status Update: Hosed
The Democratic Party may be on the verge of imploding. In the wake of getting they butt kicked by Donald Trump, perhaps a rethink is in order. A FoxNews article from Dec. 8 says just that: I'm a Democrat but Clinton staffer Jennifer Palmieri's twisted logic is exactly why we lost, by Bryan Dean Wright, argues that the Democrats are following a defective strategy, one by which they believe, according to Wright:
...that we can cruise to electoral dominance if we build a coalition of voters based on identity politics. In other words, if Democrats can get a particular slice of Americans to the polls – women, Jews, ethnic minorities, gay men and lesbians  – we will win.

The idea for this dates back most famously to 2004 when political experts John Judis and Ruy Teixeira published their book, "The Emerging Democratic Majority." They convinced my party that hard data – demographic, geographic, economic, and political data – forecasted the dawn of a new progressive era.

They argued that there was a massive wave of Democratic voters in the country's urban areas just waiting to support the party, and would do so for generations to come.
Now, there is an obvious flaw in this strategy that the Wile E. Coyote brain trust of the Democratic Party apparently missed. More on that later. Here is the book he's talking about, The Emerging Democratic Majority:
In five well-researched chapters and a new afterword covering the 2002 elections, Judis and Teixeira show how the most dynamic and fastest-growing areas of the country are cultivating a new wave of Democratic voters who embrace what the authors call "progressive centrism" and take umbrage at Republican demands to privatize social security, ban abortion, and cut back environmental regulations.

As the GOP continues to be dominated by neoconservatives, the religious right, and corporate influence, this is an essential volume for all those discontented with their narrow agenda -- and a clarion call for a new political order.
This book actually takes its title for an earlier, similar book that was written from someone on the other side of the aisle, The Emerging Republican Majority by Kevin Phillips.
One of the most important and controversial books in modern American politics, The Emerging Republican Majority (1969) explained how Richard Nixon won the White House in 1968—and why the Republicans would go on to dominate presidential politics for the next quarter century. Rightly or wrongly, the book has widely been seen as a blueprint for how Republicans, using the so-called Southern Strategy, could build a durable winning coalition in presidential elections. Certainly, Nixon's election marked the end of a "New Deal Democratic hegemony" and the beginning of a conservative realignment encompassing historically Democratic voters from the South and the Florida-to-California "Sun Belt," in the book's enduring coinage.
Kevin Phillips was kind of like the David Brooks of his day, that is, a DC Beltway "establishment" Republican who pretty much agreed with liberals on most things and who spent more time criticizing Republicans he found distasteful (i.e. actual conservatives) than Democrats. But his Emerging Majority book, one of 15 that he wrote, was very influential in GOP leadership circles. I'll bet anything that Karl Rove used to sleep with it under his pillow.
As this article discusses, the Democrats need to decide the future direction of their party, whether they're going to double down on identity/grievance politics or try to address the economic concerns of millions of working Americans who haven't been doing so well for the last couple of decades, Americans that the Democrats claim to be the champions of. Clearly, trying to stoke up women, gays, and ethnic minorities is problematic. As Wright said about The Emerging Democratic Majority:
They argued that there was a massive wave of Democratic voters in the country's urban areas just waiting to support the party, and would do so for generations to come.
See the problem? All this strategy will do is pile up big votes in urban areas, i.e. blue states that are already solidly Democratic. And this is precisely what we saw in this election: Clinton racked up lopsided majorities in NY (Clinton 59%), California (61%) and Massachusetts (60%) which did nothing but pad her total in the popular vote which fostered the illusion that she somehow "won" the election. And this explains why the Democrat dead-enders are caterwauling and tearing their hair out over the Electoral College. Meanwhile, they've lost more governorships and state legislatures. So they've got to figure out how to stop the bleeding. Who knows, maybe they're bring back the DLC. It will be a sign of health if they do.

A Call For Submissions
Lurker Oren Litwin (who has commented in the past on this blog as 'Mastiff') is putting together an anthology, to be funded with a Kickstarter project. He tells me:
Given the talented authors we have among the Morons, I thought they would like to know that I'm putting together an anthology of military-fiction short stories, broadly defined. So, resistance fighters against Nazis in Warsaw or a tyrannical government in Ohio would qualify, as would English longbowmen or samurai. ("Near-future" speculative fiction is acceptable if set within the next decade.)
I'm guessing that if you wanted to do a story about a battle featuring longbows on one side and crossbows on the other, that would be acceptable, too.
Payment to the selected authors will depend on the success of the Kickstarter. If it funds, authors will receive a minimum of $100 each (max $1,000). If it fails, authors will receive $25 each, paid out of my pocket.
And I liked this requirement, makes it sort of conservative:
Works with strong thematic elements are encouraged. The martial virtues—honor, courage, sacrifice, as well as less traditional ones like cunning and deception—are encouraged. Nihilism can be part of the setup, but should not be the conclusion—the characters should push through nihilism to the other side, whatever that is.
Complete details can be found on Dr. Litwin's web site. The deadline for submissions is March 1, 2017.
This is the first part of an ambitious program Dr. Litwin is putting together, based on the concept of what he calls audience-driven writing:
I believe that anyone should be able to propose a general scheme for a book, join with other fans to provide funding, and then pay authors to write books that qualify. It's an exciting idea that flips the normal model on its head.
More details here.
Dr. Litwin couldn't resist bragging about his day job. He says he spends all day keeping an eye on Islamist radicals and then writes about them.

RIP Richard Adams
According to the Guardian, Richard Adams, the author of Watership Down, has passed on:
A statement on the book's official website said: "Richard's much-loved family announce with sadness that their dear father, grandfather, and great-grandfather passed away peacefully at 10pm on Christmas Eve."

The novel, first published in 1972, became one of the bestselling children's books of all time, selling tens of millions of copies.
He was aged 96.
And I'm surprise Watership Down is considered a children's book. I read it some years ago, and it seemed pretty adult to me. I never would have thought it was a book I'd give to my kids to read. But the Guardian article says it came from a story Adams made up impromptu to entertain his daughters as he drove them to school, so what do I know?
I'm surprised that the Kindle version is available for only $4.99.

Moron Recommendations
Saw this recommendation from commenter 'Norx' in one of last week's threads: Nothing to Envy: Ordinary Lives in North Korea. Norx says:
I had no idea the depth of poverty in North Korea until I heard the stories of expats interviewed in the South. For a book with exactly zero gunfights, it really gripped me. And it's a rare treat when an author from the LA Times disparages communism.

Posted by: Norx at December 29, 2016 10:49 AM (wx6iv)
Kindle edition currently $1.99

___________
Moron josephistan received Dear Luke, We Need to Talk, Darth: And Other Pop Culture Correspondences by John Moe as a Christmas present. It serves up a ton of pop culture jokes in the form of letters and other written material, such as Captain Kirk's lost log entries and Yelp reviews of The Bates Motel.
An example josesphistan provided is an exchange between Ozzy & Tony Iommi about the lyrics to "War Pigs":
Dear Ozzy,
You rhymed "masses" with "masses." Please advise.

Dear Tont,
Huywg, mgfickc rock n roll, man.

Dear Ozzy,
Good point.

___________
Don't forget the AoSHQ reading group on Goodreads. It's meant to support horde writers and to talk about the great books that come up on the book thread. It's called AoSHQ Moron Horde and the link to it is here: https://www.goodreads.com/group/show/175335-aoshq-moron-horde.
___________
So that's all for this week. As always, book thread tips, suggestions, bribes, rumors, threats, and insults may be sent to OregonMuse, Proprietor, AoSHQ Book Thread, at the book thread e-mail address: aoshqbookthread, followed by the 'at' sign, and then 'G' mail, and then dot cee oh emm.
What have you all been reading this week? Hopefully something good, because, as you all know, life is too short to be reading lousy books.

posted by OregonMuse at
09:03 AM
|
Access Comments