« NY State Employee Demands Death For Trump Supporters, And His Bosses Seem Cool With That
|
Main
|
The (Fake) Morning Report 12/20/2016 »
December 19, 2016
Monday Overnight Open Thread (12/19/16)
On this day in 1998, President William Clinton is impeached.
After nearly 14 hours of debate, the House of Representatives approves two articles of impeachment against President Bill Clinton, charging him with lying under oath to a federal grand jury and obstructing justice. Clinton, the second president in American history to be impeached, vowed to finish his term.
He did finish his second term. But, his wife will never be POTUS. And that's alright with The ONT.

Quotes Of The Day
Quote I

"Those who cannot remember the past are condemned to repeat it." – George Santayana
Quote II

Socialism is a philosophy of failure, the creed of ignorance, and the gospel of envy, its inherent virtue is the equal sharing of misery. Winston Churchil
Quote III

Under socialism all will govern in turn and will soon become accustomed to no one governing. Vladimir Lenin
What a crock of shit, Vlad.
Quote IV

The problem with socialism is that you eventually run out of other peoples' money. Margaret Thostaer
Venezuela is going to hell in a hand-basket. Thank you Socialists. Lessons to be learned from Venezuela's collapse.

First, Socialism never works. From Korea, Russia, Africa, to Latin America, it has never worked. But people keep wanting it. Venezuela has had a bad decade with their socialist experiment and within the last year the final domino has fallen. Their economy is in meltdown. When the price of oil plummeted, Venezuela could no longer afford their socialist programs and the state-controlled industries failed.

The second bad idea is an economic "solution" that has always failed: Venezuela kept printing money so they could pay for everything their socialist experiment demanded. Of course, Venezuela went the way of every other country that has tried devaluing their currency—hyperinflation has completely wrecked the economy. Venezuela's currency inflated so fast that they couldn't afford to buy more paper and ink to print more.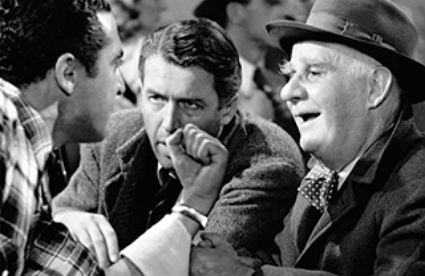 Hey look, mister, we serve hard drinks in here for men who want to get drunk fast and we don't need any characters around to give the joint atmosphere. Is that clear or do I have to slip you my left for a convincer?
My how times have changed. Look young man, we serve pansy ass drinks in here for men and transmen who want to sip their drinks. Buttery Nipple my ass.

Clarence, George names of the past. Popular baby names over the past 100+ years. Funny, Misanthropic was never a contender.

Don't care to cater a gay wedding? Why that's homophobic. Refusing to photograph a gay wedding? Why that's illegal! Religious beliefs be damned.

But, refusing service based upon political beliefs? That appears to be just fine and dandy. And it's just not the swanky upper class punishing people because of their political beliefs. It's also occurring in every day necessities of life.

Marc Jacobs, who has also dressed — you guessed it — Michelle Obama, wants nothing to do with Melania:

I have no interest whatsoever in dressing Melania Trump. I didn't see [Sophie Theallet's] letter. Personally, I'd rather put my energy into helping out those who will be hurt by [Donald] Trump and his supporters."
Tonight's Musical Interlude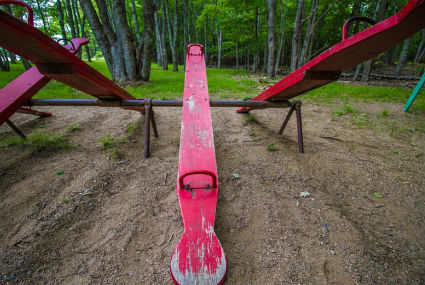 Play ground changes. The death of the see-saw.


"Federal safety guidelines for playgrounds, which were created in 1981, began to limit their use. The older seesaws were wooden planks that often hit asphalt directly, leading to occasional tailbone and spinal injuries, falls and pinched fingers, not to mention splinters. Children could slam each other by dismounting suddenly. Playgrounds that retained old seesaws were exposed to lawsuits."
And yet, there is real value to children who play on a seesaw. "Seesaws are excellent at encouraging collaborative play and patience, as they require coordination and balance between two different children to work. Core upper body strength and lower body strength are developed as a child moves the seesaw up and down," the folks at School Outfitters explain. Kids can gain essential understanding of the mechanics of fulcrums by playing on a seesaw, as How Things Work author David Macaulay has noted. And Stephen Wills, the author of Power through Collaboration loves what a seesaw can teach.

Fat, stupid and lazy is no way to go through life. Did the ONT mention Fat & Stupid is no way to go through life? Genius Award Winner. NSFW

What could have been a terrible tragedy. Was not. Tonight's Feel Good Story of The Day

Tonight's ONT has been brought to you by Cuteness.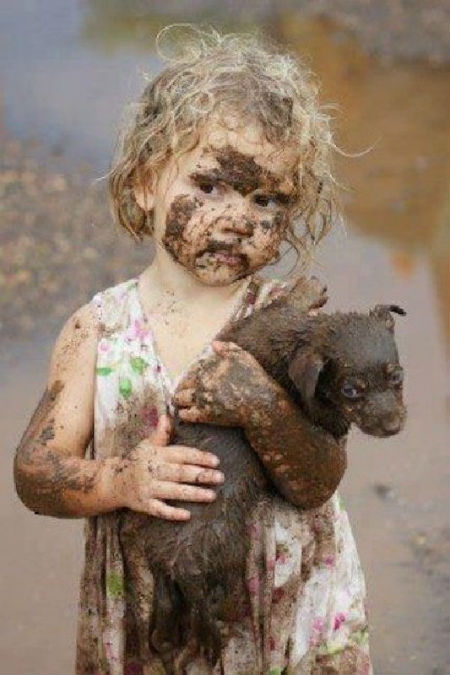 Posted with permission by AceCorp, LLC. The ONT has been a dramatization. Professional Cob on a closed course. Do not attempt.

posted by Misanthropic Humanitarian at
09:51 PM
|
Access Comments