« Thread below the Gardening Thread: Obama's Long Good-bye [KT]
|
Main
|
Ace of Spades Pet Thread Christmas Eve Edition »
December 24, 2016
Saturday Gardening Thread: Surprises and Contrasts [KT]
Happy Christmas Eve Day, Horde! In keeping with the spirit of this unusual year, I thought it might be fun to discuss some seasonal contrasts and surprises in gardens, yards, farms and landscapes. I'm not in the mood for thinking too hard. The first surprise is that there was snow in the Sahara Desert for the first time in 37 years.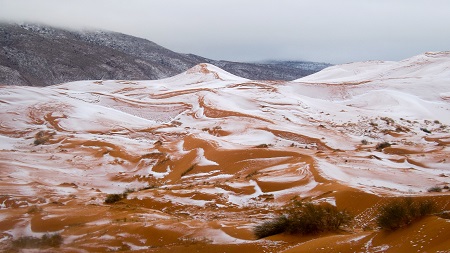 I think it's kinda pretty. Notice the nice landscaping shrubbery at the front of the photo. Still glad I'm not there. Plants in the drier parts of the Sahara survive mostly by having very, very long roots or by germinating, growing and setting seed in just a few days following adequate precipitation. Tough gardening conditions. Tougher farming conditions. Doesn't look to me like that snow is gonna stick. Wonder if it will provide enough moisture for a generation of little plants?
Closer to home, I see that travel is not recommended today in some parts of the country. Are you already where you intend to spend Christmas? Have you put off preparing your yard for inclement weather? A yard is just a small ranch, right? Here's an interesting profile on winter preparation by a ranching couple in South Dakota where, for some people, frozen ground provides welcome relief from mud. No rest for these folks on Christmas Eve Day:
"Mud is the worst for us and the cattle -- trying to move around in that stuff when the ground is so wet," Jay said. "It's never going to dry up, so you just hope it freezes." . . .

"To oversimplify it, we know we will get up and do chores every day. That sounds neat and like something you can tie up with a bow and be done by noon, but that's rarely how it is," Amy said. "Things almost never go as planned."
With the drought here, it has been a while since mud has been a big problem for us. Might be a nice change. I'm not much attracted to full-time ranching, though. How about you?
Some people in balmier climes have more pleasant things to do in the garden on Christmas Eve. Did you or your Dad ever get a model train set for Christmas? Did you set it up for Christmas every year after that? Ever take it outside and make it into a real model train system?
Surprise! Why didn't I know about this place? This lovely photo is from the Botanical Garden of Lights at the Creation Museum in Preston, KY. Lots more pretty pictures at the link.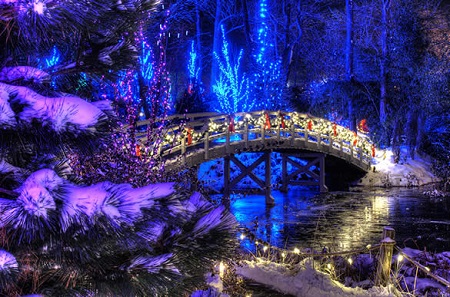 Back to drier country for our next contrast: Nuytsia floribunda is known as the Western Australian Christmas Tree. Of course, it wouldn't bloom at Christmas in our hemisphere.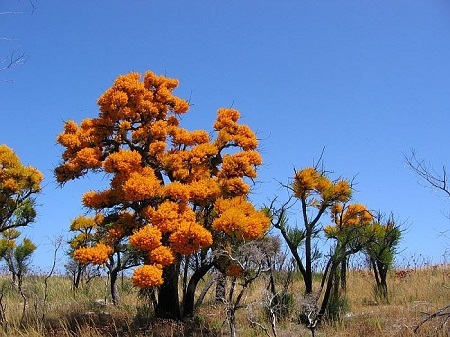 This tree is a hemiparasite, sometimes characterized as Australian Mistletoe. But unlike mistletoe, it takes water and nutrients not just from one tree, but from several plants. Sometimes it latches onto underground cables.
I learned about the plant above via this guy on Twitter, who has posted some other interesting Christmas Plant photos. Including some Neoregalias. But the one below is from The International Tropical Foliage and Garden Society. Reminds me of those old fashioned Christmas ribbon candies. The colors would harmonize with many a Christmas Cactus.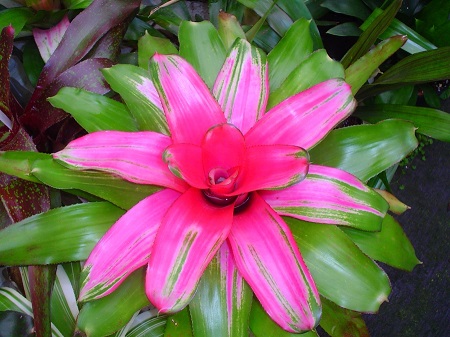 Neoregalia 'Pink Sensation'
Neoregalias are bromeliads, related to pineapples. I saw a little pineapple growing on a pineapple plant in a regular, not-overly-bright living room in Blackfoot, Idaho once. In winter. I was impressed. Have you ever grown a pineapple from a the top of a grocery store fruit? Pineapples were symbols of Christmas in Colonial Williamsburg. Seems pretty early in history for pineapples to show up on the East Coast. WeirdDave mentioned that he visited Williamsburg this week with family. Hope they saw some interesting things.
Each pineapple plant gives its own life to produce a single fruit, and since 1681, the pineapple has been recognized as a Christian symbol. Around this time, Christopher Wren began using pineapple finials on churches.
Yard and garden Christmas decorations today often don't have much in common with the natural display above. In Fresno, not all that far from me, 140 decorated homes on Christmas Tree Lane draw thousands of visitors every year. This display started humbly in 1920, with one lighted tree in remembrance of a child who had died. In 2014, one home won $50,000 in ABC's Great Christmas Light Fight. Next door to Fresno, Clovis has Santa Clause Lane, featuring lights in motion and music. Any competition for the Griswolds near you?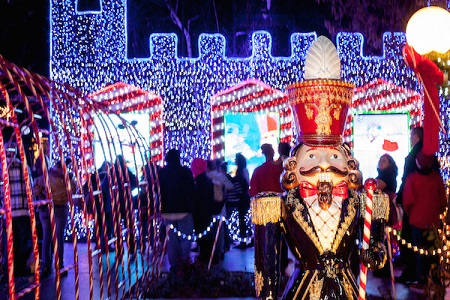 Gardens of The Horde
Many of our favorite people here at the Gardening Thread have had way too much precipitation this year. But any rain around here lately seems like a surprise. It rained yesterday. Yay! I hope we get as much precipitation as the Sahara Desert this year.
I did some temporary fence and gate repairs to keep a chihuahua in our friend's yard. Persistent little Houdini-like creature. Have you been thinking about yard modifications with pets in mind?
Our friend has persimmons and pomegranates in the back yard even after a couple of hard frost warnings. I haven't heard of any disasters in the citrus groves so far. He also has a few peachy-orange roses in his front yard. The are on a hybrid tea or grandiflora bush. The petals have a lot of substance. The plant was not pruned to produce long-stemmed roses. But the flowers are in better shape than my extravagantly-petaled English Roses in this weather. I picked one and put it in a little vase with a couple of stems of foliage in honor of the Christmas Rose. It looks more like Thanksgiving than Christmas. No matter.
Anything interesting going on in your garden or yard? Or ranch? Any notable outdoor decorations or indoor plants? Animal visitors? Been to see other peoples' Christmas displays? Hiding from the weather?
Hope you have a wonderful Christmas and a great week.

posted by Open Blogger at
12:32 PM
|
Access Comments