« Afternoon Open Thread
|
Main
|
GUNS GUNS GUNS.... »
November 27, 2016
Food Thread: "Idle Hands Are The Devil's Workshop"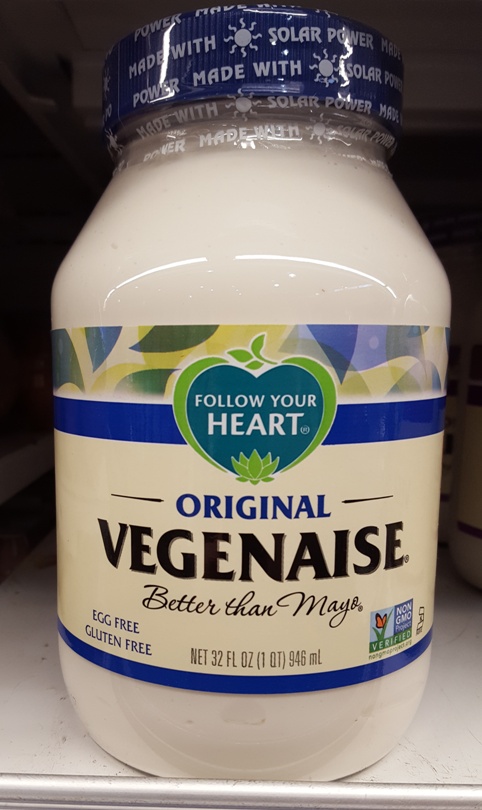 [Or kitchen, as it were...]
We truly live in marvelous and magical times, when the pressing issues of the day for some people are not how to gather enough food to survive, or build shelter and provide warmth during a killing winter, or avoid the ravages of disease.
No...these people have reaped the bounty of human creativity and imagination and industriousness and genius (Norman Borlaug...Thank you!) over thousands of years, and the best they can do is crow about vegan mayo. Personally, I don't give a rat's ass whether you are a vegetarian or a vegan...do what you want, as long as you don't damage your children with your idiocy. But please, don't preach to me that it is better. It isn't. Look in the mirror and you will discover several teeth that are curiously useless for the consumption of vegetable matter, yet marvelously well designed for tearing at and chewing the flesh of animals. I wonder why that is?
Oh, for added irritation there is the plastic collar printed with "Made With Solar Power." Really? Who gives a shit? Is that the tipping point for hundreds of vegan freaks who have to choose between non-solar vegan crap and the more Gaia-friendly version? Or...and this is my bet....is it virtue signalling at its worst? And don't miss the "Non-GMO Project" tag. It's verified!
I saw this at my local Whole Foods, which is an infrequent but important destination in my food procuring travels. They have excellent and inexpensive nuts for home-made granola, and their butter is the best around (and inexpensive). The ratio of human:stinky hippie was worse than normal, and the assortment of freaks I had to wade through was reminiscent of Berkeley. Why do hippie-leftist-idiots have to dress so badly, and have such awful and careless personal grooming? Is it a message? "I too can look and stink like a bag lady?" Great! Message received. Now go take a shower and comb your hair.
Neat and clean is not knuckling under to the capitalist patriarchy.
On the other hand, Hillary Clinton Will Never be President.
And for all of you who did the lovely crossword last week, here is artisanal'ette's Thanksgiving Crossword key. There is another one in the works, and if it seems to pique the interest of The Horde we can branch out into other topics.

******
For those of you who are insufficiently aware of the proper use for turkey leftovers (sandwich with real mayo, not that slop in the picture), here is an alternative.
Turkey Ramen
******
Expiration dates on food seems to be as much a marketing ploy as a nod to food safety. And we certainly waste a lot of food, so this isn't something that we should reject out of hand.
Danish supermarket selling expired food opens second branch
Selling expired food is legal in Denmark as long as it is clearly advertised and there is no immediate danger to consuming it. "We look, we smell, we feel the product and see if it's still consumable," project leader Bassel Hmeidan said.

All products are donated by producers, import and export companies and local supermarkets, and are collected by Wefood's staff, all of whom are volunteers. The store's profit goes to charity.
******
Here is some weapons-grade bullshit from the country's preeminent purveyor of said bullshit.
More Than Coffee: New York's Vanishing Diner Culture
Oh, by all means, let's save something that the cruel and unforgiving market has said isn't necessary in a market economy. Exactly who is going to pay for the continued existence of these diners, when the invisible hand has slapped them silly?
This is a quintessential liberal conceit, that just because they think something is worthwhile, the rest of us have to pay for it.

******
And in news that will thrill nobody except for a few deluded souls who think that overpriced hazelnut/chocolate mash is something grand....
McDonalds launches Nutella burger
******
Don't try to fly with these Thanksgiving leftovers in your carry-on
Humorless scolds. Sure, there is a theoretical possibility that some Islamic murderer will build a bomb that mimics Thanksgiving leftovers, but it is also possible to figure out which is which. And...the airlines charge for checking bags, and the TSA pushes people to check bags to decrease congestion at the security lines. Uh...isn't there some problem inherent in this?
******
SALES SOAR Brexit-backers celebrate £3.4billion worth of sales of exported goods from chocolate to salmon from July to September after EU vote
Hmmm....so when relative prices drop, demand increases? That doesn't make any sense at all. Does anyone have Paul Krugman's cell number? He can explain how that is incorrect and that Brexit was an unalloyed disaster for the British economy.
******
I think I may have posted this before, but it's a quick and easy dish that is a welcome antidote to crappy late November leftovers. How much damned turkey can you maniacs eat?
Pasta With Spicy Sausage and Spinach


1.5 lbs. Spicy Italian Sausage, casing removed

2 oz. olive oil

2 garlic cloves, minced fine

6 oz. white wine

16 oz. Frozen Spinach

6 oz. ½ & ½

1 oz. unsalted butter

4 oz. Freshly grated parmesan cheese

2 lb. Pasta (I used shells, but any ½-1 inch shape would work well)
Boil a large pot of salted water for the pasta.
Heat the oil in a large sauté pan on medium-high heat. Cut the sausage into ¼-½ inch pieces and then sauté until the sausage is cooked through and lightly browned. Remove the sausage from the pan, leaving the fat and the oil (It might be a good time to put the pasta in the boiling water).
Turn the heat down and add the garlic. Cook for a few minutes, and then add the wine. Deglaze the pan on high heat, making sure to scrape all the little bits of sausage and garlic into the liquid.
When it has reduced a bit, add the spinach and cover until the spinach has wilted completely. It won't take long, so don't walk away for another glass of wine. It is a little disconcerting how little spinach is left, but it is enough to flavor the dish.
Turn the heat down to low and add the ½ & ½ and butter. Swirl the sauce around until it thickens a bit and the butter is completely incorporated.
Put the sausage back into the pan, and when it is reheated, dump it over the pasta.
Toss the pasta into the sauce as you sprinkle the parmesan cheese over the whole thing, and serve hot.


posted by CBD at
04:00 PM
|
Access Comments