« Ace of Spades Pet Thread [Mis. Hum.]
|
Main
|
153 Years Ago Today... »
November 19, 2016
Saturday Afternoon Chess/Open Thread 11-19-2016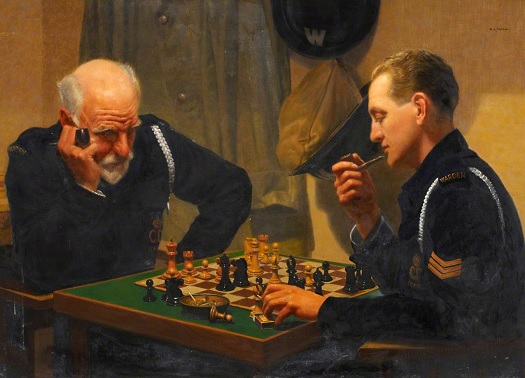 A Quiet Night
(Air Raid Wardens Playing Chess)
Emilio C.L. Taffani
(click to embiggen)

Good afternoon morons and moronettes, and welcome to the Saturday Afternoon Chess/Open Thread, the only AoSHQ thread with content specifically for all of us chess nerds who pay homage in the temple of Caïssa, goddess of the chessboard. And, for those of you who aren't nerdly enough for chess, you can use this thread to talk about checkers, or other games, or politics, or whatever you wish, only please try to keep it civil. Nobody wants to get into a food fight on a Saturday afternoon, especially now that we know that Hillary Clinton will never be president.
God willing.
"The winner of the game is the player who makes the next-to-last mistake"

--Savielly Tartakover

Problem 1 - White To Play (329)
The Chess Master set up this position for his young student: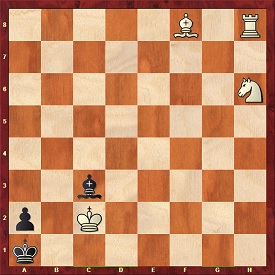 5B1R/8/7N/8/8/2b5/p1K5/k7 w - - 0 1


"So tell me", he said, "How does White proceed? What do you see?"
The student studied the board for awhile and finally said, "I see White can mate in 5. And another mate in 5. And I just saw a mate in 4. There's a lot of ways to checkmate here."
The master said, "Indeed there is. But did you not see the mate in 3?"
The student frowned and looked at the board again. "White can mate in *3* moves? Seriously?"
"Yes, seriously."
"Wow. Not seeing it."
So how does White pull off the mate in only 3 moves?

Problem 2 - Black To Play (330)
What is Black's most advantageous move?
Hint: Black can mate in 3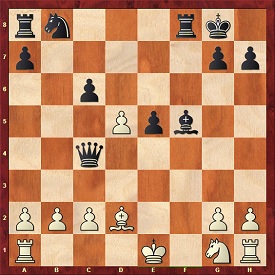 rn3rk1/p5pp/2p5/3Ppb2/2q5/8/PPPB2PP/R3K1NR b KQ - 0 1



World Championship
We're in the second week of the Carlsen-Karjakin W-Ch match. They've played 6 games, and all six have been drawn. I doubt I'll be doing any analysis of the games for the chess thread; I'm simply not qualified for such a task, plus there's tons of commentary elsewhere.
Video recaps of each game can be viewed here, but I can't seem to get any of the videos to work on my browser for some reason (the little circly thing spins and spins, but the video never loads).

Problem 3 - White To Play (BWTC 52)
Looking at Black's position, perhaps you can kind of see what the end may look like.
Hint: White to mate in 4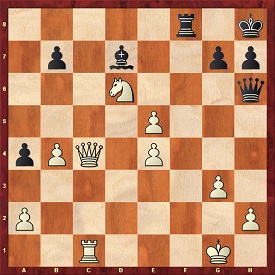 5r1k/1p1b2pp/3N3q/4P3/pPQ1P3/6P1/P6P/2R3K1 w - - 0 1



Problem 4 - White To Play (107)
Hint: White wins material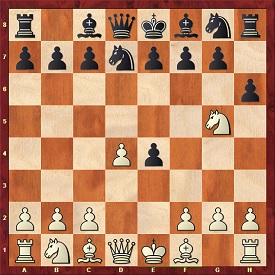 r1bqkbnr/pppnppp1/7p/6N1/3Pp3/8/PPP2PPP/RNBQKB1R w KQkq - 0 1



Bloodbath
Sometimes you get into a position where the best move is a capture, followed by a recapture, then a re-recapture, etc. And there might be 3 or 4 fewer pieces left on the board after all the exchanging, and I've often said, "oh, that was a real bloodbath" while surveying the board afterwards.
Well, let's look at a *real* bloodbath: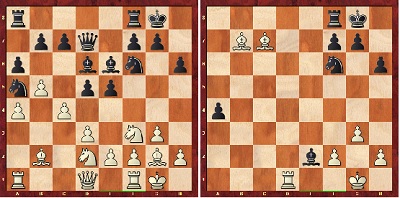 These positions are from an actual game. The board on the left is the position 'before', and the board on the right is 'after' the most lengthy exchanging in the history of recorded chess. It is Black to move and it is his 12th move.
I was going to present this as a curiosity, but it might be more fun as a puzzle. The last capture was Black's 20th move. So, your task is to figure out what the moves are. Ordinarily, this would be an impossible task, but in this position, you know that every move is a capture, so that should limit things a bit. It may be possible to use a different move order than the actual game, but I don't know for sure. There are 17 captures in total.

Endgame of the Week (25)
It's Black to move, and as you can see. he is down by two pawns. What's the best course of action for him?
Hint: Draw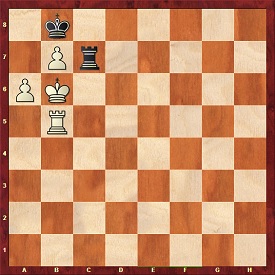 1k6/1Pr5/PK6/1R6/8/8/8/8 b - - 0 1



___________
Solutions Update

Problem 1 - White To Play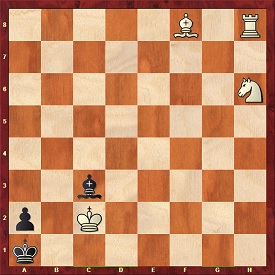 5B1R/8/7N/8/8/2b5/p1K5/k7 w - - 0 1


First, here are a couple of 5 move mates:
1.Bg7 Bxg7
2.Rd8 Bd4
3.Nf5 Bb2
4.Rd1+ Bc1
5.Rxc1#
1.Rh7 Be5
2.Rd7 Bd4
3.Bc5 Bb2
4.Rd1+ Bc1
5.Rxc1# (or 5.Bd4#)
And a 4-mover:
1.Rg8 Bd4
2.Rg1+ Bxg1
3.Bg7+ Bd4
4.Bxd4#
I'm sure there are other 4-move mates. But here's the 3 move mate:
1.Nf5!
Which threatens Rh1#.
1...Bxh8
2.Ng7! Bxg7
The only legal move for Black.
3.Bxg7#
There are couple of other responses Black can try against 1.Nf5, but the mate in 3 still holds:
1...Bb2
2.Rh1+ Bc1
3.Rxc1#
And:
1...Be1
It's a trap! If White responds by Rh1, it's stalemate.
2.Bg7+ Bc3
3.Bxc3#
I couldn't find the solution myself. Got all the 5- and 4-movers, but not the 3. Had to be watch my chess app solve it. Took about 2 seconds.
I would rate this problem: Devious.

Problem 2 - Black To Play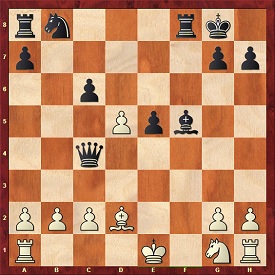 rn3rk1/p5pp/2p5/3Ppb2/2q5/8/PPPB2PP/R3K1NR b KQ - 0 1


This is pretty straightforward:
1...Qf1+
2.Kxf1 Bd3+
3.Ke1 Rf1#

Problem 3 - White To Play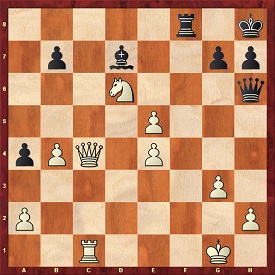 5r1k/1p1b2pp/3N3q/4P3/pPQ1P3/6P1/P6P/2R3K1 w - - 0 1


1.Nf7+
Now Black has two choices, either take the rook or move the king. Either way, he can't escape. Let's say he chooses the latter:
1...Kg8
2.Nxh6+ Kh8
3.Qg8+ Rxg8
4.Nf7#
The classic smothered mate. This line is what I'd hoped you could see. But, since this line loses Black his queen on the 2nd move, most would avoid playing it. This leaves only:
1...Rxf7
White can now take advantage of Black's poorly defended back rank.
2. Qc8+ Bxc8
2...Be8 also does not avail after 3.Qxe8+ Rf8 4.Qxf8#
3.Rxc8+ Rf8
4.Rxf8#
White has more attackers than Black had defenders.

Problem 4 - White To Play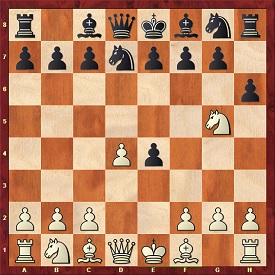 r1bqkbnr/pppnppp1/7p/6N1/3Pp3/8/PPP2PPP/RNBQKB1R w KQkq - 0 1


With no d-pawn and the f-pawn vulnerable to attack, Black is in serious trouble.
1. Ne6! Ngf6
The least worst option. If Black takes the knight, it's curtains: 1...fxe6 2.Qh5+ g6 3.Qxg6#
2.Nxd8
And White has a winning advantage.

Bloodbath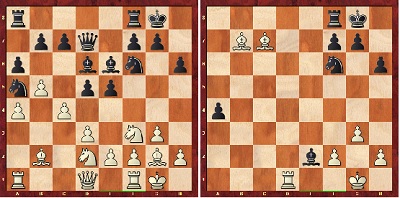 The 17 consecutive captures are:
12...dxc4
13.dxc4 Nxc4
14.Nxc4 Bxc4
15.Nxe5 Bxe5
16.Bxe5 Qxd1
17.Rfxd1 axb5
18.Bxb7 Rxa4
19.Rxa4 bxa4
20.Bxc7 Bxe2
And Black went on to win. The source for this is The Chess Records page of Tim Krabbé
Endgame of the Week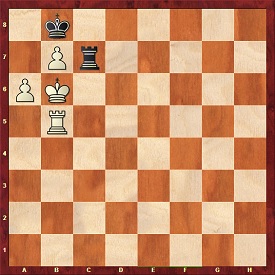 1k6/1Pr5/PK6/1R6/8/8/8/8 b - - 0 1


Since he's two pawns down, Black needs to see if he can force a draw. Fortunately, in this position, he can, and it's not all that difficult. The first move is key:
1...Rxb7+
2.Kc6
And not 2.axb7?, which is stalemate
2...Rxb5
3.Kxb5 Ka7
K vs. K + Rook Pawn is a dead draw, meaning, Black really, *really* has to make some monumentally stupid moves in order for White to win.
See you all next week!
___________
Note: that cryptic line of letters and numbers you see underneath each board diagram is a representation of the position in what is known as "Forsyth-Edwards Notation", or F.E.N. It's actually readable by humans. Most computer applications nowadays can read FEN, so those of you who may want to study the position, you can copy the line of FEN and paste into your chess app and it should automatically recreate the position on its display board. Or, Windows users can just "triple click" on it and the entire line will be highlighted so you can copy and past it into your chess app.
___________
So that about wraps it up for this week. Chess thread tips, suggestions, bribes, rumors, threats, and insults may be sent to my yahoo address: OregonMuse little-a-in-a-circle yahoo dott com.

posted by OregonMuse at
05:11 PM
|
Access Comments