« GUNS GUNS GUNS....
|
Main
|
The Morning Report 11/28/16 »
November 27, 2016
Overnight Open Thread (11-27-2016)
Hillary Clinton ne sera jamais présidente
Hillary Clinton kommer aldrig att bli president
Hillary Clinton soha nem lesz elnök
הילרי קלינטון לא יהיה נשיא
Hillary Clinton sal nooit president wees
هيلري ڪلنٽن صدر نه ٿيندو
Хілары Клінтан ніколі не будзе прэзідэнтам
Hillary Clinton nie będzie prezydentem
Hillari Klinton prezident heç vaxt
Hillary Clinton vil aldrig være præsident
היללאַרי קלינטאן וועט קיינמאָל זיין פּרעזידענט
Hillary Clinton will never be president
Hillary Clinton ay hindi kailanman magiging president
希拉里·克林頓永遠不會是總統
Hillary Clinton kamwe kuwa rais

Identify the lyric...win a prize
and there's a wino down the road - I should have stolen Oreos

bake me a pie of love

I can see those spider veins

Everybody in a wholesale frock

I've got two chickens with parrot eyes!

stuffing my face with his fingers

The girl with colitis goes by

There's a baboon on the rise
Claymores For Thee But Not For Me
Yeah....I want one. We all want one. And I know exactly what I would use it for. In DildoWorld, Drive 50mph in a 25mph zone with your windows open and your aurally offensive music audible four miles away and the Claymore Gods will reach out and touch you...hard!
"Unfettered" Free Trade? If Only...
First, although the United States maintains a relatively low average import tariff of around 3 percent, it also applies high tariffs on a wide array of "politically-sensitive" (read: highly lobbied) products: 131.8% on peanuts; 35% on tuna; 20% on various dairy products; 25% on light trucks; 16% on wool sweaters, just to name a few. (Agriculture is particularly bad in this regard.) We also maintain a long list of restrictive quotas on products like sugar, cheese, canned tuna, brooms, cotton, and baby formula. And although the U.S. has 14 free trade agreements (FTAs) with 20 different countries and is a longstanding member of the World Trade Organization (WTO), many of these same "sensitive" products have been exempted from the agreements' trade liberalization commitments. Free trade for thee, but not for me.
It's a bit tedious to listen to the shrieking harpies of the #NeverTrump movement decrying his tariff and trade suggestions when most of them are happily taking money from the very lobbyists who love tariffs and trade restrictions.
How To Be A Southern Gentleman
Or, for that matter, a gentleman...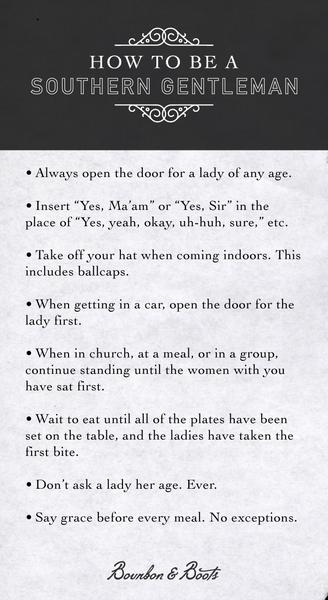 From Sippican Cottage, whose writer is profoundly disturbed, probably stark raving mad, but someone who is undoubtedly loads of fun at a bar.
This is the greatest concert I've ever heard of. It makes Woodstock look like Monday night in a Chinese restaurant lounge in Milford, Mass. Don't ask me how I know what that's like.

This video gets pulled from YouTube faster than I can keep up with it. The video quality in this one is set on Etch-A-Sketch through a periscope, but you get the idea. The whole thing is sublime.
who needs fireworks? Disney announces new Christmas drone show to light up the skies this winter Finally, something for drones to do besides checking out your neighbor's hot college-age daughter in her bikini.....And didn't drones used to be called RC airplanes?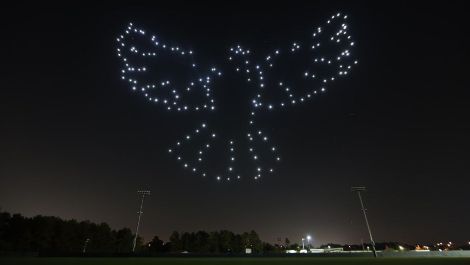 Sumo
Lots of people see Sumo wrestlers and think that they are immensely fat, and don't look beyond the blubber. But most of them are surprisingly fine athletes, and a few of them, in particular my favorite Sumo from the 1980s, are amazingly strong and fast and skilled. Unfortunately, Chiyonofuji died recently, but take a look at this admittedly crappy video, and you will see that he was an amazing athlete. His nickname was, "The Wolf," and his piercing stare and steely face was, I am confident, unnerving to his opponents.
A letter From Ronald Reagan on the occasion of his son's marriage

Michael Reagan
Manhattan Beach, California
June 1971

Dear Mike:

Enclosed is the item I mentioned (with which goes a torn up IOU). I could stop here but I won't.

You've heard all the jokes that have been rousted around by all the "unhappy marrieds" and cynics. Now, in case no one has suggested it, there is another viewpoint. You have entered into the most meaningful relationship there is in all human life. It can be whatever you decide to make it.

Some men feel their masculinity can only be proven if they play out in their own life all the locker-room stories, smugly confident that what a wife doesn't know won't hurt her. The truth is, somehow, way down inside, without her ever finding lipstick on the collar or catching a man in the flimsy excuse of where he was till three A.M., a wife does know, and with that knowing, some of the magic of this relationship disappears. There are more men griping about marriage who kicked the whole thing away themselves than there can ever be wives deserving of blame. There is an old law of physics that you can only get out of a thing as much as you put in it. The man who puts into the marriage only half of what he owns will get that out. Sure, there will be moments when you will see someone or think back to an earlier time and you will be challenged to see if you can still make the grade, but let me tell you how really great is the challenge of proving your masculinity and charm with one woman for the rest of your life. Any man can find a twerp here and there who will go along with cheating, and it doesn't take all that much manhood. It does take quite a man to remain attractive and to be loved by a woman who has heard him snore, seen him unshaven, tended him while he was sick and washed his dirty underwear. Do that and keep her still feeling a warm glow and you will know some very beautiful music. If you truly love a girl, you shouldn't ever want her to feel, when she sees you greet a secretary or a girl you both know, that humiliation of wondering if she was someone who caused you to be late coming home, nor should you want any other woman to be able to meet your wife and know she was smiling behind her eyes as she looked at her, the woman you love, remembering this was the woman you rejected even momentarily for her favors.

Mike, you know better than many what an unhappy home is and what it can do to others. Now you have a chance to make it come out the way it should. There is no greater happiness for a man than approaching a door at the end of a day knowing someone on the other side of that door is waiting for the sound of his footsteps.

Love,

Dad

P.S. You'll never get in trouble if you say "I love you" at least once a day.
©2029 by AceCorp LLC. All Rights Reserved. Submissions are prioritized based on cup size and hem-line. Please leave safe-space-binkies with receptionist. Cans only...no bottles.
&topic=world_news">

posted by CBD at
10:00 PM
|
Access Comments