« Saturday Morning Weird News [Mis. Hum.]
|
Main
|
Thread below the Gardening Thread: Nov. 5, 1916 [KT] »
November 05, 2016
Israel's High-Tech Expertise Is Being Applied To Milk And Cheese. [CBD]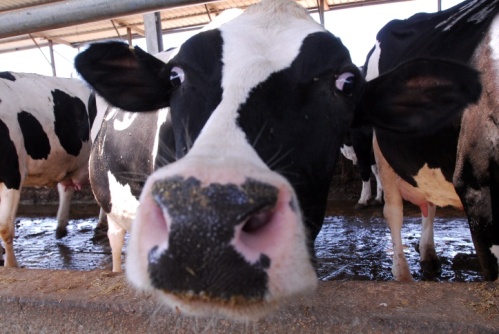 It's interesting that a tiny country that started with almost literally nothing has pushed the boundaries in every discipline. Israeli Cows are Taking Over the World
Israel has always had a vibrant agricultural tradition, in part because some of the Eastern European immigrants were from traditional farming areas in Poland and Russia. Combine that with breathtaking technological advances, and you get this:
In recent years, a handful of Israeli companies using locally-developed technology have come to dominate the world market for milk production systems and dairy herd management. Israeli companies Afimilk Agricultural Cooperative Ltd., based at Afikim, and the Netanya-based SCR Dairy, recently acquired by U.S. giant Allflex, have built milking parlors all over the world, including the United States, China, and Vietnam, and have dozens of other large projects underway. Akol, based at Kibbutz Bror Hayil, runs a database tracking the milk production of every cow in Israel; it recently signed a partnership with Microsoft to help make the technology globally available. Israel's Agency for International Development signed a cooperation and information-sharing deal with India's dairy sector last year.
That Israeli cow gave a shudder
Her eyes wide with shock, she did mutter:
"I wish that the farmer
Would buy a hand warmer
And get his cold mitts off my udder!"
-- Muldoon

posted by Open Blogger at
10:14 AM
|
Access Comments