« EMT 11/06/16 [krakatoa]
|
Main
|
Who Are We...And Open Thread [CBD] »
November 06, 2016
Sunday Morning Book Thread 11-06-2016 [OregonMuse]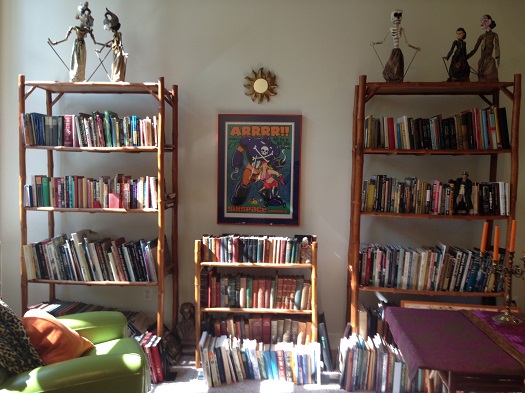 Library of 'Ette All Hail Eris
Good morning to all of you morons and moronettes and bartenders everywhere and all the ships at sea. Welcome to AoSHQ's stately, prestigious, internationally acclaimed and high-class Sunday Morning Book Thread, where men are men, all the 'ettes are gorgeous, safe spaces are underneath your house and are used as protection against actual dangers, like tornados, hurricanes, IRS audits, and having wikileaks dump your emails into the public domain a week before the election, and special snowflakes can't stand the heat. And unlike other AoSHQ comment threads, the Sunday Morning Book Thread is so hoity-toity, pants are required. Even if it's these hideous monstrosities. And I hope a whole bunch of man cards were revoked after this photo was taken.

The Bible: Graphic Novel Edition
I don't think there's anything new about "cartoon" depictions of Bible stories, but perhaps not this comprehensively done:
It's an adaptation of the Bible Jesus probably never envisioned, and one most people have never seen before: Bible as comic book.

Christian publisher Kingstone recently released a 2,000-page graphic novel adaptation of the Old and New Testaments, which it claims is the world's longest graphic novel.

It took 45 illustrators seven years to produce the 2,000 page-12 paperback volume "Kingstone Bible," which the publisher calls "the most complete graphic-novel adaptation of the Bible ever published."
The Kingstone Bible Vol. 1 is the first of 12 volumes running from Genesis to Revelation.
I have mixed feelings about this. I believe that the spoken word and words written down are a much more complex, subtle, and rich form of communication than visual images. You can always adapt movies into books, but the other way around is a lot more difficult, and with some books, it simply can't be done. So I worry that something essential is going to get lost in such graphical adaptations. Not that the Christian faith is bereft of visual representations of truth, but it seems to me that God chose a vehicle to carry His thoughts and intentions to His children that is primarily verbal.
So that's my opinion, which you can take down to Starbucks along with $3.50 and get yourself a cup of coffee.
The guys who put out the Kingstone Bible are Christians, but that's not necessarily a requirement. Here is The Book of Genesis Illustrated by legendary cartoonist Robert Crumb. If you're old enough, like me, to remember the 60s hippie era, you will no doubt be familiar with Zap Comix, much of which was drawn by Mr. Crumb. He's known for a number of other things, too, like those Keep on Truckin' cartoon drawings and also Mr. Natural. Crumb is also not shy about drawing what basically amounts to X-rated, hard-core pr0n, so you might want to be careful if you're going to be searching around for samples of his work.
Which is why my reaction to hearing that Crumb had drawn a graphic version of the Book of Genesis was "oh great, he's going to vandalize it", but in his intro (which is in the Kindle sample download), he says he played it straight, with no ridicule or visual jokes, And he even mentions that every other graphical versions of the Bible he's seen contains passages of "completely made-up narrative and dialogue", and that he avoided doing this. His intention, he says, was to draw the Book of Genesis as it is, all 50 chapters, with nothing left out. And this "nothing left out" part is most likely why there's an "adult supervision recommended for minors" warning label on the front cover. Genesis, as the rest of the Bible, does not cover up or soft sell sinful behavior.
I haven't decided whether I want to read this one or not. I don't know if it's any good, other than it was nominated for three 2010 Will Eisner Comic Industry Awards: Best Adaptation from Another Work, Best Graphic Album, and Best Writer/Artist.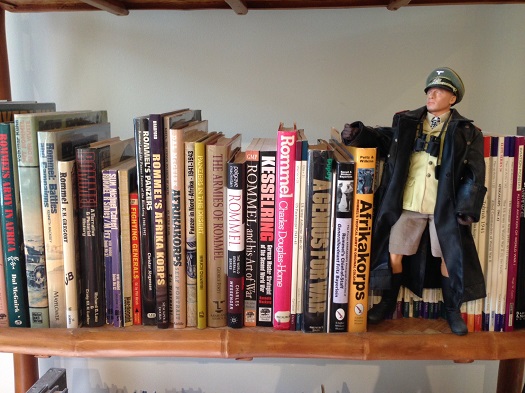 Library of All Hail Eris, Military History Section
Figure At Right: Gen. E. Rommel

Cubs Win!
So just for grins, I searched the Amazon book section for "Chicago Cubs" to see what it would come up with. The first item was 100 Things Cubs Fans Should Know & Do Before They Die, wherein chapter 1 is entitled "Watch the Cubs Win the World Series." Of course, fans may now cross this one off the list.
More than a look at the century-long wait for another World Series win, the book contains crucial information for Cubs fans, such as important dates, player nicknames, memorable moments, and outstanding achievements by singular players. This guide to all things Cubs also includes a list of must-do Cubs-related activities, which include taking in Wrigley field, traveling to Arizona for spring training, and sipping beers at the best Cubs bars around the country.
Pro tip: according to this book, you can get away without having to pay for parking at Wrigley Field. What you do is park on the street near Irving Park Road and then take the Red Line to the game. Book claims it's cheaper, faster, and perfectly safe. Never having been there, I have no idea whether this information is accurate.
Also, the first no-hitter at Wrigley Field was thrown by Fred Toney of Cincinnati on May 2nd, 1917. This game is also famous for another reason. The Cubs' pitcher, Hippo Vaughn, also didn't allow a hit for 9 innings, but then he faltered in the 10th. That must have been an incredible game to watch.
I was surprised at the number of books written about Wrigley Field. The first one that came up is A Nice Little Place on the North Side: A History of Triumph, Mostly Defeat, and Incurable Hope at Wrigley Field by George Will (stop laughing).
Winding beautifully like Wrigley's iconic ivy, Will's meditation on "The Friendly Confines" examines both the unforgettable stories that forged the field's legend and the larger-than-life characters—from Wrigley and Ruth to Veeck, Durocher, and Banks—who brought it glory, heartbreak, and scandal. Drawing upon his trademark knowledge and inimitable sense of humor, Will also explores his childhood connections to the team, the Cubs' future, and what keeps long-suffering fans rooting for the home team after so many years of futility.
It sounds like George Will didn't really write a book about Wrigley Field so much as he wrote a book about George Will.
Chicago Cubs fans can get their children started early with the Chicago Cubs ABC (My First Alphabet Book). So Iguess it's 'E' is for Ernie, 'R' is for Ron...
Lastly, it wouldn't be baseball without a pile of statistics, so with that in mind, there's Cubs by the Numbers: A Complete Team History of the Chicago Cubs by Uniform Number. It goes through each Cubs uniform number detailing who wore it and when:
Since the Chicago Cubs first adopted uniform numbers in 1932, the team has handed out only 77 numbers to more than 1,500 players. That's a lot of overlap. It also makes for a lot of good stories. Newly updated, Cubs by the Numbers tells those stories for every Cub since '32, from current staff ace Jake Arrieta to former third baseman turned division-winning manager Don Zimmer. This book lists the players alphabetically and by number; these biographies help trace the history of baseball's most beloved team in a new way.

Crank Out A Bestseller This Month
Just in time for National Novel Writing Month, a longtime lurking moron recommends The Bestseller Code: Anatomy of the Blockbuster Novel:
The book's authors use an algorithm and a computer to figure out if there is something in the DNA of bestseller - why are 50 Shades of Grey and The Davinci Code the best-selling books of the last x amount of years (not counting Harry Potter)? They fed something like 5,000 books into their machine to see if their theory works, and yes, it works.

The book has answers, including what topics and themes sell and which ones don't. If you're a committed writer who's had little to no success selling your novels, this is the rare book about the subject I consider must-read. I think a lot of the writers who visit the book thread would appreciate this one.
A number of the Amazon reviewers say this isn't really a how-to manual as such, it just gives you a bunch of data concerning what works and what doesn't. However, I am a bit skeptical as even though you can come up with algorithms that explain past success, whether they can be used to predict future performance is uncertain. Climate models and economic forecasting models also suffer from this defect. It would be great if there were testimonials from some authors, such as "I took my crap novel and revised it according to the data and republished it, and now I have Donald Trump chauffeuring me around in my Rolls Royce and I'm blowing my nose with $100 bills." Something like this would boost the credibility of this book immensely.
Of course, if this works, and everybody starts doing it, then you run into the phenomenon where the "natural" data your algorithm depends upon to work gets contaminated with the results of your algorithm, thus skewing future statistical analyses. But that's another issue entirely.

This Year's Bestseller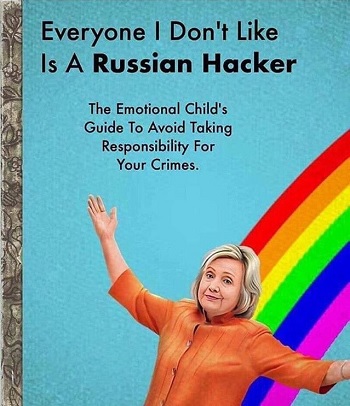 (h/t @ThePoliticalHat)

Easy Quiz
If you want to boost your ego a bit, try this literary quiz. I mean, who wrote Moby Dick? Come on...

Moron Recommendations

'Ette All Hail Eris recommends Eric Mexatas' book If You Can Keep It: The Forgotten Promise of American Liberty, which she says is about
...what unites us philosophically as a people. His chapter on George Whitefield alone is worth the time. An astounding 80% of colonists are thought to have heard him preach over his many years and miles travelling about the country.
That's amazing, I never knew that about Whitefield. The Amazon blurb says that this book
...is at once a thrilling review of America's uniqueness—including our role as a "nation of nations"—and a chilling reminder that America's greatness cannot continue unless we embrace our own crucial role in living out what the founders entrusted to us. Metaxas explains that America is not a nation bounded by ethnic identity or geography, but rather by a radical and unprecedented idea, based on liberty and freedom for all. He cautions us that it's nearly past time we reconnect to that idea, or we may lose the very foundation of what made us exceptional in the first place.
I always wonder if future historians will marvel at how strange it is that, in the opening decade of the 21st century, there was a man who, from his earliest days, was surrounded by, taught by, mentored by, and befriended by men who despised the very idea of America and American supremacy, and who were actively working to undermine it, and that this man, who by his own admission had more sympathy for 3rd world revolutionary and "liberation" movements than anything given to him by traditional American values, was elected to the office of president of the United States, and that not once, but twice. And that his election was hailed as a tremendous achievement.
I have to think that these future historians are going to be scratching their heads and thinking, "WTF?"

___________
Don't forget the AoSHQ reading group on Goodreads. It's meant to support horde writers and to talk about the great books that come up on the book thread. It's called AoSHQ Moron Horde and the link to it is here: https://www.goodreads.com/group/show/175335-aoshq-moron-horde.
___________
So that's all for this week. As always, book thread tips, suggestions, bribes, rumors, threats, and insults may be sent to OregonMuse, Proprietor, AoSHQ Book Thread, at the book thread e-mail address: aoshqbookthread, followed by the 'at' sign, and then 'G' mail, and then dot cee oh emm.
What have you all been reading this week? Hopefully something good, because, as you all know, life is too short to be reading lousy books.

posted by Open Blogger at
08:57 AM
|
Access Comments