« The Morning Report 10/25/16 [J.J. Sefton]
|
Main
|
Obamacare Premiums Surging By Double Digits... Again »
October 25, 2016
Mid-Morning Open Thread [CBD]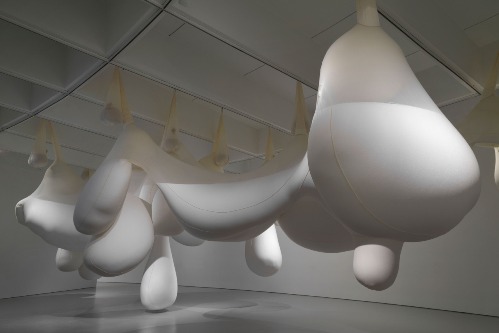 The Dangerous Logic Of Wooing
Ernesto Neto
From our very own Bluebell!
Last year, my son and I visited the Hirshhorn Museum because my son had a paper to write and I'm always up for a visit to a museum. In our wanderings we came upon this.
It took up an entire very large room, and it's every bit as crazy as you would think. We had a grand time walking around it, taking pictures and sending them out to my husband and the other kids.
One of the other exhibits was a Yoko Ono one -- oh yes -- which consisted of a monitor streaming a feed from a video camera mounted on the roof of the museum, pointing upwards at the sky. Which means, of course, you just see clouds, or whatever. It was ridiculous. As are all the other works of Yoko.
One last thing about this art piece: as my son and I were walking into the room where it was, having already glimpsed the gist of it, we passed a middle-aged, well-dressed woman walking out. Oh great, I thought, some snooty lobbyist or something taking in a little culture on her early lunch hour. She probably sees all kinds of wonderful meanings in this. She caught our eyes, smiled broadly and said, "It's udderly ridiculous."

posted by Open Blogger at
09:51 AM
|
Access Comments