« Military Upset With Brain-Damaged, Absent-Minded Old Woman's Disclosure of US Nuclear Response Times
|
Main
|
Buzzfeed: The Home of Listicles About Hot Men »
October 21, 2016
Russian Navy Deploys Carrier to Med [Weirddave]
Oct 21, 2016 (ANN) In a move sure to be seen as provocation by many western observers, the Russian have redeployed their only carrier, Admiral Kuznetsov, to the eastern Mediterranean.
Ordered by the Soviet Union in 1981, the vessel was launched in 1985 and commissioned in 1990 as Admiral Flota Sovetskovo Soyuza N.G. Kuznetsov after Soviet Admiral Nikolai Kuznetsov, a legendary sailor who was promoted in 1955 to his post as the first Fleet Admiral of the Soviet Navy. He was demoted less than a year later for political unreliability. His rank was posthumously restored in 1988 when the Soviets realized two things: That naming their carrier Leonid Brezhnev as planned was less than popular and that naming a ship after a discredited admiral was probably not the best idea. In true Soviet fashion they un-discredited the Admiral. 1988 was a turbulent year in the USSR.
Although classified by western navies as an aircraft carrier, her official designation in the Russian Navy is "heavy aircraft-carrying cruiser", so three years after her commissioning it was decided to put some planes on board. Her first operational deployment (to the Mediterranean, in order to "acclimate" Russian sailors to the harsh climate there) in the mid 90s was cut short, reportedly by mechanical problems with her evaporators, leading to a severe shortage of water aboard. Russian spokesman Alexov Andrelki vehemently denied the rumors in the press. "Reports of a water situation aboard Admiral Flota Sovetskovo Soyuza N.G. Kuznetsov are completely false. As you can see from these photos, Kuznatov is comfortably deployed on top of the water. Look at the photos, there is plenty of water all around the magnificent ship." After a brief liberty stop in Tartus, Syria (which subsequently suffered a mysterious but unrelated shortage of bottled water), Kuz returned to Russia where she served with distinction in a variety of Russian dry docks.
This month's deployment of the vessel to Syria is her first following an extensive 2010 refit. Photos taken by the Royal Navy (see below) of the vessel transiting the English Channel have led to speculation among American military experts as to the exact nature of these upgrades. "Judging from the stack gas, her power plant appears to have been converted to one burning firewood, or possibly peat.", said one expert on condition of anonymity, "Either of these would be an excellent choice for them as Russia enjoys vast reserves of both in Siberia. It remains to be seen, however, if they will be able to master the technical aspects of this new-to-them technology".
Ace News Network will keep on top of this story for any breaking developments.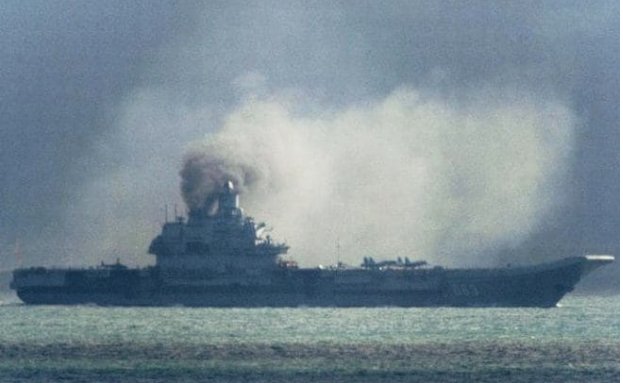 posted by Open Blogger at
03:01 PM
|
Access Comments