« AoS Pet Thread [Mis. Hum]
|
Main
|
Overnight Open Thread (8 Oct 2016) »
October 08, 2016
Saturday Afternoon Chess/Open Thread 10-08-2016: [OregonMuse]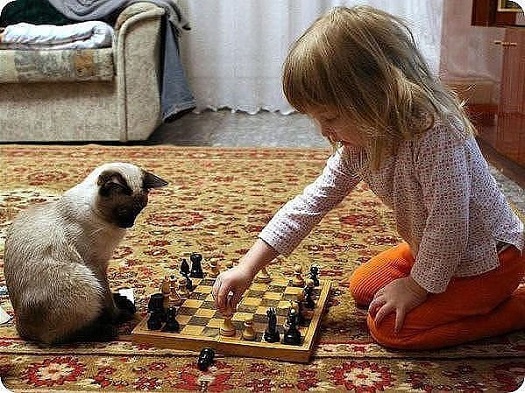 Good afternoon morons and moronettes, and welcome to the Saturday Afternoon Chess/Open Thread, the only AoSHQ thread with content specifically for all of us chess nerds who pay homage in the temple of Caïssa, goddess of the chessboard. And, for those of you who aren't nerdly enough for chess, you can use this thread to talk about checkers, or other games, or politics, or chubby Venezuelan beauty queen pr0n stars, or whatever you wish, only please try to keep it civil. Nobody wants to get into a hockey brawl on a Saturday afternoon. Except maybe hockey fans.

Problem 1 - Black To Play (17)
Hint: There's a mate in 2 for Black
The Master set up the following position for the Student and said, "It's Black's move. What do you see?"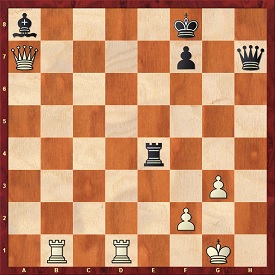 b4k2/Q4p1q/8/8/4r3/6P1/5P2/1R1R2K1 b - - 0 1


The Student studied the board for awhile, and then looked up at the Master and smiled. "I see a mate in 3", he said.
The Master nodded. "Not bad", he said. "But there's something else, too. Something a little bit better."
The Student looked at the board again. "Oh wait, you're right. Wow, I totally missed it."
So the Student is right. There is indeed a mate-in-3 for Black here. But there's also something else. Find both.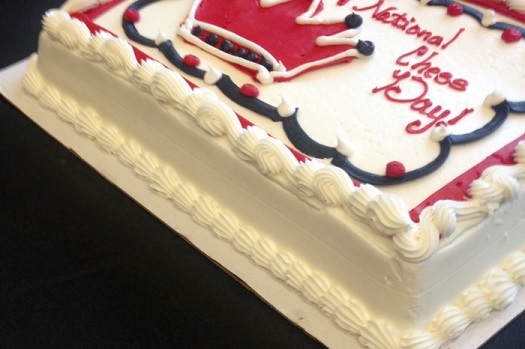 Everybody Gets Cake On National Chess Day!

Today Really Is National Chess Day
I never knew there was National Chess Day, but there you are. It is usually Oct. 9th, but the 9th is Sunday and so this year they moved it back to the 8th, probably to give postal workers another day off.
So I don't know what you're supposed to do to celebrate National Chess Day, play chess, I guess. There's some big-ass tournament going on that coincides with it, although:
America's top three players, now all Olympic gold medallists, GMs Fabiano Caruana, Wesley So and Hikaru Nakamura will all be participating in the Isle of Man Chess International, an open tournament which runs from October 1-9.
Last year, there was the USCF linked to a short chess film with a man vs. machine theme.
National Chess Day has its own, mostly uninformative web site.

Problem 2 - White To Play (63)
Hint: White mates in 3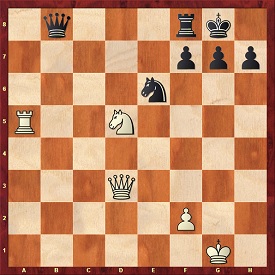 1q3rk1/5ppp/4n3/R2N4/8/3Q4/5P2/6K1 w - - 0 1



You Can't Fight Crazy
Hams Kmoch on Aaron Nimzovich:
"He pretends to be crazy in order to drive us all crazy." This was Tartakower's dictum on his colleague Nimzovich...The man was not exactly crazy, but he did have certain marked peculiarities, which I had ample opportunity to observe during the nine years I knew him...

His paranoia was most evident when he dined in company. He always thought he was served much smaller portions than everyone else. He didn't care about the actual amount but only about the imagined affront. I once suggested that he and I order what the other actually wanted and, when the food was served, exchange plates. After we had done so, he shook his head in disbelief, still thinking that he had received the smaller portion.
That plate-switching idea was an ingenious solution Kmoch devised to demonstrate the absurdity of Nimzovich's paranoid complaints. Any normal person would have been convinced. But not, evidently, Aaron Nimzovich. I suspect Fischer wouldn't have been convinced, either.

Problem 3 - White To Play (100)
Hint: White mates in 3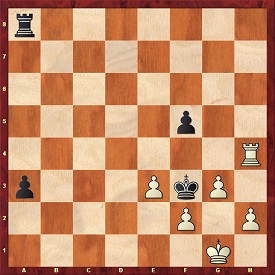 r7/8/8/5p2/7R/p3PkP1/5P1P/6K1 w - - 0 1



Problem 4 - White To Play (37) BWTC
Hint: White can mate in 3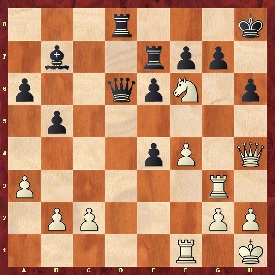 3r3k/1b2rpp1/p2qpN1p/1p6/4pP1Q/P5R1/1PP3PP/5R1K w - - 0 1



Endgame of the Week (294)
Here is one for you noobs. What does White need to do to win? Or can he?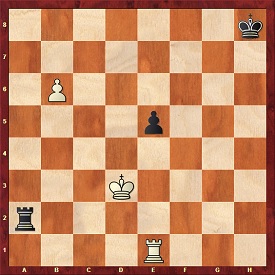 7k/8/1P6/4p3/8/3K4/r7/4R3 w - - 0 1



___________
Solutions Update
Problem 1 - Black To Play (17)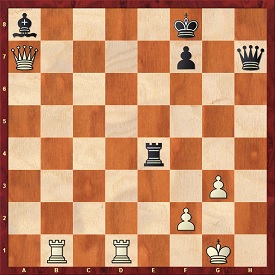 b4k2/Q4p1q/8/8/4r3/6P1/5P2/1R1R2K1 b - - 0 1


The Student first found this mate-in-3 for Black:
1...Qh1+
2.Kxh1 Rh4+
3.Kg1 Rh1#

There's also a mate in 2:
1... Re1+
2.Rxe1 Qh1
In an actual game, there wouldn't be much of a difference if you found one or the other, both are forced mates, and a win is a win.

Problem 2 - White To Play (63)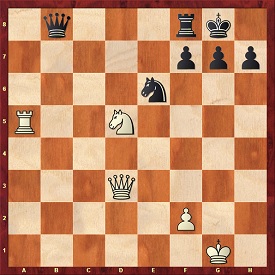 1q3rk1/5ppp/4n3/R2N4/8/3Q4/5P2/6K1 w - - 0 1


The moves are forced, but perhaps not so obvious:
1.Ne7+ Kh8
2.Qxh7+ Kxh7
3.Rh5#
See how the knight on e7 is covering both escape squares. Sometimes that's hard to see from a couple of moves back.

Problem 3 - White To Play (100)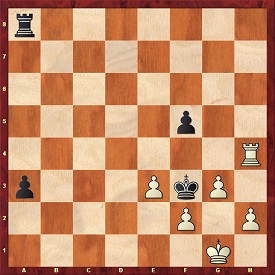 r7/8/8/5p2/7R/p3PkP1/5P1P/6K1 w - - 0 1


What might be tricky about this problem is that the first move is a "set up" move that White needs to make in order to force the checkmate. Black's king isn't going anywhere and if White could just scooch his king over to f1, he'd be able to checkmate with this rook. So...
1.Kf1
Black has few options. Only this move will stave off the mate.
1...Ra4
2.Rxa4
2...a2
Futile, but there is no other move.
3.Rf4#

Problem 4 - White To Play (37)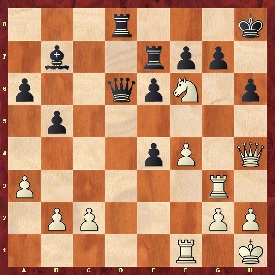 3r3k/1b2rpp1/p2qpN1p/1p6/4pP1Q/P5R1/1PP3PP/5R1K w - - 0 1



Black's 'g' pawn looks awfully weak, but if White moves 1.Qg4, then 2...g6 holds for awhile:
1.Qg4 g6
2.Qh4 Kg7
And now it's not clear how White can make progress in this line. But White has a better option:
1.Qg5!
And now Black's defense 1...g6 fails because of 2.Qxh6# which move White couldn't do before because his Queen was not on the right square.

Taking the queen also fails:
1...hxg5
2.Rh3#
As does taking the knight:
1...gxf6
2.Qg7#
The only thing Black can do is to try to protect the 'g' pawn, but all this does is hold out for one more move:
1...Rg8
2.Qxh6+ gxh6
3.Rxg8#
Kaboom!

Endgame of the Week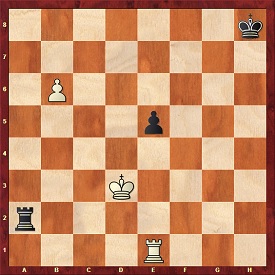 7k/8/1P6/4p3/8/3K4/r7/4R3 w - - 0 1


White can certainly win. And it's pretty straightforward. There's no tricky stuff that you sometimes see in endgames, such as stalemate threats or underpromotions or things of that nature. The only thing you need to know for this one is: don't get greedy.
1.Rb1!
You need to do this first. If you succumb to greed and plsy 1.Rxe5? immediately, then Black gets behind the pawn with 1...Rb2! and then 2.Re6 Kg7 3.Kc4 Kf7 4.Rc6 Ke7 5.Kc5 Kd8 and then if 6.Rc7, 6...Rc2+ wins the rook. If White moves the rook anywhere else, then 6...Kc8 and Black gets the draw.
1...Ra8
Black needs to get back there and block the pawn.
2.b7! Rb8
3.Ke4 Kg7
Black tries to get his king into the act, but he's going to be too late. And now White can finally snarf up that pawn.
4.Kxe5 Kf7
5.Kd6 Ke8
6.Kc7 and wins
Black will be forced to trade his rook for the pawn in order to stop it from queening.

And there you go.
Hope to see you all next week.

___________
Note: that cryptic line of letters and numbers you see underneath each board diagram is a representation of the position in what is known as "Forsyth-Edwards Notation", or F.E.N. It's actually readable by humans. Most computer applications nowadays can read FEN, so those of you who may want to study the position, you can copy the line of FEN and paste into your chess app and it should automatically recreate the position on its display board. Or, Windows users can just "triple click" on it and the entire line will be highlighted so you can copy and past it into your chess app.
___________
So that about wraps it up for this week. Chess thread tips, suggestions, bribes, rumors, threats, and insults may be sent to my yahoo address: OregonMuse little-a-in-a-circle yahoo dott com.

posted by Open Blogger at
04:55 PM
|
Access Comments