« Thread below the Gardening Thread: October 8, 2016 [KT]
|
Main
|
AoS Pet Thread [Mis. Hum] »
October 08, 2016
Saturday Gardening Thread: Which way doth the wind blow? [KT]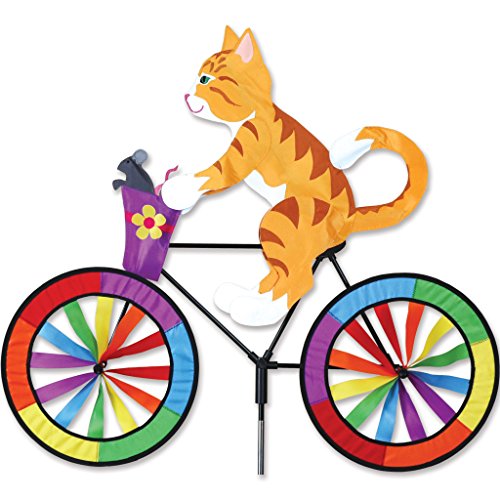 Anybody on the road due to Matthew?
Wind has been in the news lately. Some of the wind speeds recorded during Hurricane Matthew have been pretty scary. Not to mention the reports of storm surges, rescue efforts and damage from NDH in the sidebar. Stay safe if you are in an affected area or on the road.
Today's theme comes to us via a 1973 article from the NYT about a dramatic increase in weathervane thefts. Some weather vanes could become dangerous projectiles during high winds. Today, I thought we could discuss some garden decor that would be nice in a light breeze, but could easily be brought indoors if high winds, or thieves, became a threat. Like the wind spinner above.
Friends who used to live in Florida told me that when high winds were in the forecast, crews were sent out to remove coconuts from palm trees. Dangerous work if the wind has already started. Probably expensive to have it done. Maybe we can touch on planting with wind in mind, too.
And then there are clown sightings. Check below the fold for an unusual garden clown that might fit in with this news trend.
Clown Flowers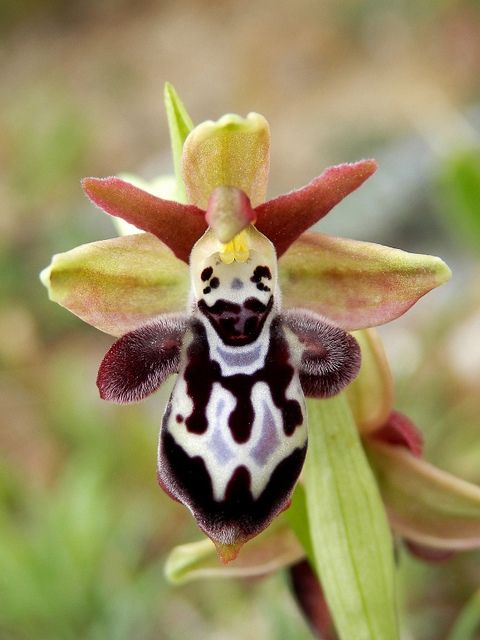 See other unsettling flower faces here.
The clown above is an orchid. Would you grow it?
Personally, I'm not that into clowns. Until I read Ace's post, I had not known that the clown sightings that started down in Wasco a couple of years ago had led to so many clown sightings in France.
I haven't been through Wasco for a few years, but I used to think it was kind of an unsettling place for travelers to stop at night. The streets seemed mostly deserted quite early in the evening, and the folks you did see from the highway did not inspire confidence. Seemed like a fitting locale for creepy clown sightings.
The Wasco sightings, followed by sightings in nearby communities, turned out to have been a photography project. This is a current manifestation of creepy clown reports in Kern County and elsewhere. Sigh. Maybe we should return to the garden. Or farm.
Wasco is the Rose Capital of California. Chances are, if you have a grafted rose bush in your yard it was started in or near Wasco. The theme of their Rose Festival this year was Roses for Heroes. Roses are grown there because the winter fog helps grafts to "take". Though there hasn't been much tule fog the last couple of years because of the drought. A vast field of roses in bloom can be pretty awe-inspiring. I recommend going through Wasco in the daytime.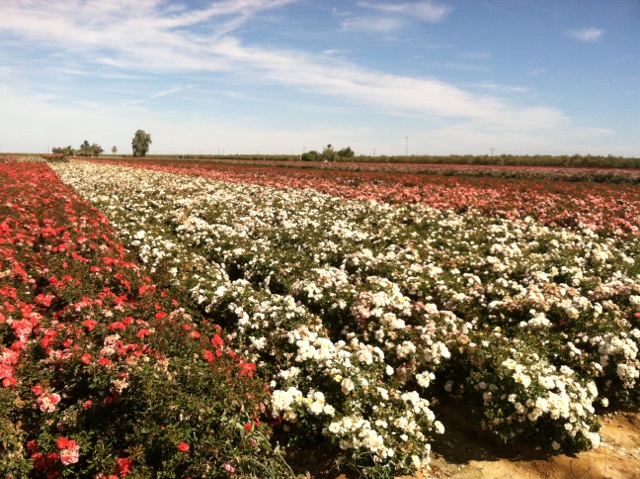 2,400 roses per row
A more cheerful Clown Flower
I once grew another kind of "Clown Flower" from tiny seeds while living in Southern California. It is much easier to buy plants at the nursery. Torenia is a nice flower for hanging baskets and in mixed containers that can make the transition from summer to fall.
Torenia is also known as "Wishbone Flower" because the stamens are arranged in a wishbone shape, holding the clown's mouth open. When a bee or other insect enters to pollinate the flower, it breaks the wishbone so subsequent insects, hummingbirds or butterflies move on to the next flower.
Though generally grown outdoors, Torenia can be grown as a houseplant. It is sometimes over-wintered indoors. You clowns laughin' at me? Some F1 and F2 hybrids are upright dwarfs. Some trail. They now come in a range of colors. Some are more heat-tolerant than others.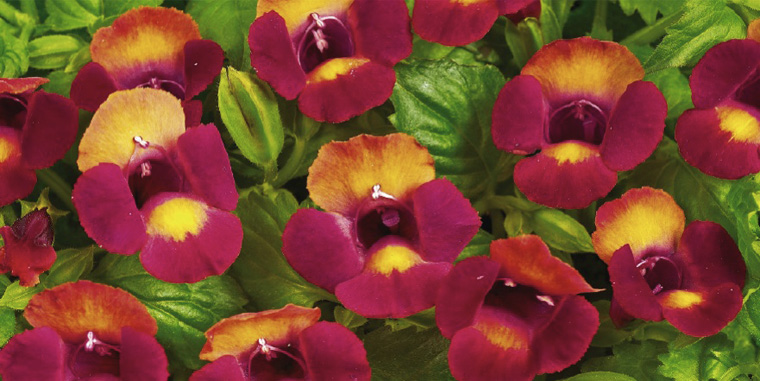 Magenta and Peach Clown Flower?
They are tropical in origin and will take humidity. Heat? Not so much. They can take full sun where summers are cool and short. They will last longer if they get some shade in hotter summers. They need lots of water, but good drainage. I'm thinking "self-watering container".
Have you ever grown a clownish flower or plant?
Wind Spinners, Wind Catchers, Wind Socks and Garden Flags
If anybody in The Horde comes back after an evacuation order is lifted to find their garden in really sad shape, one quick option for lessening depression is to put up some man-made decor.
Whilst I was doing a little business in a neighboring town, a small front yard caught my eye. There was only one plant in it that was not brown from the drought, a rosy magenta bougainvillea trimmed to an upright column near the far edge of the house. But it was balanced by a small garden flag near the door (where I think the homeowners hang an American flag on holidays) and a couple of colorful wind spinners in the raised bed behind the sidewalk from the driveway to the front porch. Looked fun. I think the orderly design of the yard and the white picket fenced contrasted nicely with the playful elements inside the fence.
Simplicity in the garden can work. Especially when the weather has limited more customary options. Lots of decorative garden items that move in a breeze are available through the AoSHQ Amazon Store.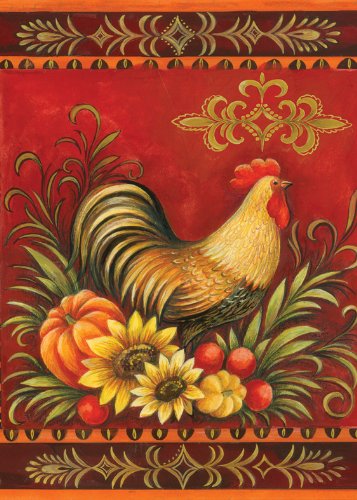 Planting with strong winds in mind
The Sunset Western Garden Book has plant selection lists for "Wind-resistant Plants" and "Plants for Seacoast Gardens". Anybody know if Southern Living has similar lists for the Southeast?
Of course, there are also online resources with lots of ideas on dealing with wind. Including resources created through local extension agencies. Your tax dollars at work (even though volunteers do a lot of the work). Considering wind is especially important if you are gardening on a rooftop terrace, balcony or patio.

Do you have a favorite plant or tree for windy sites? Tips for moderating the effects of wind?
Or do you have a story about a plant that didn't do so well in the wind?
Gardens of The Horde
At the Walmart nearest to me, half of the garden area has already been taken over by Christmas stuff. This is Central California! We have winter gardens here!
Selection is better at local nurseries. I have decided that color-coordinated displays of chrysanthemums look best. I am not as attracted to a random selection that puts rosy-magenta chrysanthemums next to bronze ones. Believe it or not, Walmart had some nice dual-color pots of chrysanthemums. But not as nice as the red and yellow one here.
When I think "fall colors", ithree broad categories spring to mind:
1. Rusty or warm reds, orange, muted colors including pastels and golds, accented by blue or teal.
2. Dusky blue-reds (burgundy) and warm pastels like shell pink or creamy yellow.
3. Purple, lavender, yellow and white.
For my front porch, I am thinking of going with combo number 2 for fall, starting with burgundy snapdragons. Then I can add pinks, white and rose for winter. As in florist's cyclamen and china pinks.
Do you color-coordinate your garden, or does "random" work for you?
Are you planting anything new?
Cleaning up for winter?
Building or repairing something in the yard? Say, after a hurricane?
Hope you have a good week.
To close up, this week's fall foliage photos are from Vail.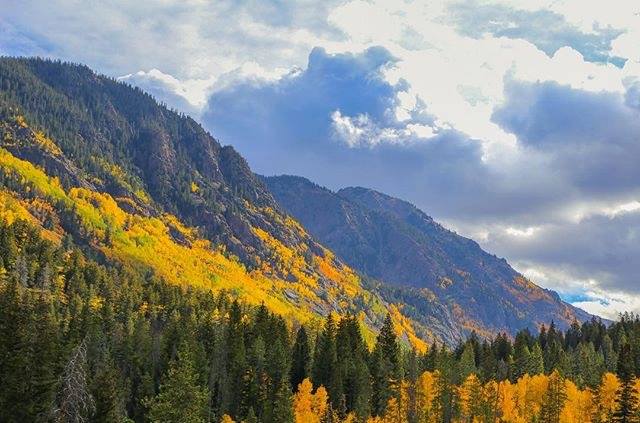 posted by Open Blogger at
12:37 PM
|
Access Comments