« The Morning Report 9/28/16 [J.J. Sefton]
|
Main
|
Morning Consult Poll Has Clinton Getting a Big Bump From Debate;
In LATimes Tracking Poll, Trump Gains Slightly »
September 28, 2016
Girl 27: The Case Against Hollywood Is An Old One [MP4]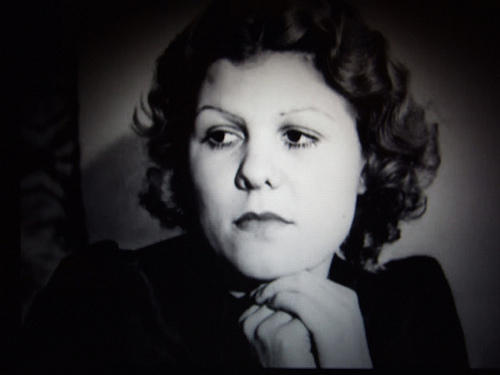 As a diversion from the pending "Fat Man On White Ottoman; Part Deux," we have an interesting article about early Hollywood, which exposes the roots of its current misogyny, lawlessness and arrogance.
From esteemed commenter and Hollywood scholar MP4
Morning, 'rons and 'ronettes.
In the "Golden Age" of movies, no studio was richer or more powerful than MGM. "They owned everyone – the D.A., the L.A.P.D. They ran this place," recalled Budd Schulberg, author of the 1941 novel What Makes Sammy Run? and himself the son of Hollywood mogul B.P. Schulberg. Between the heavy power of studio "fixer" Eddie Mannix (reputed to be responsible for the death of "Superman" George Reeves) and publicity chief Howard Strickling, there was, practically speaking, no crime a Metro star – or valued associate - couldn't commit, from Clark Gable's drunk-driving homicide to the brutal rape of a young dancer in 1937.
Patricia Douglas, a Missouri girl, was the daughter of an ambitious mother who longed to design high couture dresses for Hollywood stars, but never got closer than gowns for expensive call girls. A convent school dropout at 14, Douglas had no desire to be in the movies at all, though that didn't stop her from being a popular bit of innocent arm candy for stars as varied as crooner Bing Crosby to tough guy George Raft to frizzy-haired Stooge Larry Fine, a hep-stepper who taught her every hot dance move he knew. She finally ended up in front of the camera, "just for something to do" and became a fairly well-regarded dancer, good at learning complicated routines and teaching them to other chorus girls. So when she was told about a casting call at the Hal Roach studio in Culver City on May 2, 1937, she ambled on over.
Along with over a hundred other girls, Douglas was kitted out as the Tinseltown version of a cowgirl, in a felt Stetson, suede skirt and black boots. Once dressed, she and the others were herded on to buses, driven out to a remote barn several miles away, plopped down at tables and told to wait. The easygoing Douglas simply bided her time, though the more streetwise girls were puzzled by the fact that, though there was an orchestra, bar and food, this "casting call" set had no lights, no cameras and no crew. Of course, it wasn't a casting call. It was the culmination of a three-day convention of sales executives hosted by MGM; the stag party at the barn was a "Wild West Show" where the attendees could eat, drink, smoke and make whoopee with pretty girls.
Douglas ended up at the table of David Ross, a pudgy 36-year old sales rep from Chicago. He latched on to Douglas, pestering her to teach him to "truck" and constantly trying, as the dancer recalled, to cop a feel. She escaped him briefly by ducking into the ladies' room, but it was only a short respite. When she came back out, two other salesmen, both high as kites, demanded she drink some of the champagne or scotch that was flowing freely. When Douglas refused, one of the men swilled the two drinks together in a glass and poured it down her throat while the other held her nose and forced her to swallow. Choking and gagging, Douglas stumbled outside to vomit, followed by the drunken, horny Ross.
As Douglas later told it, Ross proceeded to rape her, slapping her across the face to keep her from passing out, while muttering the chillingly cryptic "I want to destroy you." Finally, around 11.30pm, he finished and ran away as Douglas stumbled towards a parking attendant, who got her transported to a local hospital where Dr Edward Lindquist – 'family doctor' to MGM – administered a cold-water douche that removed all forensic evidence.
Two days later, bruised and sore, her face swollen, Douglas returned to the Roach studio to tell her story, hoping to protect other girls from suffering the same fate. Rather than taking a statement or filing a police report, the studio simply gave Douglas $7.50: her fee for the day's appearance.
Douglas was utterly alone. Roach wanted her gone. MGM wanted her silent. And mother Douglas had no sympathy at all. So it took an immense amount of bravery for the young dancer to do what she did next – approach L.A. district attorney Buron Fitts to swear out a rape charge against Ross. It was a bad choice. Fitts was, for all intents and purposes, a wholly-owned subsidiary of MGM; he called boss Louis B. Mayer a close friend, and the studio had contributed heavily to his reelection campaign. Fitts sat on Douglas' complaint, hoping the whole mess would just go away. But Douglas refused to let it die. Seeing no action from the DA's office, she went to the newspapers and laid out the whole sordid story.
Now MGM sprang into action. As Douglas' story of studio-sanctioned rape swept Jean Harlow and the Duchess of Windsor off the front pages, Mayer hired the Pinkerton Detective Agency to track down as many people as they could find from the "Wild West" party, either threatening them or bribing them into spouting MGM's version of events – which was, as it turned out, that Douglas was an unrepentant, sex-crazy alcoholic who was propositioning men all night.
When, after weeks of maneuvering, David Ross was finally brought face-to-face with Patricia Douglas before a grand jury in the Hall of Justice, blistering cross-examination from Ross' lawyer and perjured testimony from Roach parking lot attendant Clement Soth ensured that the outcome was to MGMs advantage: Ross was not indicted and got away scot-free, dying of rectal cancer in 1962. Soth, for his part, was rewarded by a lifetime job as a "driver" with the studio.
Now, Douglas announced she was going to sue MGM itself, naming Eddie Mannix and Hal Roach for "unlawful conspiracy to defile, debauch and seduce" her and the other girls bussed out to the Culver City ranch. Her lawyer was a man named William Brown, who had designs on the district attorney's office. Unfortunately, Brown quickly realized that, to defeat DA Fitts, he would need the support of MGM and he would never get that if he were to represent Douglas. And so he simply wrote the dancer off, failing repeatedly to appear in court until the case was dismissed "for want of prosecution." It then seems somewhat fitting that Brown was punished for leaving Patricia Douglas out to dry; he lost his electoral joust with Fitts in 1940.
As for Douglas, her life was ruined. No studio would hire her. Not that it mattered; the former happy-go-lucky dancer was a broken woman – "It took away all my confidence" – who wanted nothing to do with Hollywood. She married several times, but hated each relationship. She gave birth to a daughter, but neither had any closeness to the other. "I've never been in love," she later admitted, adding that she never knew what it was like to be loved.
In 1993, Vanity Fair writer David Stenn, who was looking for a new subject after writing what he considered the definitive article on the death of Jean Harlow, decided to tackle the Douglas case, eventually producing the April 2003 piece It Happened One Night. . .at MGM. He even tracked down Douglas, an 86-year old woman "housebound by glaucoma, emphysema and fear." Self-loathing to a pathologic degree, Douglas' interview with Stenn was a shaft of sunlight into her darkened soul. She pronounced herself happy with the article and, when Stenn called her in November of that year to read her some of the sympathetic letters his piece had generated, she told him, "Thank you. I can go now."
She died the next day, November 11.
In 2007, Stenn debuted a documentary about the Douglas case: Girl 27.
Here's a link to Stenn's piece

posted by Open Blogger at
09:53 AM
|
Access Comments