« Ace of Spades Pet Thread [Mis. Hum.]
|
Main
|
25 Years I've Been Flying This Airspace Sir, I've Never Had A Controller Talk To Me Like That [CBD] »
September 24, 2016
Saturday Afternoon Chess/Open Thread 09-24-2016 [OregonMuse]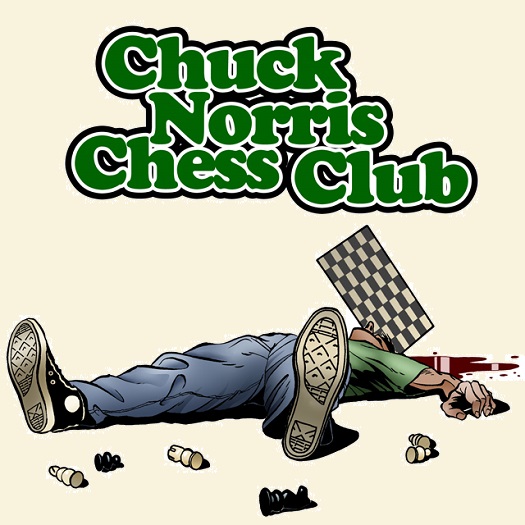 Good afternoon morons and moronettes, and welcome to the Saturday Afternoon Chess/Open Thread, the only AoSHQ thread with content specifically for all of us chess nerds who pay homage in the temple of Caïssa, goddess of the chessboard. And, for those of you who aren't nerdly enough for chess, you can use this thread to talk about checkers, or other games, or politics, or whatever you wish, only please try to keep it civil. Nobody wants to get into a hockey brawl on a Saturday afternoon.
"Why must I lose to this idiot?"
--Hillary Clinton Aron Nimzowitsch

Nimowitsch said this after losing a crucial game to Friedrich Saemisch. Actually, he stood on a table and shouted it: "Gegen diesen Idioten muss ich verlieren?"
Nimzo's record against Saemisch was, at that point, 4-1. They played 5 more times after that and Nimzo won them all. That one loss must've hurt real bad.

Problem 1 - White To Play (110)
Hint: White mates in 2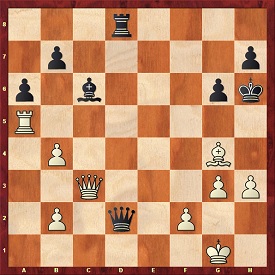 3r4/1p5p/p1b3pk/R7/1P4B1/2Q3PP/1P1q1P2/6K1 w - - 0 1


Problem 2 - Black To Play (276)
Hint: Black wins a piece
White's queen is being attacked by the bishop on f5. White played 15.Qe2 to get out of the line of fire. That's a really bad move. Why? And for extra credit, what would be a better move?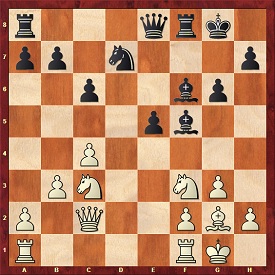 r3qrk1/pp1n3p/2p2bp1/4pb2/2P5/1PN2NP1/P1Q2PBP/R4RK1 w - - 0 15



Chess Variant - Chess960
Chess gets regularly written off as being "played out". Meaning, we know what the good moves are, so what we're eventually going to get is an endless series of draws. A number of rules modifications have been proposed to avert this "draw death." Many involve additional new pieces and larger boards, to make the game more complicated. As I discussed last week, I generally don't care for them.
At some point, someone proposed modifying the opening position by randomly shuffling the back row pieces. But that creates oddities like the possibility of having both bishops on the same color square, and castling become problematic.
So, in 1996, former WC Bobby Fischer publicly announced his own variant, Chess960 (also called Fischer Random Chess) which was an improvement over the completely random "shuffle" chess. In Chess960, the only legal starting positions are those with bishops on opposite-colored squares, and the king placed between the rooks.
Under these constraints, it turns out there are 960 different possible starting positions to choose from. Hence the name of the variant.
Oh, and the black pieces need to be set up the same way as the white pieces, whatever configuration is chosen, so they're mirror images of each other, just like traditional chess.
The rules are pretty much the same. Castling is a bit different. Full rules are here.
I've actually played a few 960 games against my chess app, and I enjoyed it. 500 years of opening theory are completely gone, so you're on your own from move 1. Opening principles (develop your pieces, fight for the center, don't move your queen out too early, etc.) still apply. Depending on the starting position, there may be some unprotected pawns, so you'll have to deal with that. And I have found that the longer the game goes on, the more it starts to look like traditional chess. Perhaps a grandmaster with a more discerning eye wouldn't agree, but I can't tell the difference once I'm sufficiently into the middle game.
Here's an example of a Chess960 starting position.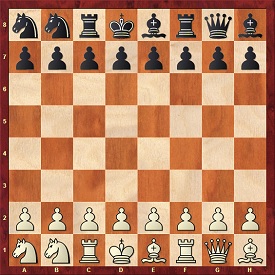 The players need to check to see if there are any unprotected pawns, and sure, enough, in this position, there are a couple, namely, the 'a' and 'b' pawns. So, White might want to open with 1.f4, which opens an attack on Black's pawn at a7. Black can counter with 1...Nc6. This move has the advantage of not only defending the a7 pawn, but also prevents White from attacking the unguarded b7 pawn with 2.g3. Of course, instead of 2.g3, White can think about 2.Bh4, which puts pressure on Black's e7 pawn, which is only guarded by the King. 3.Qc5 would threaten a version of the Scholar's Mate. Or, White could just open more conventionally with 1.d4, which grabs a piece of the center and frees up the dark-square Bishop. There's all kinds of things you can do here.
If you want to try Chess960 for yourself, go to chess.org, click on "Play Against Computer" which will open a pop-up window, select "Chess960", then click on "Create Game".
I haven't found a way to play Chess960 against a computer opponent on Chess.com.

Problem 3 - White To Play (277)
Hint: White mates in 3
Control of the center is one of the great strategic principles of chess. And in this position, we see that White has pretty much established dominance in the center. So how does White cash in his strategic superiority for a huge tactical advantage?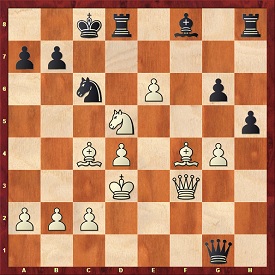 2kr1b1r/pp6/2n1P1p1/3N3p/2BP1BP1/3K1Q2/PPP5/6q1 w - - 0 1



The 10 Most Important Moments in Chess History
Fun chess.com article. The "moments" are arranged in chronological order. I disagree with a number of their selections, but they'd be fun to kick around.

Problem 4 - White To Play (288)
Here's a game wherein my endgame-fu was weak. I'm playing White against moron commenter 'fluffy', and he's not letting me win, curse him. We reach this position:

4r3/2R3p1/1p1p1k1p/1PbB4/2P2P2/6P1/6KP/8 w - - 0 38
After 37...Re8

So we're in the endgame and I think it's looking kind of drawish. Despite me being up by a pawn, it's not clear to me how I can make progress: his rook on e8 looks dangerous and he's threatening to get into my face with ...Re2+ So I move 38.Bf3 to prevent this incursion. I think I did good, and the game was eventually drawn. But then I ran chess.com's computer analysis on the completed game and it labelled 38.Bf3 as a big blunder. It suggested a much better move, one that would lead to a winning advantage for White, i.e. me. So, what might this move, and the subsequent winning line, be?

Endgame of the Week (80)
Hoo boy: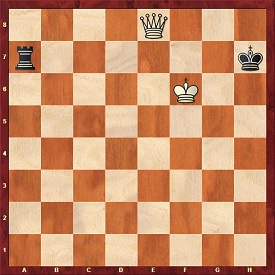 4Q3/r6k/5K2/8/8/8/8/8 w - - 0 1


KQ v KR is one of the most complicated endgames in chess. To draw, Black must keep King and Rook together. To win, White must pry them apart (usually by forcing Black into zugzwang where he has to move the rook away), and then apply a forking check to pick off the rook.
Is this a win, generally speaking? You advanced players can correct me if I'm wrong on this, but I had always understood that previously, it had been thought that KQ v KR is a win for White, but not all of the time. There exists certain KQ v KR positions wherein Black can draw. That's what they used to think. However, modern computer-aided analysis has determined that KQ v KR is a win for White in all cases. But we needed a computer to tell us this, that means the winning line in certain positions is so hidden that a mere human may not be able to find it over the board. And in a tournament, you'll have the "50 move" rule to contend with.
But that's not the case here. In this position, the work of forcing king and rook apart has already been done. Your job is to maneuver your Queen into a position where you can set up a fork on the rook. If you can do that, that's a won game. After you capture the rook, I'll assume you know how to checkmate a lone King with your queen and king. Because that's a basic checkmate you can do in your sleep, right? RIGHT?
Perhaps a good hint would be what the fork will look like, so it will give you something to aim at.
Hint: Don't give Black an opportunity to move his rook. If you do, then you've lost the thread of the problem. So you want the rook to remain of on a7, and the idea is to force the Black king to the 8th rank, either g8 or h8, and if you can then move Qb8+, you've got your fork
___________
Solutions Update

Problem 1 - White To Play (110)
1.Rh5+ gxh5
2.Qf6#

Problem 2 - Black To Play (276)
15.Qe2?? is a blunder because of the reply 15...e4! which wins a piece. Both knights are under attack and White will lose one of them.
Knowing this, a better move for White, one that would block the attack, would be 15.Ne4. Then if Black increases the pressure with 15...Nc5, White has 16.Nfd2.

Problem 3 - White To Play (277)
This is very similar to one we had a couple three weeks ago:
1.Nb6+ axb6
2.Qxc6+ bxc6
3.Ba6#
Another fine example of Boden's mate.

Problem 4 - White To Play (288 )
I had overlooked 38.Rf7+. Well, I saw it, but I didn't really see any future in it, so I didn't play it. The computer, however, showed me otherwise:
38...Kg6 is Black' only move.

39.f5+ Kh7
Why Kh7? Because the two other possibilities lead to quick checkmates:
39...Kg5
40.h4+ Kg4
41.Bf3#
and
39...Kh5
40.Bf3+ Kg5
41.h4#
So, back to the main line
40.f6 Kg6 (if 40...Rg8 then 41.Re7)
41.Re7 Kxf6
42.Rxe8 and White should win, being up an entire rook.
It's amazing how much I miss during games.

Endgame of the Week (80)
The idea is for White to work his Queen down to the b8-h2 diagonal, so he can deliver a forking check on b8.
1.Qh5+ Kg8
2.Qg4+ Kh7
3.Qh3+ Kg8
4.Qg3+ Kh7
Not 4...Kh8? because of 5.Qb8+
5.Qh2+ Kg8
6.Qb8+ and wins
If Black instead chooses 2...Kh8, there follows
3.Qh3+ Kg8
4.Qg3+ Kh7
5.Qh2+ Kg8
6.Qb8+ winning

___________
Note: that cryptic line of letters and numbers you see underneath each board diagram is a representation of the position in what is known as "Forsyth-Edwards Notation", or F.E.N. It's actually readable by humans. Most computer applications nowadays can read FEN, so those of you who may want to study the position, you can copy the line of FEN and paste into your chess app and it should automatically recreate the position on its display board. Or, Windows users can just "triple click" on it and the entire line will be highlighted so you can copy and past it into your chess app.
___________
So that about wraps it up for this week. Chess thread tips, suggestions, bribes, rumors, threats, and insults may be sent to my yahoo address: OregonMuse little-a-in-a-circle yahoo dott com.

posted by Open Blogger at
04:43 PM
|
Access Comments