« Thread below the Gardening Thread: VDH on Today's Elites [KT]
|
Main
|
Ace of Spades Pet Thread [Mis. Hum.] »
September 24, 2016
Saturday Gardening Thread: Preserving Autumn [KT]

Casual tips for preserving fruits, veggies and herbs
Happy First Saturday of Autumn, 2016. Today, most of our content has been provided by two of the most enthusiastic gardeners in The Horde. Both of them, with their respective spouses, have been "putting things by" from the garden for winter enjoyment.
Gordon lives in Minnesota, where the summer growing season is not particularly long. He has written a book review and recounted his experiences using automated devices for making jams and jellies and also sauces. With photos.
I also decided to highlight the latest Idaho Banana Belt report by Pat* because Pixie led to delays in its posting and I think a lot of people missed it. I really enjoyed it.

First up is Gordon. I added some heading so we could keep our places. Take it away, Gordon!
Book Review, Foolproof Preserving
So I bought Foolproof Preserving: A Guide to Small Batch Jams, Jellies, Pickles, Condiments, and More by the folks at America's Test Kitchen. Like America's Team, they all wear royal blue stars on their silver aprons. Or maybe not; I doubt Christopher and his bow tie spend much time watching the NFL. As with any recipes from the Cook's Illustrated folks, they can be very fussy about ingredients and steps. But the ones I have tried out do work.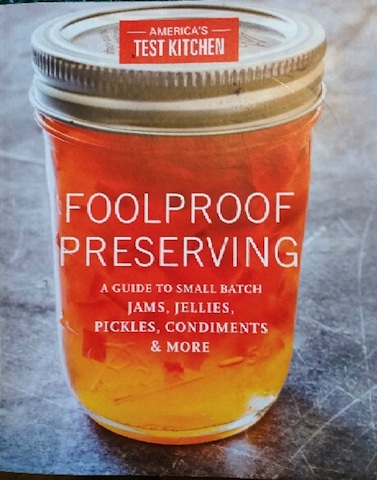 The nice thing for me is that everything in the book is small batch. Some yield only a cup. But most yield a couple of pints, to four quarts. They can be very specific about doubling; many of the recipes should not be, as they won't set properly. I found that the jam recipes tended to yield an extra pint or two, so have a couple of extra jars ready.
Being who they are, many of the recipes have been arranged to minimize the calories, or to require little or no added ingredients. The jam recipes use quite a bit less sugar than other recipes, and include a shredded tart apple. No pectin is needed, and the apple adds some structure and tartness.
There are lots of interesting pickle recipes also. Some are quick to make, and cannot be preserved. One, for pickled radish, takes only a few minutes--and has to be used within an hour. As is their way, there are lots of pictures and explanatory sections. I like this book quite a bit, and plan to keep trying some of their interesting ideas, such as Strawberry Basil Jam. It works nicely and can be served at dinnertime with beef.
We put up some Colorado peaches using their recipe. The yield on that was a little over half what we expected, but they are delicious. We have about a quart of heavy syrup left over, infused with amazing fresh peach flavor. It will not go to waste! Some has already been used to make a peach topping for ice cream.
Making jam with an automatic jam and jelly maker
Making jelly and jam can be painful. Constant stirring of a boiling, foaming mixture of fruit and sugar will get one splashed, and that does sting. Standing over the mixture while it cooks down is boring. But homemade jams and jellies, with fruit chosen for flavor and ripeness, well, it is so much better than even the expensive artisan stuff.
Comes the Ball FreshTECH Jam and Jelly maker, about $85 from Amazon. You can also order from the company store and pay more for it. This device sits 12 inches high and about 18 inches wide on the counter. It's simple and made for producing small batches. Best of all, add the pectin, the fruit, and (four minutes later) the sugar, and in 21 minutes your jam is ready to go into the jars.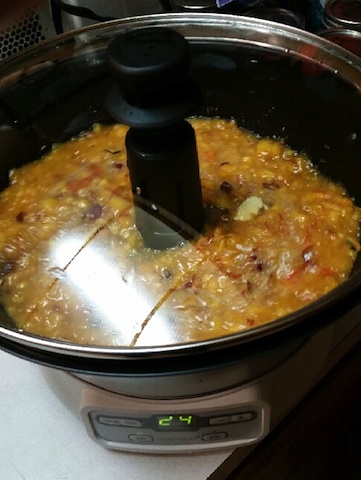 The start of the jam making cycle.
Note the dab of butter.
Does it work? Yes, and quite well, actually. It really is that simple. The recipes in the manual are easy and produce good jam and jelly. The cleanup is quick and easy. Best of all, it does all of the stirring, and no burns are inflicted.
Of course, I have to try different things, so I used a recipe out of the Foolproof Preserving book. The volume of fruit was about 1/3 larger than the machine recipe, and I didn't use pectin because the recipe didn't.
I added five minutes to the cooking time for the extra fruit. After about ten minutes, everyone in the house will know you're making something fruity, because the machine has vents all around the lid edge. Inside, the paddle turns constantly and the mixture heats up quickly. A pat of butter, recommended, keeps it from foaming. And after 26 minutes, I had delicious peach jam. After processing, it didn't set up. It wasn't runny, just more spreadable than one expects jam to be. No one is complaining and it sticks to the biscuit just fine, thanks. But if the machine calls for added pectin, pectin it will get.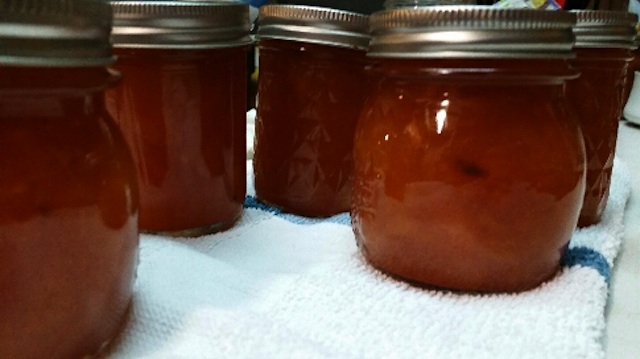 Peach jam after processing.
The recipe called for the skins to be left on.
The device has two settings; Jam and Jelly. Touch the button and the time pops up. More time can be added before starting. But one cannot add time at the end. The machine goes into a cool down mode, and will not restart for 30 minutes. Everything but the base unit can go in the dishwasher.
Yes, it's one more appliance, though most of the year it can sit quietly in storage. But I have my Jam Maker badge already, and don't need any more burns. I love this thing and it's going to get a lot of use.
And there is a sauce maker, too.
Like many gardeners, I am well-served in the tomato department at this time of year. Thankfully, Ball also has a tomato processor. (They also have an electric canner, and a more complex automatic canner that takes out any guesswork. I have not tested these, but they are rated highly.) The Harvest Pro Sauce Maker can crank through 15 quarts of tomatoes in 20 minutes, removing skins and seeds, and has a coarse screen also. It sells for about $135 on Amazon.
The company says to use it for strawberry jam, applesauce, ketchup, and butternut squash soup, and pico de gallo. So far I've only used it for sauce, and it does that very well. Tomatoes go in up top, and down below you get sauce, with the skins and seeds diverted, as well as the thinner juice. With the coarse screen in place, nearly all skins are removed, but a few bits may get through, and seeds do pass through. This does not bother me, but I know some folks are pretty fussy about the skins and seeds, so if you're one of these, don't use the coarse screen.
So the machine can eliminate much of the tomato labor. There's no need to blanch to get skins off, one can dispense with the seeding and even other ingredients like onions and garlic get processed down. The process is a bit messy; stuff will get onto the counter. But not much, and less than if I were working by hand.
There are recipes included for soups, tomato sauce, paste and marinara, baby food, jams and even barbecue sauce. The Harvest Pro configures differently to produce smoother and coarser results.
Making Hearty Pasta Sauce
I used the recipe for Hearty Pasta Sauce from the manual. It called for 12 pounds of Roma tomatoes, so naturally I used some Amish paste and some heirlooms and some of the dark cherries I have so much of. I quartered them (halved the cherries) and threw them in a roasting pan with onion, salt, garlic, and a solitary minced habanero pepper, because I have a bunch of those sitting around and I couldn't find any red pepper flakes. This roasted for an hour. I could have pulled the skins off the tomatoes by hand at this point, but I have a machine for that, right?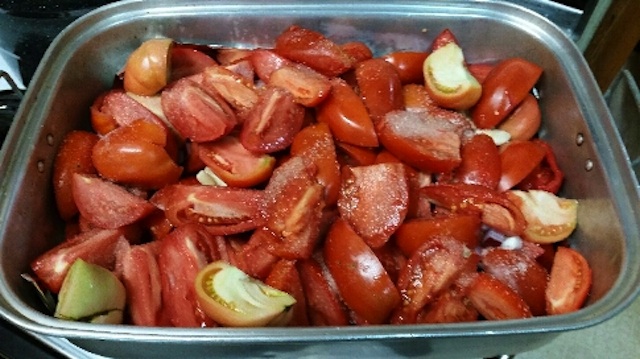 Tomatoes ready for roasting
I used a slotted spoon to transfer the cooled mix into the hopper. It took less than five minutes through the coarse setting to produce nice sauce. The cook time was 15 minutes, adding oregano and then basil just before jarring it. Processing took about 55 minutes. We had seven pints (and a cup more) of very good sauce with a background of heat--just enough that you notice, but not enough to identify the source.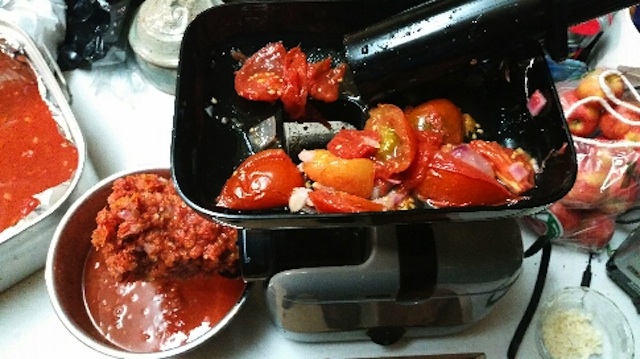 Roasted tomatoes go in the hopper
Coarse screen in use

What was left in the roasting pan was some liquid with bits of stuff. I ran that through the fine strainer. The result was (remember that habanero?) two quarts of deliciously spicy tomato juice. I can't drink, but even I wanted a bloody mary made with that stuff. It's very good on it's own. Since there's no preservatives, one has to drink it within about 3 days, or freeze it. We did both.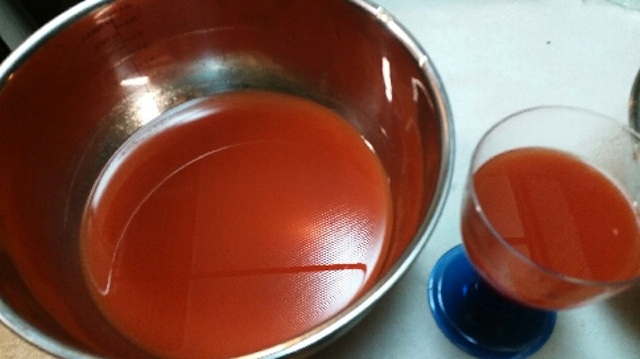 Bonus! Spicy tomato juice. Mmmm.
I admit I was skeptical about these machines. But the folks at Ball know home canning, and they have produced some good equipment. Making canning easier can only sell more jars and lids for them. They also have an introductory canning kit in stores, which includes a few jars, and a simple jar lifter one can use in a regular pot.
One thing about canning for those who have not tried it. It requires a lot of dish washing. Sometimes the same bowl or spoon gets washed several times. Plan ahead for this: if a grandchild is not available for free labor, then consider a visit to the Home Depot parking lot for a temporary worker. I've heard one can pay such folks with jars of salsa, but that may be just a rumor.
Another Bonus! Salsa Recipe
Gordon's wife kindly sent us her recipe for cherry tomato salsa, too. Looks yummy as cooking starts.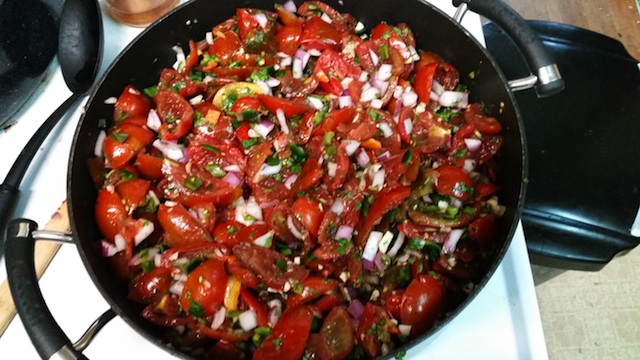 Vonnie's Three Chip Cherry Tomato Salsa
It's called three chip because those of tender tongue have to take three bites before they realize it's not going to kill them.
Yield is 6 to 8 pints
12 cups cherry tomatoes any variety or mixed
Halve or quarter the tomatoes and remove stems and seeds. Pack them tightly in the measuring cup.
3 cups red onion, chopped
18 cloves garlic, minced
3-4 poblano peppers
8 large or 10 small to medium jalapeno peppers
2-3 habanaro peppers
All peppers should be seeded and chopped. One might want gloves for this step.
1 cup cilantro leaves, packed
2 tablespoons salt
The juice from 2 limes
1 cup cider vinegar
Put all ingredients in a large heavy pot and cook on medium heat for 20 minutes, stirring occasionally, tomatoes should be tender. Take off heat and run immersion blender through until tomatoes are mostly broken up, or process in food processor in batches. Put back on medium heat for 20 minutes stirring occasionally. Put in prepared pint jars and process in canner for 15 minutes.
Thanks, Vonnie.
This calls for salsa music! And dancing!
>
Those who are into improvisation should be careful about improvising with Vonnie's salsa recipe, particularly by omitting the vinegar. I don't think this would be safe without a pressure canner.
Last Week's Idaho Banana Belt Report
Gardening Morons and Moronettes who don't check back for late comments on Sunday (or even Monday) may be missing something. For example, many of you may not have seen the Idaho Banana Belt Report that Pat* posted quite late, after running into some difficulty with Pixie. Having once been banned myself, I was afraid that the Banning Times would fall upon the thread before I could respond
I always appreciate her reports, but I was especially jazzed about her report last week because of what she was doing when the thread went up:
Husband and I ran a rifle marksmanship training/American history event for the group we volunteer for, "Revere's Riders" (TM or copyright or something). Taught some 15-year-olds 3-position shooting, and about the history of April 19, 1775.
Those of you who don't come back to read late comments may wonder how Pat* could live in a banana belt in Idaho. This rather droll term does not mean she can grow bananas outdoors. But the weather is milder and the growing season is longer in low-elevation areas near the Snake River than in other parts of Idaho. She could probably grow some Giant Banana Squash or Banana Melons there, but those are topics for another day. Even those in shorter-season climates can grow a banana plant in an aquarium.
Pat* mentioned that her irrigation water will be turned off not too long from now. Many cities in the reservoir-studded Intermountain West have dual water systems: one for potable household water and one for irrigating yards and gardens. "Don't drink out of the hose" may mean more in these cities than elsewhere. I was wondering if cities in other regions have similar dual water systems.
I grew up in the Intermountain West where Pat* now lives, and my Dad gave us "scientific tour guide" commentary on geological features of the areas we were passing through on family vacations. I learned quite a bit about the Colorado and Snake rivers. They allow farming and gardening in much of the West.
There is a lot to see along the Snake River, from the Grand Canyon of the Snake in Wyoming to Hell's Canyon on the Idaho-Oregon border. The Snake and Yakima rivers merge with the Columbia in the Tri-Cities area of southeastern Washington State. Shoshone Falls, near Twin Falls Idaho, is higher than Niagra Falls. It once marked the end of the line for ocean-going fish like salmon and sturgeon swimming up the Snake River. I think this unusual photo is of the Snake winding its way through the Snake River Plain in Idaho. If there is another location on the Snake that looks like this, let me know.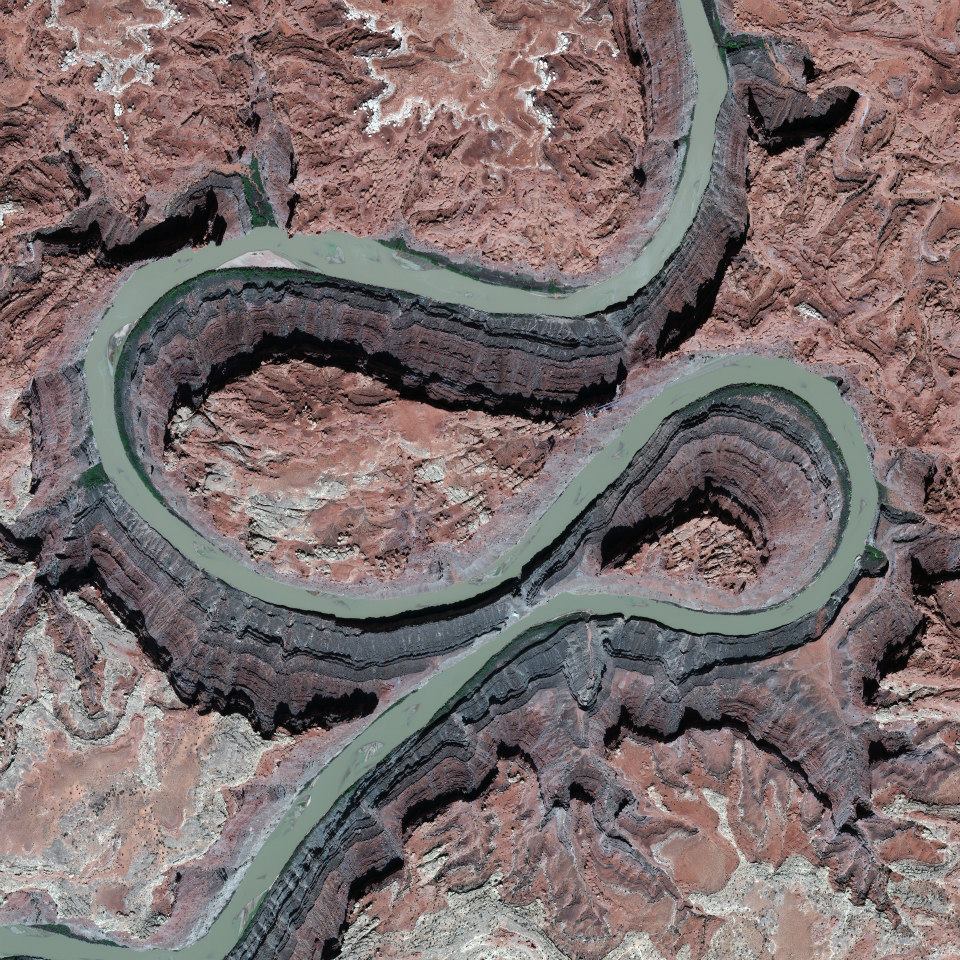 Satellite image of the Snake River.
Dad also taught us about some dramatic events caused by Climate Change in the prehistoric past. The most striking one involving the Snake River was the Lake Bonneville Flood. This sudden, cataclysmic flood left huge boulders strewn along the Snake River, among other topographical changes. Does your yard or garden feature boulders?

Jammin' in the Banana Belt
Weiser, Idaho is a small farming community in Idaho's Banana Belt, near the confluence of the Weiser and Snake rivers on the Idaho-Oregon border. It is the home of the National Oldtime Fiddlers Contest and Festival. This style of music was a precursor to Bluegrass. There is now some crossover with Bluegrass and Jazz Fiddling, but contest rules, last I heard, still specify that contest tunes must be "danceable". No "fancy tunes" like Orange Blossom Special are allowed.
I saw my sister compete in the Junior Division one year. Those who go expecting stagecraft at the contest will be disappointed, but there are events meant for an audience, too.
Many musicians attend primarily for the jam sessions around campers and in taverns between and after contest sessions. There are a lot of farmers and gardeners among them. A memorable respite from technology and glitz, with genuine people.
I am not sure that a blues song is supposed to be this happy. But I like it.
Reminder
Pat* mentioned planting Lily of the Valley under a linden tree. I think caution is warranted when putting concrete rings around some trees, but it is time for people in some climates to plant fall bulbs and such.
Anything new going on in your garden? Are you harvesting? Preserving any produce for winter?
Hope some nice things happen for you this week. Stay cozy.

posted by Open Blogger at
12:30 PM
|
Access Comments