« Mid-Morning Open Thread [CBD]
|
Main
|
New York Times Notices That Obamacare is Failing »
September 01, 2016
Hurricane Hermine (tmi3rd)
Good morning, Morons and Moronettes. The AoSHQ Weather Desk comes to you this morning with a somewhat late update on Hermine, which looks like it's going to actually make it to hurricane status before making landfall in west central Florida.

Even though it's not going to be a big wind event, as many of you know, there's still going to be a ton of rain, and forward speed is pretty much the key thing to how much rain you're going to get.

Details beneath the fold...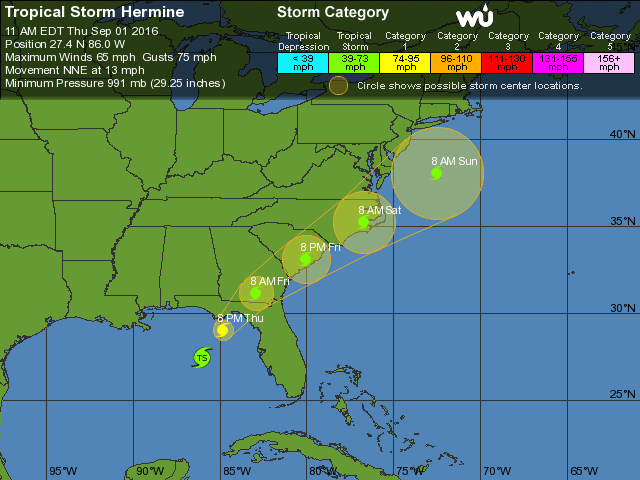 As of the 11 AM EDT advisory, Hermine is a strong tropical storm with maximum sustained winds of 65 mph and gusts to 75 mph, and is projected to become a hurricane later today. It is currently about 170 miles SSW of Apalachicola, FL, or 220 miles west of Tampa. Motion is currently north-northeast at 14 mph, and lowest measured barometric pressure is 991 millibars.

A hurricane warning is in effect from Suwanee River to Mexico Beach, FL. A tropical storm warning is in effect from Anclote River to Suwanee River, west of Mexico beach to the Walton/Bay County line, and Marineland to Surf City.

A hurricane watch is in effect from Anclote River to Suwanee River, and west of Mexico Beach to the Walton/Bay County line. A tropical storm watch is in effect for north of Surf City to Oregon Inlet, including Pamlico Sound.

The National Hurricane Center likes the following numbers for storm surge heights:


The water could reach the following heights above ground if the
peak surge occurs at the time of high tide...
Destin to Indian Pass...1 to 3 feet
Indian Pass to Ochlockonee River...4 to 7 feet
Ochlockonee River to Keaton Beach...5 to 8 feet
Keaton Beach to Chassahowitzka...4 to 7 feet
Chassahowitzka to Aripeka...2 to 4 feet
Aripeka to Bonita Beach...including Tampa Bay...1 to 3 feet
Florida-Georgia line to Cape Fear...1 to 3 feet
The other key thing will be rainfall and the odd tornado. Here's what the NHC likes in that regard:


Rainfall: Hermine is expected to produce storm total rainfall
accumulations of 5 to 10 inches over portions of northwest Florida
and southern Georgia through Friday, with possible isolated maximum
amounts of 20 inches. On Friday and Saturday, Hermine is expected
to produce totals of 4 to 8 inches with isolated maximum amounts of
10 inches possible across portions of eastern Georgia, South
Carolina, and eastern North Carolina through Saturday. These rains
may cause life-threatening flash flooding.
Tornadoes: a few tornadoes are possible this afternoon into Friday
morning over North Florida and southeast Georgia. The tornado risk
will continue across the eastern Carolinas from Friday morning into
Friday night.
So here's the tl;dr version: if you're along the west coast of Florida, this is a VERY asymmetric storm that is going to suck up and push a lot of water ashore, particularly east of Apalachicola. If you're on the northeast side of the storm, you're going to get the most water and the most shear. The northeast side of the storm is where you typically get the odd EF-1 tornado, so I'm advising you to stay aware if you're anywhere north of Tampa to about Apalachicola.

Do I really need to tell you to stay away from the beach during this? Nah, didn't think so.

Now, moving forward- it depends on where the center of circulation goes. If it pops back out over water, it could start trying to spin back up and regain some strength. By the end of the weekend, it's going to start interacting with a cold front, and that will alter its course.

So that means that if you're anywhere from the Outer Banks in NC all the way up to coastal NY, NJ, and MA, you may be staring at some very high water and some tropical weather before this thing becomes extratropical and does all kinds of unusual stuff.

Stay informed all along the East Coast, and expect this storm to slow down the more it interacts with land. It'll keep moving, but the more that it slows down, the more likely you are to get the ugly (and potentially catastrophic) rain. Stay away from flood waters, and you'll get an impromptu day off.

I'm knee-deep in med school stuff, but if you have questions, hit me up on Twitter, and I'll get back to you as soon as I can.

Stay safe, and thanks for reading!

-tmi3rd

posted by Open Blogger at
11:55 AM
|
Access Comments