« Anxieties, Deepest Fears, and Recurring Nightmares Thread
|
Main
|
Thursday Morning News Dump (8/25/16) [Mis. Hum.] »
August 24, 2016
Hump Day ONT [Weirddave]
Politics
OK, let's start the ONT off with some politics, shall we?

On second thought, let's not.

Dog Days of Summer

One of the things that makes me mistrust some of the different cultures from around the globe is the way they treat their dogs (to say nothing of their women). To me, dogs are one of God's greatest gifts (or evolution's more fortuitous accidents, if you prefer) to mankind (BTW, if you're reading this at Princeton University, that last sentence is offensive. My considered response starts with "F" and ends with "u" ). Dogs give people unquestioning loyalty and love, setting a high bar to which we shoulhd aspire. They are even willing to sacrifice themselves for us if the situation demands it. Hero family dog dies saving the life of little girl in house fire by lying on top of her. This happened less than a mile from where I lived about ten years ago. What a tragic event, made less so by a hero pooch. Good dog!
Of course, as often as they risk their lives for us, humans are willing to do the same for them.
And it seems that appreciating dogs isn't limited to humans.
Just look at the expression on that dog's face!
Libtard Follies

Stop the Euphemism Treadmill, I Want to Get Off
Of course, this is nothing new. Orwell nailed it long ago with his "Newspeak" in 1984. From Wiki:

Newspeak is the fictional language in the novel Nineteen Eighty-Four, written by George Orwell. It is a controlled language created by the totalitarian state Oceania as a tool to limit freedom of thought, and concepts that pose a threat to the regime such as freedom, self-expression, individuality, and peace. Any form of thought alternative to the party's construct is classified as "thoughtcrime".
Control the language and you can control the way people think. Language is the medium that humans use to express their thoughts, and if you can make that medium a fluid one, you can confuse or discredit your opponents. Weirddave's Law: "If words can mean anything, before long they'll mean nothing".
Of course it's all about control, it always has been, all the way back to Wilson and the first Progressives. They honestly believe that they are smarter than everyone else, and if we put "smart" people in charge of everyone else, the results will be positive. Here's another damn fool proposing the same tired old refrain: 12 angry men belong in a theater not an American courtroom. Professionally "trained" juries will yield better "justice" than ignorant yabos, yadda, yadda, yadda. The author is on the board of the Next Gen foundation, a progressive group working to create "social change" through venture capital investments, a group that has ties through Google Ideas to George Soros, who by the way may be the most evil man on the planet. BTW, seen anything in the mainstream media about the data drop from the Soros hack? Yea, I didn't think so.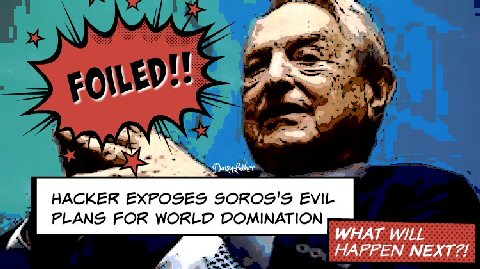 What happens next? Nothing, if nobody knows about it

The Resistance
The good news is that conservatives are now the counterculture, and the counterculture is always cool.

Conservative College Students Lay Out Why They Resisted Liberal Indoctrination
As the lies and overeaches of the left become more and more obvious (like the Gibson Guitar travesty, or this attack on Harley Davidson), people are naturally going to push back. It is impossible for the left to control all the sources of information in the internet age, and this may ultimately be what saves us. I dunno, however, the cultural pendulum has swung pretty far. It's not going to be pretty or easy to reclaim our birthright.
Olympic Update
Two from Twitter. With Rio in the rear view mirror, tryouts for the 2020 team have begun.
And while we still don't know everything about the Lochte situation, the MSM is on it.
Welcome Home Marine. Rest in Peace

Marine killed in 1943 buried Monday in Grand Island
Pvt. Geddes gave up his life in the fight for Tarawa. About the size of Central Park, the island was the scene of a titanic struggle 73 years ago. Many of the Marines were dropped 1000 yards out, and had to wade through murderous Japanese machine gun fire with their rifles held over their heads. They couldn't fight. Their heavy equipment meant that they couldn't swim. All they could do was wade....and die. I remember reading about the battle as a child. I've never forgotten this passage:
The eyes of the two veteran major generals are misty when they view the bodies of gallant Marines who were killed before they reached the seawall. Says Holland Smith, "You must have three or four hundred here, Julian." But the most stirring sight is the Marine who is leaning in death against the seawall, one arm still supported upright by the weight of his body. On top of the seawall, just beyond his upraised hand, lies a blue and white flag, a beach marker to tell succeeding waves where to land. Says Holland Smith, "How can men like that ever be defeated? This Marine's duty was to plant that flag on top of the seawall. He did his duty, though it cost him his life. Semper Fidelis meant more to him than just a catch phrase."

-Tarawa: The Story of a Battle by Robert Sherrod

You can read more about the battle here.
Wonderful Technology
A few nights back there was an ONT link about dangerous power tools. This is pretty damn amazing.
It obviously works. You still couldn't pay me to stick my finger into a running table saw blade.
Wonderful Technology, Part II

Xavier gets America's first Pizza ATM
You put in your card, and out pops a fresh cooked pizza. Despite what the story claims, I wonder how good the pizzas really are.
Speaking of food, does anyone feel like chicken? What a dumbass. A nephew of Col. Sanders finds the hand written 11 herbs and spices recipe, and so he calls a press conference. Now everyone knows. YUM! Brands, which owns KFC now, keeps the original in a huge vault in Louisville. I bet they would have paid him millions not to release it.

I Couldn't Find Anywhere Else To Put This Dept.
DIY taxidermy anyone? Seems like a neat skill to have. Maybe.
Tonight's ONT brought to you by what happens when a new thread goes up at the HQ:

Don't forget The AoS Yahoo Group. Banned in 27 countries.

posted by Open Blogger at
10:31 PM
|
Access Comments