« Early Afternoon Open Thread [Weirddave]
|
Main
|
No Football, No Olympics [Mis. Hum] »
August 21, 2016
Food Thread: Coffee; You're An Addict, And This Isn't An Intervention [CBD]

Hi...I'm CBD, and I am an addict.
No, I have no interest in quitting. Why would I?
The pleasures of coffee are many and varied. Of course it is a stimulant, so that morning jolt is a necessity for many people, both to wake up, and to stave of the inevitable caffeine withdrawal headache!
But it is also a morning ritual, one that signals the start of the day and allows one to awaken in stages: boil, grind, wet filter, warm cup, add sugar, pour over grounds to bloom, pour, pour again. Wait. And wait. And wait. Cream (or butter for you maniacs).
And then that magical, glorious first sip, always with the questions in the back of one's mind....too much sugar? Not enough cream? Did I use enough coffee? Is it hot enough? Is the new blend any good?
There are probably dozens of ways to make coffee, but the most popular methods seem to be:
Drip Coffee Machines
Manual Drip Cones
Cartridge Systems
Then come:
French Press
Espresso Machines
Percolators
This is the one I know very well.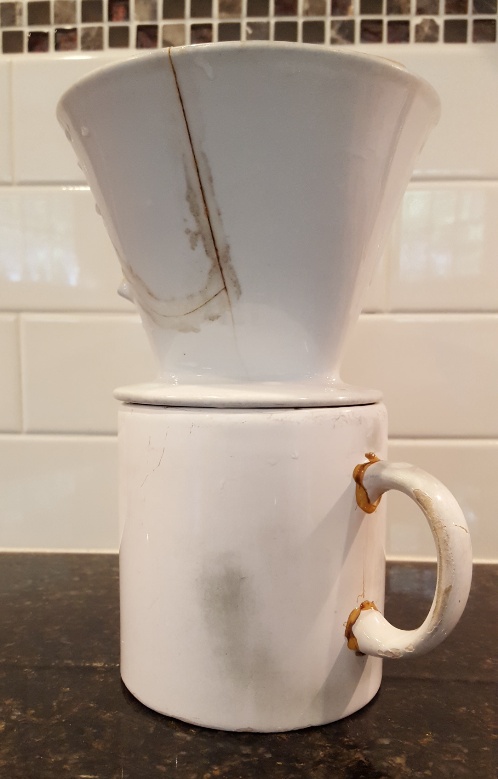 Melitta Cone and Waechtersbach mug
Those were purchased new in 1985. Why no, I'm not set in my ways.....
The problem is that the newer Melitta cones are slightly thicker, so the filter doesn't sit perfectly in them. And the internal ribs are thinner, so the filter adheres to the sides and the coffee doesn't filter at the correct rate. As for the hole in the bottom of the new ones? Pathetic. Too small. Melitta obviously changed suppliers. My guess is that the cones are made in China and simply do not have the quality control of the old manufacturer. And Waechtersbach doesn't make that size mug any more.
As for the other methods: Lots of people swear by the Technivorm Moccamaster Coffee Brewer, but it is quite pricey at $300+. There are dozens of other brands out there, ranging from the $13 Black & Decker to the Technivorm, and probably some other European machine for $1,450.
The other really popular method is the cartridge systems. Keurig and Nespresso are the two big ones, with Keurig out in front, seemingly by miles and miles, judging by what I see in hotels. But I think the coffee stinks. It's weak and bland and no improvement over crappy diner coffee. Y-not swears by her Nespresso system, and on her advice I tried one a few days ago. Meh.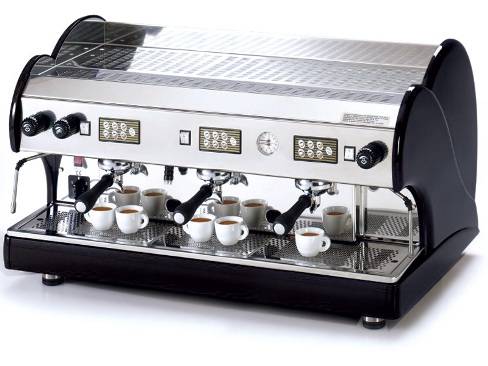 There are home espresso machines that are supposedly quite good at making a fine cup, but I have never tried one. The only home espresso I have had has been barely adequate, certainly nothing to compare to a good commercial machine that is cleaned and maintained well, and operated by a knowledgeable person. Shockingly, Starbucks usually makes good espresso, certainly far better than their crappy, burned dark roast.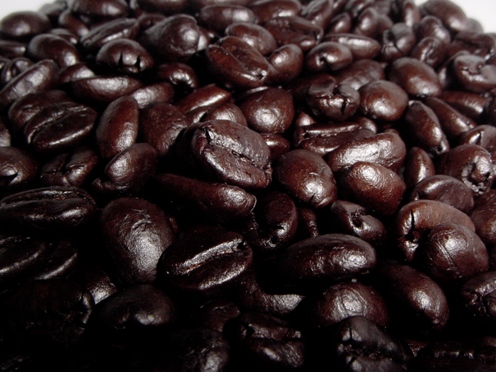 But what about the coffee itself? The best machine and technique in the world is still going to yield a crappy cup of coffee if you don't start with good beans. That means "Beans that make coffee you like." Not hipster fair-trade, responsibly grown by lesbian survivors of the Patriarchy beans. Not partially digested coffee beans shat out by a civet (Think I'm kidding? Kopi Luwak). But the beans you like. If that means Folgers from the supermarket? Great! You're saving some money. I'm jealous.
I buy beans from Peets Coffee, mostly because they were the first place I tried that made great coffee (and it was just around the corner. Yes, I am lazy). Their coffees are heavily roasted, but unlike Starbucks they do not taste burned, and that is an indication of their skill.
SBannion recommended two places in two of his old stomping grounds, and both were solid. Misha's Coffee, in Alexandria VA sells an excellent dark roast, although I did not like their lighter roasts as much. But that is my palate, not the quality of their coffee. The other place is in Boston. George Howell Coffee is another excellent (and expensive) purveyor of excellently roasted beans, although I prefer blends, rather than trying to sift through the sometimes dozens of different individual coffees some of these places sell.
One of the advantages of a heavier roast is that it won't accentuate the acidic overtones of coffee, and will highlight the chocolaty, caramelly flavors.
So talk amongst yourselves. Where do you buy your favorite beans? What's the machine or technique that you can't do without? What's your coffee pet peeve?
Oh....AoSHQ Platinum membership with Ampersand utility and Troll-B-GonTM for the Moron or Moronette who can write the best coffee review in the style of those pompous wine reviews we all love to mock.
Coffee Cake
For the batter



1 cup butter

1 cup sugar

2 eggs

1 cup sour cream

2 cups flour

1 teaspoon baking soda

1 teaspoon baking powder

1 teaspoon salt
For the topping
3 tablespoons flour

1 cup brown sugar

1 cup chopped pecans

3 tablespoons butter, cold, cut into pieces

2 teaspoons cinnamon
In a large bowl, cream the butter with the sugar using a hand mixer (or use a stand mixer like a KitchenAid). Add the eggs and blend in, then add the sour cream and mix until well-combined.
Sift together the dry batter ingredients (or place in a bowl and fluff together with a fork until well-combined), then add to the sour cream mixture.
Grease a 9x13 pan, and sprinkle a little flour over it. Pour the batter in and smooth over.
Combine the topping ingredients, cutting the butter with the other ingredients until no large chunks of butter remain. Sprinkle the topping over all of the batter, then use a butter knife to haphazardly slice into wet batter, incorporating some of the topping mixture.
Bake at 350 for 40-45 minutes, until very well-browned.
&topic=world_news">

posted by Open Blogger at
04:00 PM
|
Access Comments