« Ace of Spades Pet Thread [Mis. Hum.]
|
Main
|
Open Thread [CBD] »
August 20, 2016
Saturday Afternoon Chess/Open Thread 05-20-2016 [OregonMuse]

Good afternoon morons and moronettes, and welcome to the Saturday Afternoon Chess/Open Thread, the only AoSHQ thread with content specifically for all of us chess nerds who pay homage in the temple of Caïssa, goddess light squares and heavy pieces. And, for those of you who aren't nerdly enough for chess, you can use this thread to talk about checkers, or politics, or whatever you wish, only please try to keep it civil. Nobody wants to get into a food fight on a hot Saturday afternoon. It's nearly 100 here today.

Problem 1 - White To Play
In response to 19.Nd4, Black played 19...Kh8. Not a good move.
Hint: A single move COMPLETELY DESTROYS Black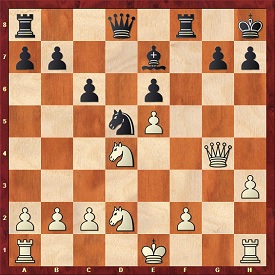 FEN: [r2q1r1k/pp2b1pp/2p1p3/3nP3/3N2Q1/7P/PPPN1P2/R3K2R w KQ - 0 20]


Problem 2 - White To Play
Hint: White mates in 3
This is actually a position from a very famous game. Guess which one.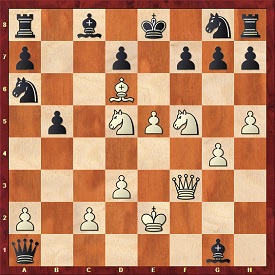 FEN: [r1b1k1nr/p2p1ppp/n2B4/1p1NPN1P/6P1/3P1Q2/P1P1K3/q5b1 w kq - 0 1]



The Worst Opening In The World
Getting into serious chess again after a 20 year layoff, I've been surprised at all the new openings that have sprung up like toadstools after a rain. In fact, it seems that you can just choose 3-4 random opening moves and you'll find that (a) is an actual opening, (b) it has a name, and (c) there's a body of analysis supporting it.
It's like you can make a game out of practically any opening.
Except for this one:
1.e4 e5
2.Nf3 f6?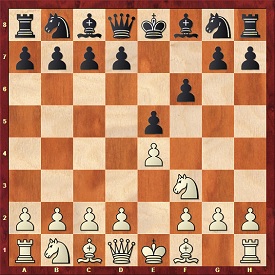 FEN: [rnbqkbnr/pppp2pp/5p2/4p3/4P3/5N2/PPPP1PPP/RNBQKB1R w KQkq - 0 3]

It's not uncommon to see noobs make this move. But it's literally the worst move on the board. It doesn't develop a piece or attack the center or free up pieces for development (as does 1.e4 or 1.e4), and in fact, accomplishes nothing except create an all but fatal weakness on f7. The f7 square is already the weakest square on the board when the game starts out, and 2...f6 just weakens it further.
In fact, it is so weak that White is now justified launching an attack even though he's only got one piece developed.
3.Nxe5 fxe5
Black really shouldn't compound his error by taking the knight. In his classic study Chess Master vs. Chess Amateur, Euwe instead suggests 3...Qe7 4.Nf3 Qxe4+ 5.Be2 Nc6 6.O-O d5 7.Re1 is better. White's threat is now 8...Bb5, so Black will have to spend a tempo moving his queen to a safe haven. White's attack has been abated -- somewhat. You can find examples of Black winning from this position, but, really, why should you even go here to begin with? There are better opening novelties you can use.
But of course, noobs can't resist grabbing the knight, after which White wraps up the game in short order:
4.Qh5+ Ke7
5.Qxe5+ Kf7
6.Bc4+ d5
7.Bxd5+ Kg6
8.f4 h6
9.f5+ Kh7
10.Bf7 Ne7
11.Qg3 Nbc6
12.Qg6+ Nxg6
13.fxg6#
So, does this opening has a name? As a matter of fact, it does. It's called "Damiano's Defense", named after Pedro Damiano, who is the same guy who gave us "Damiano's mate" I discussed last week.
No, Damiano did not think this line was good. Just the opposite is true. In 1512, Damiano published a book with a very long title that starts out "Questo Libro e da Imparare Giocare a Scacchi...", which, when translated, basically boils down to "Learn to Play Chess". He analyzed several opening lines, including this one, and concluding that it was inferior.
And then History played a very mean trick on him:
History: Damiano, you magnificent bastard. I read your book.
Damiano: You did? What did you think?
History: Oh, you're got some good stuff in here. Really good. Especially the bit about the "1.e4 e5 2.Nf3 f6" line.
Damiano: Oh, yeah, that. You don't ever want to play it.
History: You know, you're the first guy to publish an analysis of this line. Perhaps we should call it "Damiano's Defense"
Damiano: What? No! It isn't *my* defense, I'm just saying not to play it. It's bad. It sucks. It stinks worse than a Genovese stevedore's armpit.
History: Alrighty then, "Damiano's Defense" it is.
Damiano: D'oh! ( *facepalm* )
So that's why it's known as "Damiano's Defense" to this day.
And here's a problem from Damiano. It's White to play:
Hint: Mate in 3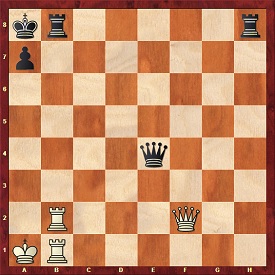 FEN: [kr5r/p7/8/8/4q3/8/1R3Q2/KR6 w - - 0 1]


Problem 3 - White To Play
Hint: Simplification is your friend
It's White to play and win. How can he achieve a winning position? Note: you don't have to map out every move to checkmate, just get to the point where you can confidently say "this is a won position for White."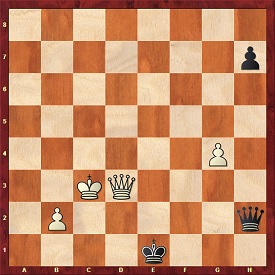 FEN: [8/7p/8/8/6P1/2KQ4/1P5q/4k3 w - - 0 1]



Celebrities Playing Chess
Amusing piece here, 55 Famous People That Play Chess. What makes it interesting is that each celebrity is listed with an approximate rating. According to these ratings, I think I could beat David Letterman and Marlon Brando easily, could play Nicholas Cage, Alan Alda and Henry Kissinger even, would have a tough time against Ray Charles, Cleveland Amory, and Alistair Cooke. I would have no chance against the rat bastard commies Che Guevara, Fidel Castro, Vladimir Lenin, and Art Buchwald. And Marcel Duchamp? Just fuggeddaboutit.
And, at one point, Madonna also played a bit of chess:
Chess is also being played by other people with one name, Bono and Sting...Madonna plays at the Bel Air chess club along with Tim Robbins, Susan Sarandon and Julia Roberts.
Of course, at one time, Madonna was going around talking with a fake British accent, so there's that.

Endgame of the Week
White wins; how does he do it?
Hint: The position of Black's king is extremely sub-optimal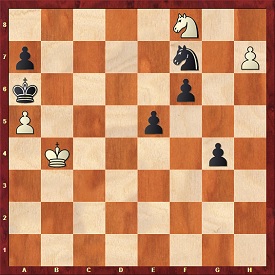 FEN: [5N2/p4n1P/k4p2/P3p3/1K4p1/8/8/8 w - - 0 1]



___________
Solutions Update:
Problem 1 - White To Play
20.Nxe6! sets up a knight fork on Black's queen and rook. But that's not all it does. I hope you all saw that, in addition to that, it also sets up the mating threat 21.Qxg7#. Knight forks are always fun, but this one has the added value of the mating threat. Black is now in a resignable position. In fact, he did resign.

Problem 2 - White To Play
This is the final few moves of the famous game Anderssen-Kieseritsky, London, 1851, which has been dubbed the "Immortal" game. You can play through at the entire game here. Anderssen could play like a crazy man. He reminds me of one of those nutty used car dealers, MY COMBINATIONS ARE INSANE!!! In order to get this position, Anderssen had sacrified both his rooks. And he wasn't through, yet.
1.Nxg7+ Kd8
2.Qf6+ Nxf6
Nothing like sac'ing your queen!
3.Be7#
Or 2...Ne7 3.Qxe7# works, too.
Here's a possible alternate path to checkmate, but it's longer, and I don't think it's forced:
1.Nf6+ Nxf6
2.Qxa8 Kd8
3.Be7+ Kc7
4.Qxa7+ Bb7
5.Bd6+ Kc6
6.Ne7#

Damiano Problem
1.Qxa7+ Kxa7
2.Ra2+ Qa4
3.Rxa4#

Problem 3 - White To Play
White thinks: "You know, if those queens were off the board, I'd have a won game. There's no way Black will be able to stop my b-pawn." So, is there any way White can force a trade of queens?
Yes:
1.Qb1+ Kf2
2.Qc2+ Kg3
3.Qxh2+ Kxh2
4.b4 and wins
Black won't have time to remove the obstructing g-pawn and advance his h-pawn.
Of course, you've got to be careful how you do this. I've thought I had won games so I forced the simplification and it turned out that I had overlooked something and so my "won" game wasn't so won after all. Oops.

Endgame of the Week
The first thing to notice about this position is that Black has three connected, unopposed pawns and there's no way White can catch any of them in time. But White is not lost: Black's king is not in a really good position, i.e. there's only one square it can move to (b7) if it gets attacked. So White should immediately start looking for ways to bring his knight over. Also, White has an advanced pawn of his own and in order to prevent it from queening, Black's knight is required to stay put exactly where it is on f7, and not move.
There are two possibilities for a White knight move, to e6 or d7. If 1.Nd7, then Black moves 1...Kb7 and White can pretty much hang it up. The other option, 1.Ne6, is better, because if Black tries to break containment with 1...Kb7, then 2.Nd8+! and here is something you don't see every day, a knight fork on a king and other knight. And Black cannot capture the knight, as that will allow White to queen his h-pawn.
So with 1.Ne6! there are two threads to this problem:
Thread A:
1.Ne6 g3 (or 1...f5 or 1...e4)
2.Nc5#
Thread B:
1...Kb7
2.Nd8+ Kc8
3.Nxf7 Kd7
4.h8=Q and wins

___________
Note: that cryptic line of letters and numbers you see underneath each board diagram is a representation of the position in what is known as "Forsyth-Edwards Notation", or F.E.N. It's actually readable by humans. Most computer applications nowadays can read FEN, so those of you who may want to study the position, you can copy the line of FEN and paste into your chess app and it should automatically recreate the position on its display board.
___________
So that about wraps it up for this week. Chess thread tips, suggestions, bribes, rumors, threats, and insults may be sent to my yahoo address: OregonMuse little-a-in-a-circle yahoo dott com.

posted by Open Blogger at
04:53 PM
|
Access Comments