« Some New Falcon 9 Footage That Is Better Than Looking At Hillary Or Trump [CBD]
|
Main
|
Thursday Morning News Dump (8/11/16) [Mis. Hum.] »
August 10, 2016
Wednesday Night ONT [Weirddave]
Who is James Fridman?
James Fridman is a graphics designer who is quite skilled with Photoshop. He takes requests from people VIA social media to Photoshop their pictures. He can make you taller, shorter or really anything you want. The results, however, are never quite what you were hoping for: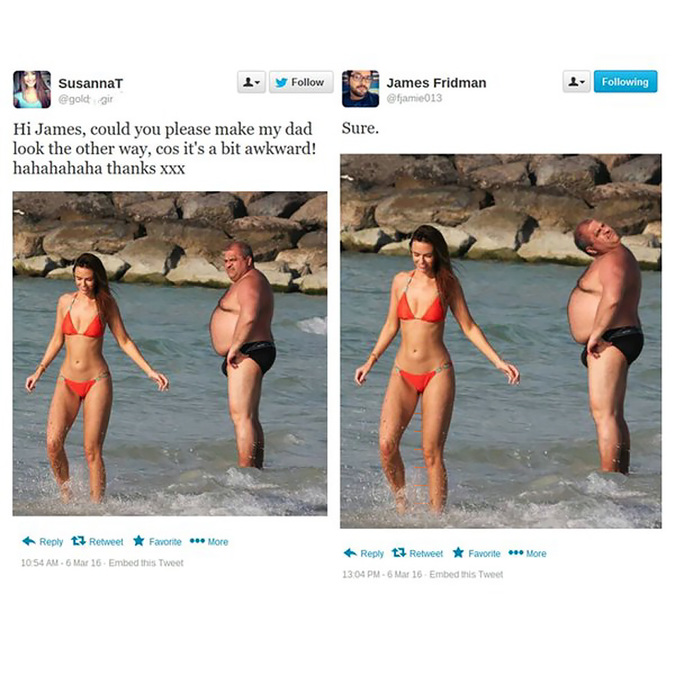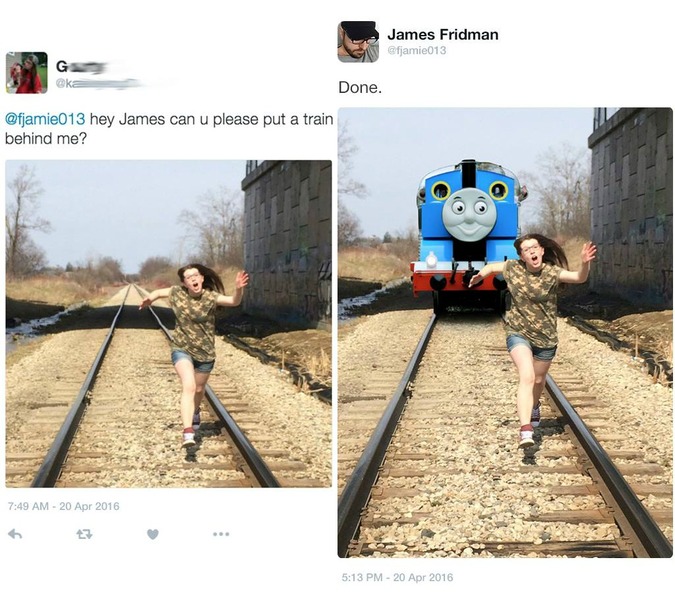 And for heaven's sake, make sure that you don't misspell any words in your 'Shop request.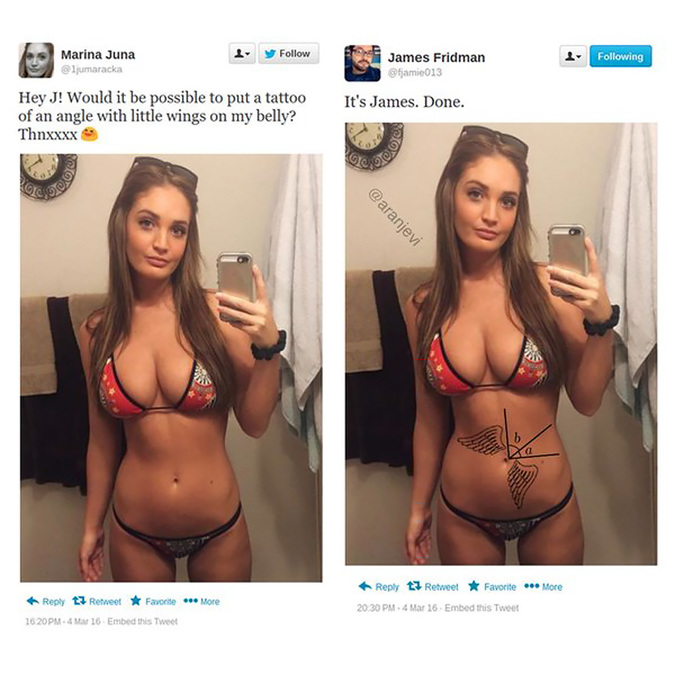 You can see a lot more of his work at his Facebook page here.

Who You Gonna Call?
Not the lady Ghostbusters it seems. Report: 'Ghostbusters' Headed for $70m Loss, Sequel Likely Scrapped.
Being an insomniac agnostic dyslexic, sometimes I lay awake at night wondering if there is a Dog. Not really, but if you ever wondered if there is a God, and if he has a sense of humor, well, you could do worse than this for proof. I noticed in the article that they estimate the new Ghostbusters movie will top out grossing about $225 million. The original Ghostbusters movie made about $295 million. Some quick back of the envelope calculations show that, assuming these numbers hold true, the feminist remake will wind up making......almost exactly $.78 for every $1 the first one earned.
Well played, God, well played.
Busy Day
Woman gives birth, fights off bees, starts wildfire in Northern California
Mother and baby are reportedly OK, which is great news considering the baby was a preemie.
Related:
Death by Gps: Why do we follow digital maps into dodgy places? Amazing to me that people can say things like "The GPS told me to drive off the cliff!" with a straight face.

Playing With the Big Boys
Looks like Chevy is making a real push to compete with Ferrari and other European super cars. 2018 Chevrolet Corvette ZR1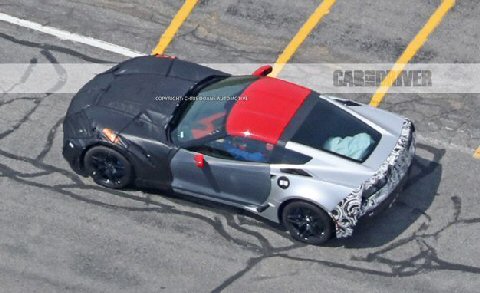 I don't know why Corvette doesn't have the cachet of the Europeans, certainly it has a long and storied a history (and the '58 'Vette is as pretty a car as any ever made), but they want to breakthrough now.

Don't Stand so Close to Me
Hey, remember this photo from the all picture ONT?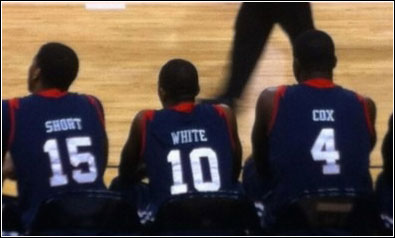 It seems that they now have some competition from the German field hockey team.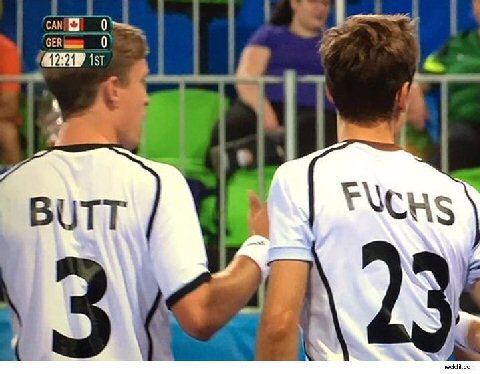 The Most Important Meal of the Day
London is getting a 'fellatio cafe' that is exactly what it sounds like.

"Two eggs, over easy, bacon, hash browns and send Maria under my table". I wonder if feminists are going to demand a Cunnilingus Cafe (which actually alliterates much better)? In any event, they've finally topped the three-martini lunch. (h/t ibguy.)

Twitter Feed of the Week
Did you ever want to put vulgar captions to GIFs from Star Trek? I mean, who hasn't, right? Well, check out @Swear_Trek, they make an art of it.

New Worries
Anatidaephobia. AFLAC hardest hit.

Dusty in Here
Bride is walked down the aisle by man who received her dad's heart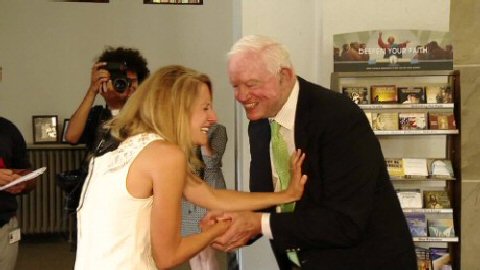 Thomas met the Stepien family in person the night before the wedding, and was welcomed with open arms. "Just hugging him made me feel like I was close to my dad again which on this day was perfect. It was what I needed," said Michelle Stepien, sister of the bride. Thomas placed the bride's hand to his wrist. It was the first time in 10 years that Jeni felt her father's heart beat. "The whole family is here now," Jeni Stepien told the affiliate. " It's like everybody is here."
You Got Some 'Splaining to Do!
Click this link for a picture of the old statue. It was hideous, the locals called it "scary Lucy".
In other entertainment news:
What's the Highest-Grossing Movie Filmed In YOUR State? The list feels a little forced because if any part of the film was filmed in a state it qualified. I'd like to see a similar list but the majority of the movie has to be set in the state.

Something for the Ladies
We started the ONT with a bit of cheesecake for the fellas, lets end it with something for the ladies. How about a nice dick pic?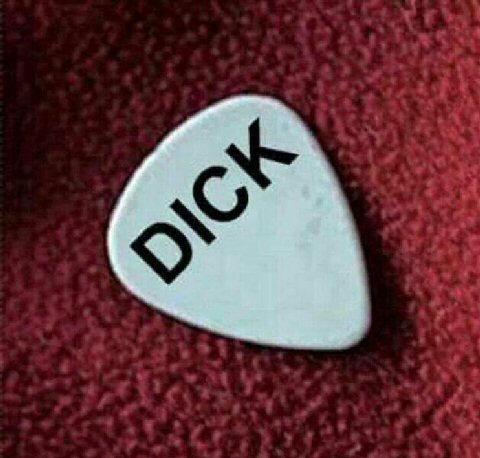 Just kiddin'. One more Fridman: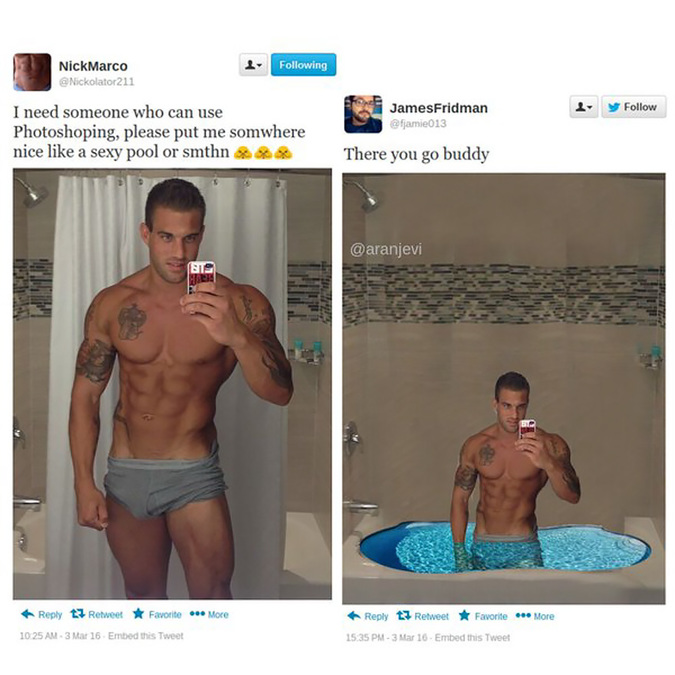 Tonight's ONT brought to you by Choices: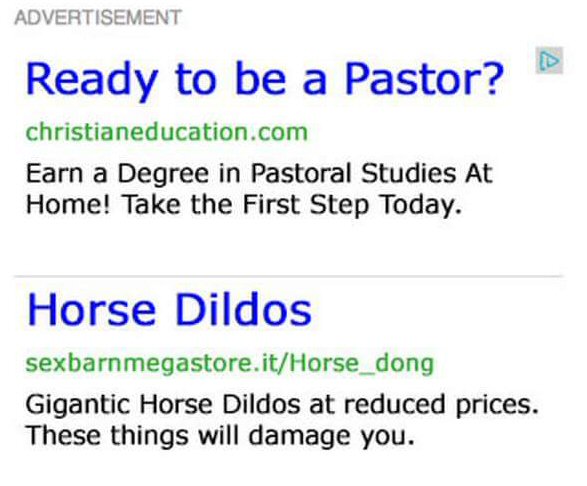 Don't forget the Yahoo Group, all the cool kids are doing it. Contact Maetenloch for details.

posted by Open Blogger at
10:05 PM
|
Access Comments