« New Jersey Debates Forbidding Drinking While Driving.
Drinking Coffee, I Mean.
|
Main
|
Will The Establishment's Stalking Horse for Hillary Blow Up the Republican Party? »
August 09, 2016
American Breaststroker Lilly King Calls Out Russian Cheating, And Then Kicks Ass In The Final! [CBD]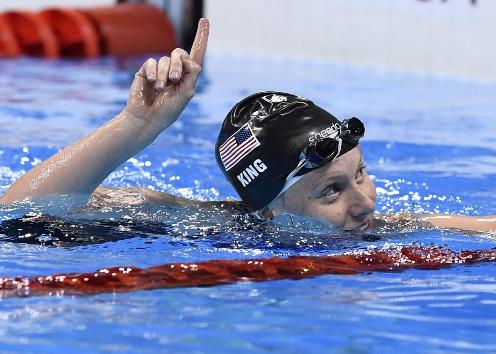 The entire Russian track and field team was banned from the Olympic games, but for some odd reason, the rest of their athletes were allowed to petition individually for entrance.
Yulia Efimova is a Russian breaststroker, and a damned good one. She petitioned to swim, and was allowed entry into the meet just a day before it began.
There's just one problem: she has been banned twice for the use of performance enhancing drugs; once in 2014 and once this year. Why she was allowed to compete is beyond my knowledge of international swimming, but I can guess.
Lilly King is an American breaststroker who swims for Indiana University. She holds the American records in both the 100 and 200 yard events. And she was not happy about Efimova's presence at the Olympics, and wasn't shy about it either.
Then last night she thumped the Russian in the final by more than .50 seconds.
And then doubled down afterward, saying that Americans can swim clean and still compete on the world stage!
Lilly King is my new favorite swimmer.

posted by Open Blogger at
01:49 PM
|
Access Comments