« Now Breathe....Open Thread [CBD]
|
Main
|
Open Thread [Mis. Hum] »
July 31, 2016
Food Thread: Stuffed Burgers: Because We Can [CBD]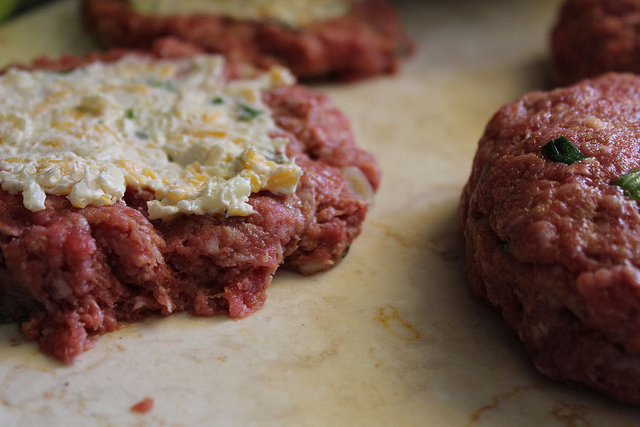 There was a spirited chat recently about burgers -- I think "best toppings" was the original impetus -- but stuffing them came up in the conversation. Somebody suggesting making a compound butter, freezing it into a disk, and using that to stuff the burger. And that sounds pretty decadent and drippy and good. But plain old cheese works wonderfully, although I have found that shredding it beforehand makes it much more prone to melting then simply slapping a thick slice of cheese into the middle. Cheddar works well, and goat cheese is a damned fine choice too. The tanginess really goes well with the richness of the meat. I haven't tried brie yet, but it's on my list.
But there are lots of other things besides cheese to experiment with. Thin sliced jalapenos, sauteed onions. salami, foie gras, pulled pork....the list goes on and on.
My technique is pretty simple, but if any Morons have a surefire way to do it, speak up...don't be shy.
I make an eight ounce burger by default, so for stuffing one i will grab about five ounces of the ground beef, form it into an oversized patty, and simply sprinkle the stuffing in the middle, with a small margin around the perimeter. Then I form the remaining meat into a slightly smaller patty, slap it on top, and mold the edges together while I also knead it gently into the thickness I want. It sounds tougher than it is. I make sure that none of the stuffing is poking out the side....and that's it!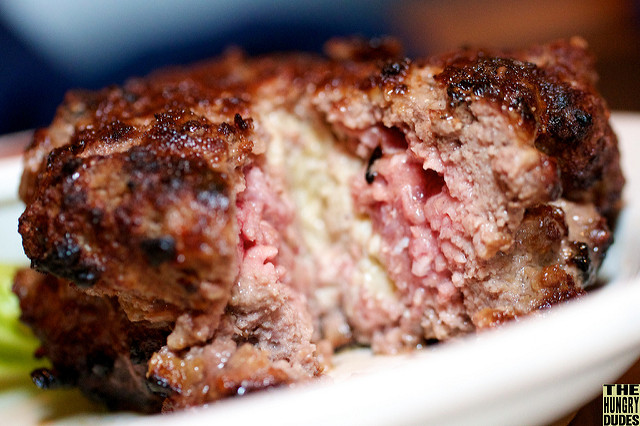 ******
I love dishes that use herbs and spices in the foreground rather than the background. It's a tough thing to pull off, and they often don't work perfectly, but it's gutsy cooking, and should be recognized for that.
Meatballs With Fried Sage Leaves,
courtesy of
Y-not
is exactly what I mean. This sounds fantastic, and pretty straightforward too.
******
Making homemade yogurt
is fairly easy. And if anyone has priced some of the really good Greek-style yogurts it is even more tempting. Just like Ricotta and Mozzarella, it's really just heating milk. I have made it a few times, although not for a very long time, but my recollection is that the end result was excellent.
Anyone make their own? How about Ricotta (it's easy!)? Mozzarella?

******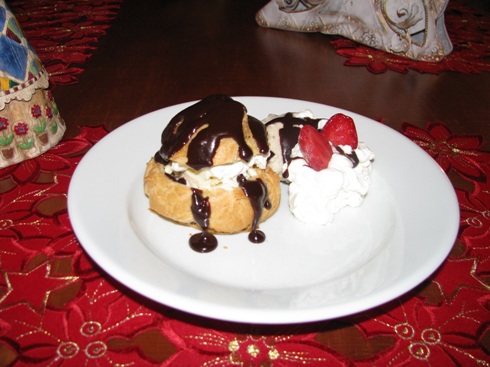 Almond Profiteroles With Banana ice Cream And Hot Fudge
And speaking of turning milk into something yummy...remember the discussions about making ice cream? I bounced it off Moronette artisanal 'ette (who is quite a resource for anything remotely cooking oriented) and she said that she does in fact make ice cream, and even has two ice cream makers...both basic Cuisinarts. She also recommended Frozen Desserts from the Culinary Institute of America as a good cook book. And yes, these two desserts are straight from her kitchen.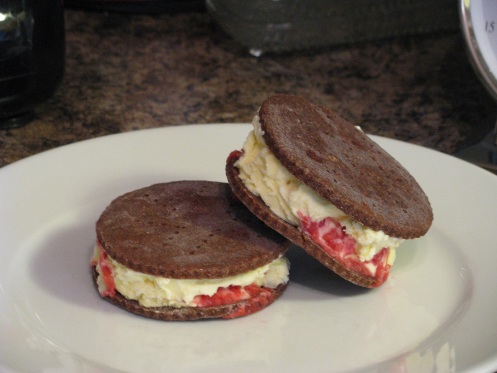 Ice Cream Sandwiches
******
So....no recipe this week...just a heads up on what's for dinner at Chez Dildo tomorrow.
I have lots of grape tomatoes, lots of goat cheese, lots of Parmesan, and lots of different pasta shapes. And most important, a healthy sense of frugality. So my plan is to cut the tomatoes in half, salt them so they give up some liquid (which I will reserve in case the end result is too dry), then saute them in butter until they get a little color. Toss them into a large pile of goat cheese (which is defined carefully for the purposes of the recipe as: The rest of the goat cheese in the refrigerator), and then toss that whole mess into hot pasta. I'll sprinkle enough Parmesan in to make my taste buds happy, a little cracked black pepper and a generous sprinkle of olive oil, and off to the table it goes.
Oh...what the hell. Here is a recipe from artisanal 'ette:
Garlic Broiled Chicken 1-2 servings.

1 / 2 tsp garlic, minced
1 Tbl fresh lemon juice
1 tsp Dijon mustard
1 / 2 tsp sea salt (or any seasoned salt)
Fresh ground pepper
1 whole chicken breast, halved, skinned

Combine all ingredients and brush on the chicken while grilling. It's a basting sauce, so brush it on wildly.

This recipe is from Fit for Life (the oldest one), and the recipe was for broiling in the oven. I love it for grilling, tho.

This is so good. And very low in calories.

posted by Open Blogger at
04:00 PM
|
Access Comments