« EMT 7/17/16 [krakatoa]
|
Main
|
Open Thread Sunday [OregonMuse] »
July 17, 2016
Sunday Morning Book Thread 07-17-2016: The Thin Blue Line [OregonMuse]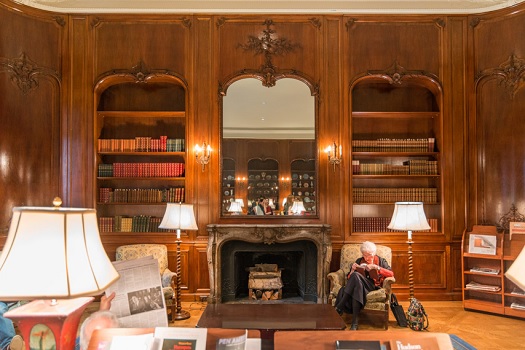 The New York Society Library, 53 East 79th Street

Good morning to all of you morons and moronettes and bartenders everywhere and all the ships at sea. Welcome to AoSHQ's stately, prestigious, internationally acclaimed and high-class Sunday Morning Book Thread, where men are men, all the 'ettes are lovely, safe spaces are for losers, and nobody cares about what kind of snowflake you are, so suck it up, buttercup. And unlike other AoSHQ comment threads, the Sunday Morning Book Thread is so hoity-toity, pants are required. Even these absolutely fabulous Zubaz pants.

#BlueLivesMatter
I've always liked Heather MacDonald's articles in The City Journal. Her work is scholarly, erudite, and facts-and-research-based. She's a conservative who I am glad is one my side, doing what she can to fight the good fight. Her latest City Journal piece, Chicago on the Brink is a cautionary tale of what happens to a city when the police back away from pedestrian stops and public-order policing, i.e. reduce their visible presence in a neighborhood to a minimum. What happens is that crime increases, which means that more black people die. And she demonstrates this using facts and logic.
But never mind that. #BlackLivesMatter!
Her new book, The War on Cops: How the New Attack on Law and Order Makes Everyone Less Safe, is a bestseller.
Violent crime has been rising sharply in many American cities after two decades of decline. Homicides jumped nearly 17 percent in 2015 in the largest 50 cities, the biggest one-year increase since 1993. The reason is what Heather Mac Donald first identified nationally as the "Ferguson effect": Since the 2014 police shooting death of Michael Brown in Ferguson, Missouri, officers have been backing off of proactive policing, and criminals are becoming emboldened.

This book expands on Mac Donald's groundbreaking and controversial reporting on the Ferguson effect and the criminal-justice system. It deconstructs the central narrative of the Black Lives Matter movement: that racist cops are the greatest threat to young black males. On the contrary, it is criminals and gangbangers who are responsible for the high black homicide death rate.
But never mind that. #BlackLivesMatter!
Slogans, not facts!
And for more on #BlackLivesMatter, there's Black Lies Matter: Why Lies Matter to the Race Grievance Industry by Taleeb Starkes, who discusses
...a certain black-based industry — which specializes in nurturing comfortable lies while burying uncomfortable truths — propagates a notion that "racism" is the foremost issue facing black Americans, and white cops are blood-thirsty enforcers. Moreover, this cunning, race-peddling entity knows that it's easier to lie to blacks than to convince blacks that they've been lied to. Thus, black "lies" are good for business... black "lives" are good for nothing (except exploitation). And presently, business is booming.
And speaking of bad ideas, Heather MacDonald is also the author of The Burden of Bad Ideas: How Modern Intellectuals Misshape Our Society. What bad ideas? How about:
At a Brooklyn high school, students perfect their graffiti skills for academic credit. An Ivy League law professor urges blacks to steal from their employers. Washington bureaucrats regard theft by drug addicts as evidence of disability, thereby justifying benefits. Public health officials argue that racism and sexism cause women to get AIDS. America's premier monument to knowledge, the Smithsonian Institution, portrays science as white man's religion.
To these I would add the idea that a corrupt, cynical ex-Secretary of State who has peddled influence for cash, ran interference for her husband's sexual predation for at least two decades, and brazenly lied to the public about her carelessness in handling classified documents is qualified to be the next President of the United States.
Anyway:
And while these beliefs have damaged the nation as a whole, she observes, they have hit the poor especially hard.
See, that's thing. Progressives are always proclaiming their great concern for the poor, but all of their end up hurting the poor. The rich always have money and resources to shield themselves from the consequences of their folly. For example, driving while drunk is, generally, a Bad Idea, but if you're Ted Kennedy, your powerful friends will make sure that the authorities will buy your cock-and-bull story about how your abandonment of a drowning woman was not really your fault.
Or, more to the point, who is it exactly who started spreading around the pernicious idea that single motherhood is something to be praised? I don't know, but I have an idea: rich, liberal white women, who can afford to be stupid. If you're poor, though, being a single mom is really tough, and perhaps that kind of living arrangement ought not to be encouraged, wherever possible.
Of course, we know that progressives don't give a damn about the poor, they just want to them to bend over so they can climb up on their backs to reach the levers of power. That's all the poor are good for to the left.
Metamorphosis
According to this article in Business Insider, a giant kinetic sculpture of the head of Czech author Franz Kafka has been installed on the outside of the city hall in Prague.
Artist David Černý says his sculpture, entitled K on Sun, is to remind you of Kafka when you're "totally frustrated by the incompetence of state employees."
If that was his intention, maybe he should have set up a shooting gallery or a dunk tank instead.
The sculpture is in Prague, right next to a building in which Kafka himself once worked as a clerk in an insurance comp any, and across from City Hall.
So it sounds like Kafka spent most of his life at the vortex of a giant sinkhole of bureaucratic suck that annihilates all life and hope. Which, actually, would explain a lot of his writing.

Live-In Library Employment
H/T to several of you morons who sent me a link to this piece about the New York Public Library Superintendents whose employment included the perk of living in an apartment on the library premesis, in an apartment off to one side.
I guess I should've said "used to be".
Unfortunately, the days of live-in superintendents at libraries appear to be over. The last known live-in superintendent moved out of the NYPL's Webster Branch, located at 1468 York Avenue in Yorkville, in 2006. From the Port-Richmond Branch in Staten Island to the Morrisania Branch in the Bronx, however, the city's libraries were once home to dozens of live-in superintendents and their families.
So we missed out by a half-dozen years. And what were the job requirements for such a position?
[they] would likely include everything from a great command of English to the ability to supervise staff to a general knowledge of electrical, plumbing, HVAC and carpentry repair. Many current live-in superintendent positions also require applicants to have a high-level of computer skills and experience working with one or more building management software programs. Finally, anyone interested in taking on the role of live-in superintendent needs to be committed to working around the clock and working year-round.
That's a pretty gnarly skill set and I wonder how many people can actually match it? Particularly since some of them appear to be at cross-purposes, i.e. if you're an HVAC guy, you're probably not going to know a lot about computers. I could be wrong, but to me, this sort of sounds like advertising for an artist who has sold commissioned works and who also understands differential equations. It's pretty much a truism that if you're good at the one thing, you're not going to be good at the other.

Moron Recommendations
Longtime moron Fritzworth recommends a YA book written by fellow Utahan Dave Butler, The Kidnap Plot (The Extraordinary Journeys of Clockwork Charlie), and here, "YA" means ages 8-12. FW says:
Butler has blended SF, fantasy, alternate history and steampunk into a non-stop adventure tale that is accessible to children without ever being condescending or simplistic. And, like any excellent "child's" entertainment, there's a lot for adults to read between the lines here. I would have loved this book as an 8-year-old (of course, I started reading Heinlein at that age), and I thoroughly loved it now. Highly recommended for all ages.
FW also observes that "the exact same plot and events could have been written as an adult novel, and it would have been great as well."

___________
Again dipping into ace's book rec thread (which I've been dining out on for weeks now), I notice that alexthechick is enjoying Influx by Daniel Suarez. She says this book is "an interesting conceit and well done so far."
Why has the high-tech future that seemed imminent in the 1960's failed to arrive?

Perhaps it did arrive...but only for a select few.

Particle physicist Jon Grady is ecstatic when his team achieves what they've been working toward for years: a device that can reflect gravity. Their research will revolutionize the field of physics--the crowning achievement of a career. Grady expects widespread acclaim for his entire team. The Nobel. Instead, his lab is locked down by a shadowy organization whose mission is to prevent at all costs the social upheaval sudden technological advances bring. This Bureau of Technology Control uses the advanced technologies they have harvested over the decades to fulfill their mission.
Hmmm. This fits in very well with the elite's "good stuff for me, but not for thee" theme I've been harping on for the last few weeks. This one is now on my list. And, at $9.99, the Kindle version just sneaks in under Vic's absolute upper limit.

Books by Morons
Moron author Michael Hooten has a new book out. And unlike his first two, Cricket's Song and A Bard Without a Star), which were fantasy, We Are All Enlisted is science fiction:
It takes place in the near future (the 2080's), and is a about a boy who joins the Navy on Earth expecting to go to a ship or a sub, but instead ends up in the space command. He's an enlisted man, as are most of the characters. I wrote it in part because all the stories involving the military seem to be about the officers, and they make up only a small part of any military. The ordinary grunts, or in this case squids, do all the work and get none of the credit. If you don't believe me, just ask any of them.
Perhaps Hooten should have titled his new book Squids In Space.
___________
Moronette 'votermom' is putting together a list of moron authors over on the Goodreads site which is intended to be acessible to non-members. Here is the list she has compiled so far. Let her know if there's an author she's missing.
http://www.bookhorde.org/p/aoshq-authors.html
___________
Don't forget the AoSHQ reading group on Goodreads. It's meant to support horde writers and to talk about the great books that come up on the book thread. It's called AoSHQ Moron Horde and the link to it is here: https://www.goodreads.com/group/show/175335-aoshq-moron-horde.

___________
So that's all for this week. As always, book thread tips, suggestions, bribes, rumors, threats, and insults may be sent to OregonMuse, Proprietor, AoSHQ Book Thread, at the book thread e-mail address: aoshqbookthread, followed by the 'at' sign, and then 'G' mail, and then dot cee oh emm.
What have you all been reading this week? Hopefully something good, because, as you all know, life is too short to be reading lousy books.


posted by Open Blogger at
08:58 AM
|
Access Comments