« Guy Comey Is Currently Prosecuting Under Same Act He's Not Prosecuting Hillary Under Has a Few Questions About the Allegedly Incorruptible FBI
|
Main
|
Thursday Morning News Dump (7/7/16) [Mis. Hum.] »
July 06, 2016
Overnight Open Thread (7-6-2016)
One of the many extraordinary things about this present political crisis is the reality that the Democratic establishment is lockstep behind a woman who has unquestionably failed the public in multiple, consequential ways - yet they believe she's somehow triumphant because she's not actually facing a criminal trial.

-- David French
Quote of the Day II - The Worst Kind of Militia Edition
What this bill does, the bill before us, allows for 1-year-olds, 2-year-olds, 3-year-olds, 4-year-olds to operate handguns. We do not need a militia of toddlers. We do not have handguns, that I am aware of, that fit the hands of a 1- or 2-year-old.

--IA State Rep. Kirstin Running-Marquardt

But then someone got the bright idea to bring back the Three Stooges as comedy relief in a cheesy exploitation film that would eventually be titled BLAZING STEWARDESSES.

Moe called up Joe and they drafted perennial Stooge to the Stooges, Emil Sitka, to portray a relative of Larry's (his brother, I believe). In the script, they were to appear as sleazy, overage "swinger" types. There's very little question that  it would have been a low point of their illustrious career.

That said, there would have been a NEW Three Stooges! But it wasn't meant to be. Moe took ill and then died. The act had replaced the third person multiple times and maybe the second person could have been replaced. But no one could replace Moe. And without Moe, there simply was no act.

-- from The Three Stooges That Almost Were
Tim Blair on Sudden Everyone Death Syndrome
People keep dying in violent and terrible ways, and nobody seems to know why. Following the recent slaughter of 44 people at Istanbul's Ataturk Airport, US secretary of state John Kerry told a press conference: "We're still trying to ascertain what happened and who did it."

One day, many years from now, with the assistance of global police networks, we might have an answer. At US news outlet MSNBC, this post-Istanbul question was asked: "Is there a pattern to recent terror attacks?"

Again, nobody has a clue. It's a complete mystery. What on earth might be the common factor linking mass killings in Paris, Brussels, Orlando, London, Madrid, Bali, Israel, Libya Somalia, Cameroon, Egypt, India, Bangladesh, Iraq, Afghanistan, Syria, the Philippines, Russia, Burkina Faso, Kenya and now Istanbul? What pattern might there be?

Over in Germany, which coincidentally has lately taken in some million or so claimed refugees, one police spokesman suggested overcrowding may be the big issue.
Announcing that Munich would spend nearly $4.5 million more on security during this year's Oktoberfest, spokesman Marcus da Gloria Martins said that the huge cost increase was to do with something other than terrorism and its completely unknown cause.

"For me the general problem of crowding at Oktoberfest is more worrisome than a terrorist attack," he said, which is presumably why it makes sense to hire an additional 100 security personnel, install an emergency multi-language loudspeaker system and conduct bag checks at every single entrance.

All of these measures are obviously about overcrowding and not any other thing that might happen at random, somehow causing people to spontaneously die. Obviously.
Read the rest here.
The Next Freddie Gray Trial is Going Badly For the Prosecution And The Trial Hasn't Even Begun Yet
The Looming Rio Olympics Disaster: Superbugs, Raw Sewage, Rampant Crime, No Police, and Now With Missing Gitmo Prisoner Upgrade
Here is the current visitor welcome: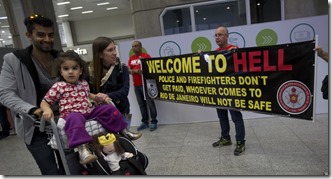 And Steven Den Beste wonders if the Olympics are going the way of the World Fair:
Now I think that the Olympics are going to face the same fate, and this year is the beginning of the end. All reports are that the games in Rio de Janeiro are going to be a disaster. It's supposed to take place in August and some of the facilities aren't complete yet. The drinking water there is contaminated and the area around the site is crime-ridden. The area of ocean where all the yachting events are supposed to take place is contaminated with unprocessed sewage.

And there's the Zika virus and the mosquitos that carry it. Plus the Russian track team isn't being permitted to attend because of a drugging scandal. And the laboratory which was supposed to do all the drug tests can't because its equipment doesn't work and its people have been bribed. Or something like that.
Sonny Bunch: Why I'm #TeamCinemark
After reading the article I have to agree with him. The families of victims of the 2012 Aurora shooting sued the movie theater, CineMark, for damages even though it was not responsible for the shooting. The case ground through the courts until eventually a jury found the theater not  liable for any damages. And now the theater is - as is allowed under Colorado law - asking to be reimbursed for the legal expenses incurred while defending itself. And people are very upset over this.
And Sonny is not having any of it:
Because, obviously, the company should just soak up $700,000 in legal fees they spent defending themselves from people who tried to wring money out of them for something that clearly wasn't their fault. Because, obviously, the people who filed the frivolous and, frankly, stupid lawsuit against the movie theater shouldn't bear any responsibility for their actions.

...Here's a pro-tip: if you don't want to get sued for legal fees, don't launch dumb suits trying to earn a quick payout from a company that isn't at fault in any way.
Harvard Business Review: The Problem With Diversity Training
The numbers sum it up. Your organization will become less diverse, not more, if you require managers to go to diversity training, try to regulate their hiring and promotion decisions, and put in a legalistic grievance system.
What Happens When Men and Women Are Interviewed For a Tech Position With Voices Masked, All Gender Info Removed?
Women candidates still did worse in interviews. Read the article to see why. And from an evolutionary perspective it makes sense. (thanks to Zakn)
Based on the data released by the FBI over the past several years far more people are killed by fists and feet each year than by rifles.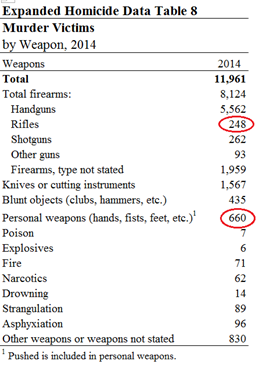 How China Took Control of Bitcoin
In its early conception, Bitcoin was to exist beyond the control of any single government or country. It would be based everywhere and nowhere... Yet despite the talk of a borderless currency, a handful of Chinese companies have effectively assumed majority control of the Bitcoin network. They have done so through canny investments and vast farms of computer servers dispersed around the country...there are fears that China's government could decide, at some point, to pressure miners in the country to use their influence to alter the rules of the Bitcoin network. The government's intervention in 2013 suggests that Bitcoin is not too small to escape notice.
The Antikythera Device Starts to Give Up Its Secrets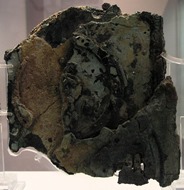 The Story Behind Big Trouble in Little China
Released 30 years ago this week, Big Trouble in Little China was a box office bomb that was mostly panned by critics and is credited with souring John Carpenter on Hollywood. It's also a cult classic unlike any other, an action comedy that's endlessly quotable and eternally rewatchable for its most diehard fans. It's a film made better over time by its flaws, especially the over-the-top performances, and its campiness has become so popular that even Dwayne Johnson wants to bring Jack Burton back.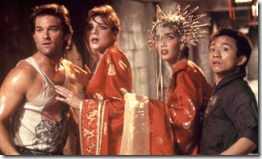 The Group knows your sins but doesn't care.
Tonight's post brought to you by Olivia de Havilland who turned 100 last week: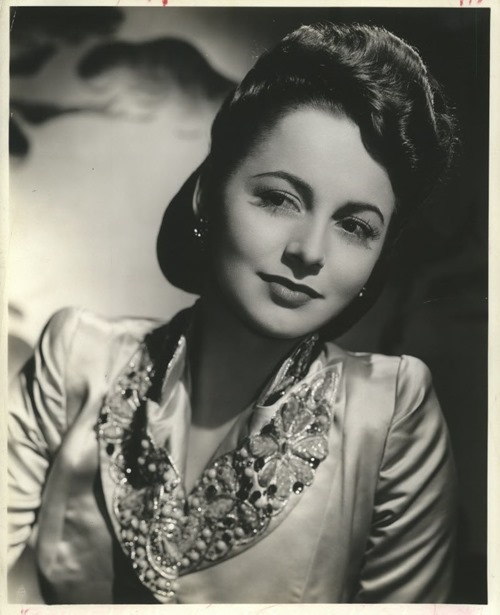 Notice: Posted by implicit permission of AceCorp LLC. Okay. You people sit tight, hold the fort and keep the home fires burning. And if we're not back by dawn... call the president.

posted by Maetenloch at
11:13 PM
|
Access Comments