« Thread below the Gardening Thread: Independence
|
Main
|
Ace of Spades Pet Thread [Mis. Hum.] »
July 02, 2016
Saturday Gardening Thread: Independence Days 2016
Hello gardeners and friends of gardeners. For those whose interests lie in a different direction, there is a wide variety of political and non-political content in the threads below this one. It's Saturday!
For today, I thought it would be nice to relax a little and celebrate Independence. I was happy for the spirit of independence shown by our British friends recently. And I look forward to the Independence Day weekend here.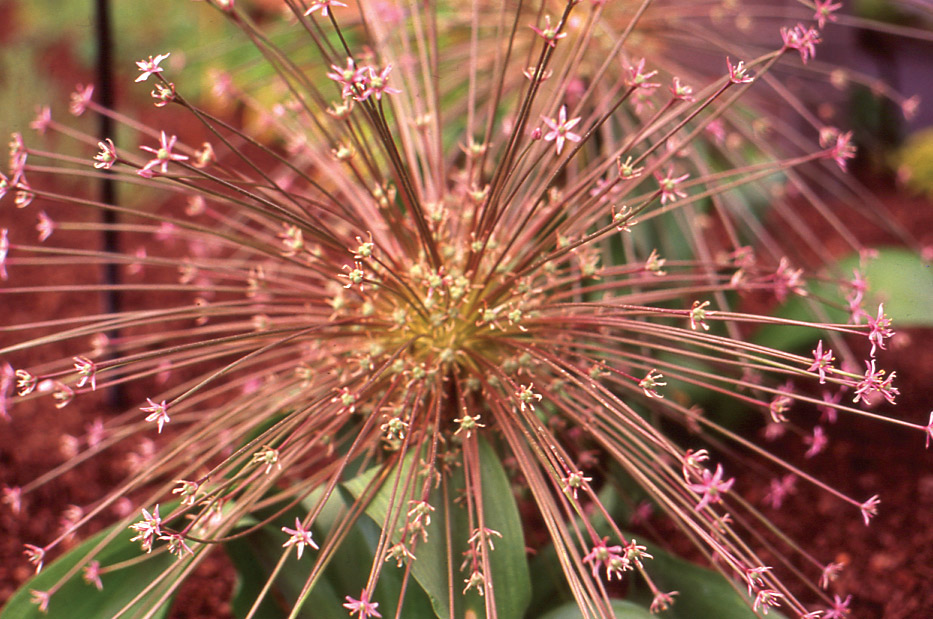 Floral Fireworks
Do you like that photo of Allium shubertii from Minnesota Gardener? I have been getting fall bulb catalogs. Some are fun to look at and some are fun to read but have no photos, though these catalogs generally have nice websites if you want to see photos. The leaves on that Allium are also interesting.
One "ornamental edible" profiled at The Minnesota Gardener link above is Garlic Chives:
Garlic chives are a magnificent herb but really ornamental for its late-season white flower umbels that attract hoards of beneficial insects including bees and butterflies to a garden. Garlic chives are a profuse self-sower so I always deadhead all the flowers to prevent seeding.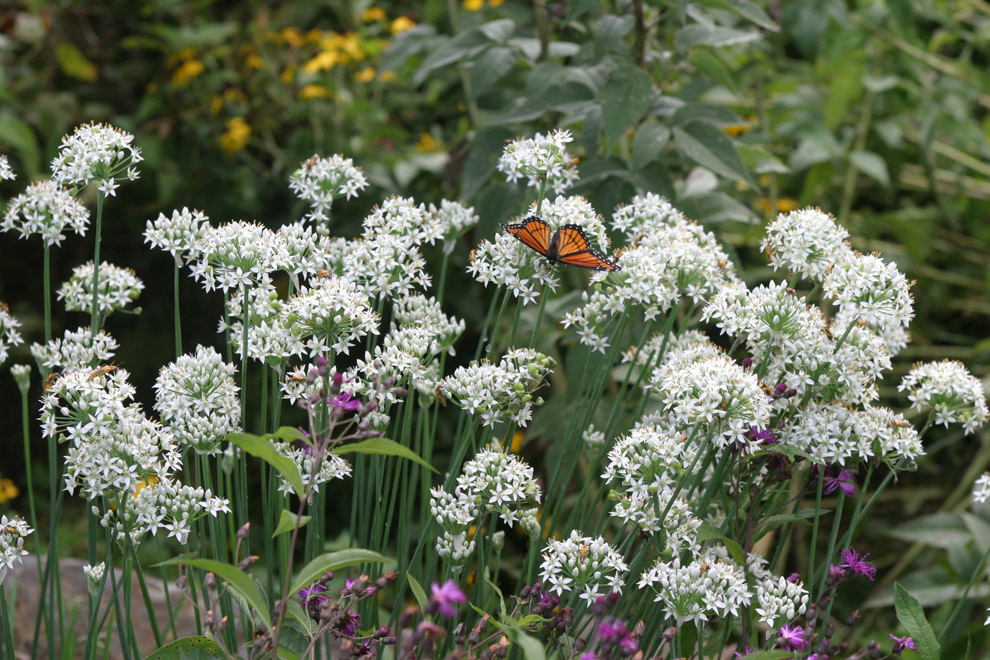 Garlic Chives with Viceroy Butterfly
Alliums make great cut flowers. Sunset says the flowers of Garlic Chives smell like violets. I think that some members of The Horde are way ahead of me on fall bulbs. Has anybody ordered alliums? Something else that's interesting? Or are you still salivating over plant descriptions and flower photos?

Speaking of salivating, short-day sweet onions are in markets, ready to slice onto burgers. Several of the more southerly regions of the USA have favorite cultivars. Not that things don't change over time. The history of today's sweet onions started like this:
The sweet onions from Texas started when the Bermuda onion was introduced into South Texas in 1898 when a packet of onion seed was planted near Cotulla. The onions were shipped in 1899 to Milwaukee, Wisconsin, where they were so enthusiastically received that a larger acreage was planted.

By 1904, approximately 500 acres of Bermuda onions were planted in South Texas. In spring, 1907, 1,011 carloads of onions were shipped from South and Southwest Texas; in 1908, production had more than doubled, and in 1909, 12 counties shipped 2,920 carloads. Shipments reached 6,735 carloads in 1917; this figure was not exceeded until 1928 and 1929 when the total movements were 7,055 and 7,232 carloads, respectively. The largest movement in 50 years for a single season was 10,164 carloads in 1946.
Locals say that certain cultivars don't taste the same when grown elsewhere, and sometimes they are right. Soil and climate make a difference. Here in the San Joaquin Valley, a lot of the sweet red types are grown.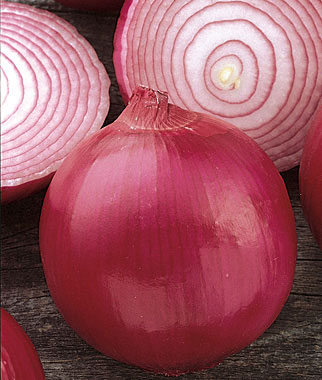 Health Benefits of Onions
Last year, there was a battle among Georgia farmers over shipping dates for the famous Vidalia onion. Some farmers want to preserve the cultivar's reputation by making sure onions are fully mature before they are shipped. Politics.
The kind of onions you buy in the store are sort of awkward for an ornamental border, but they are great for the veggie garden. Have you grown them before? From seed, seedlings or bulblets? Have you ever tried to grow a long-day onion during short days or vice versa? We can discuss the cultural needs of onions in the comments if you have a question.
Anything else going on in your garden? Do you have some Independence Nectarines or Fourth of July tomatoes? Those little early tomatoes on indeterminate plants get sweet in the heat here, but they have kind of tough skin. Might want to peel them. Maybe for an Independence Day Picnic marinated salad with sweet onions, cucumbers and belll peppers plus that Good Seasons Italian salad dressing that you make in the little shaker bottle. Suitable for serving at room or picnic temperature.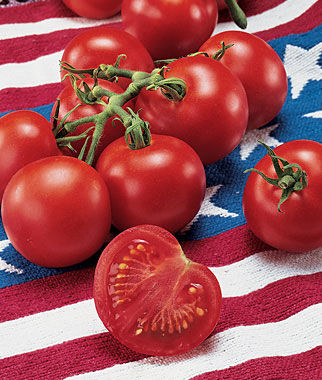 Are any of you berry growers out there planning on creating a flag cobbler or flag pie to top off your Independence Day picnic? Are visitors welcome? If so, they may appreciate your attention to CBD's Food Thread tomorrow. I will be checking to see if anyone is offering invitations.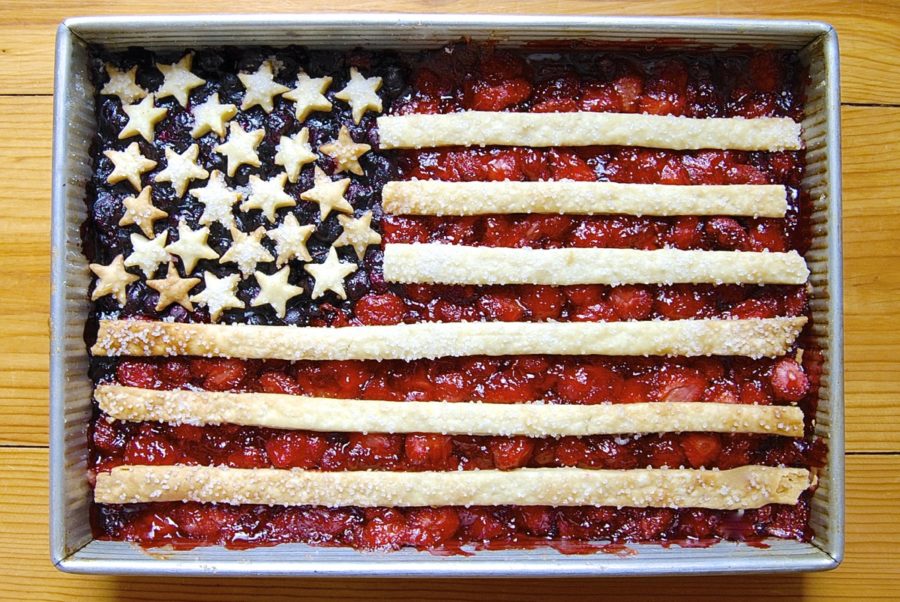 Hope you have a great weekend and a great Fourth of July.

posted by Open Blogger at
12:50 PM
|
Access Comments