« Q-Poll: Clinton Up by 8 In Florida, But Tied with Trump in Ohio and... Pennsylvania
|
Main
|
Gun Store Refuses to Sell Gun to a Reporter, Citing His History of Alcoholism and Domoestic Abuse »
June 21, 2016
BREXIT. Why Is It Existentially Bad For The Elites? [CBD]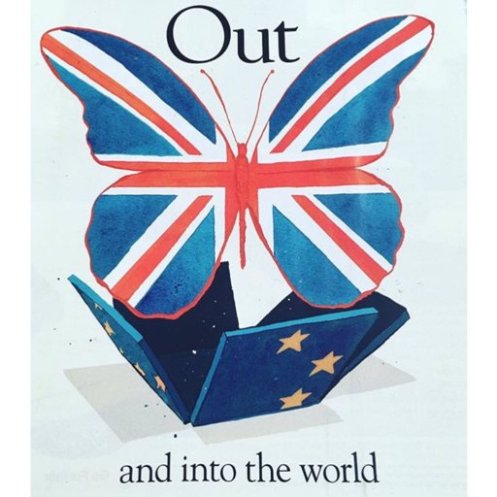 Okay....I got this from Elizabeth Hurley's twitter feed, so I am predisposed to approving of the sentiment.
The Washington Examiner had a good piece on it, interestingly titled, Brexit vote: It's more American than you think
And more from Jim DeMint and Nile Gardiner
But the possible withdrawal from the super-national government of the EU on the part of Great Britain is certainly, in the short term, bad for the financial markets. There were essentially no boundaries between the London financial markets and the rest of Europe, so a withdrawal will add complexity to the transactions between Britain and Europe...and that means added cost.
So who does that hurt? Certainly the green grocer at the end of the lane will be penalized in some small way. His financial transaction costs may rise slightly, and the cheap labor he uses to dump the trash and swab out the toilet will probably become more expensive as the labor market is slightly more restricted for "foreigners."
But it is JP Morgan and DeutscheBank and Goldman Sachs and HSBC and Barclay's and the heavy hitters in finance (and their wealthy customers) that will be penalized as well. And the organizations that thrive on cheap labor crossing porous or nonexistent borders will also be hurt.
Sound familiar?
Who will be helped?
That green grocer who pines for the days when being "British" was a point of pride. When he could think back about his grandfather, the fueler on some remote airfield, who helped Great Britain beat back the Luftwaffe onslaught during the summer of 1940, and realize that he was connected to a grand and glorious endeavor that was bigger than any one man. Or the 60 year old woman who saved up to visit her uncle's grave in France, and cried despite never having met him.
Eurotrash will never admit it or understand it, but there is something good about the simple declaration, "I am an Englishman."
They will have some small measure of pride in country returned to them, as the unelected bureaucrats in Brussels froth and seethe that they can no longer tell the British what size garbage bag must be used in which size can. Or the appropriate font for tinned meat labels....

posted by Open Blogger at
03:39 PM
|
Access Comments