« Mid-Afternoon Open Thread [CBD]
|
Main
|
Donald Trump's and Ted Cruz's Statements on The Orlando Terrorist Attack [CBD] »
June 12, 2016
Food Thread: Nude Dining -- A Trend Whose Time Will Never Come [CBD]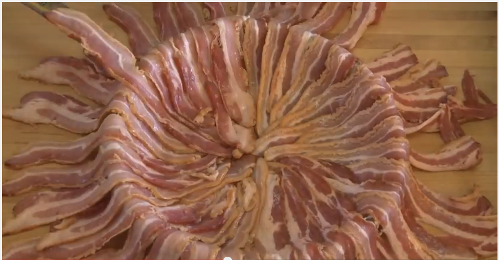 To be more precise, I have nothing against nude dining, just the public part of it. I am confident that I am not the only Moron who has wandered down to the kitchen at 3:00am for a late-night snack, clad only in...well...nothing.
But Bunyadi: London's first naked restaurant opened to rave reviews, and I find that a bit suspicious. Food as theater bores me, and naked dining takes that to ridiculous extremes. Anyone who is so focused on what happens around him in a restaurant will not be a good judge of food.
After a certain minimum quality of service is reached, it's the food stupid! Not the nudity of the diners around you. In reality this place's popularity has nothing to do with food and everything to do with subverting the Western paradigm of modesty and decorum.

******
Enough about the decline of Western civilization; let us return to the photo at the top: the first step in the construction of a Potato-Bacon-Cheddar Tart.
That's two pounds of bacon for those of you who are counting.
The novelty aside, it looks like quite a nice dish. A small sliver of that as a side, with a steak as the main and maybe a salad to cleanse the palate? A great meal.
******
Here's a product for which I have no use, for which there should be no use, and is obviously just a slick way to separate slim-hipped hipsters from their money.
Pickle maker Gordy's just started selling spicy brine in a can
. Has it occurred to any of these knuckleheads that they could just...you know...buy a container of pickles? Oh, and definitely click through to the order page and check out exactly how much they are charging for what is essentially spiced salt water.
******
This is
Tyler Florence's recipe, and it's a good one.
One difficulty however is pounding the chicken breasts to an even thickness. They tend to break up, so put plastic wrap underneath them as well, and maybe slice equal thickness pieces out of the breast so they pound out more easily. The trimmed portion can be pounded into a smaller cutlet.
I also use more than the called-for lemon juice (probably double), because I love the tartness of the sauce.
That little trick of rolling the butter in the flour is a nice touch. I will definitely be stealing that as my own.
Chicken Francese
4 skinless, boneless, chicken breasts (about 11/2 pounds)

All-purpose flour, for dredging

Kosher salt and freshly ground black pepper

2 large eggs

2 tablespoons water

1/4 cup extra-virgin olive oil

1/2 lemon, with rind, cut in thin rounds

1/2 cup dry white wine, such as Pinot Grigio

1 cup chicken broth

1/2 lemon, juiced

2 tablespoons unsalted butter

1/4 cup chopped flat-leaf parsley

Directions
Put the chicken breasts side by side on a cutting board and lay a piece of plastic wrap over them. Pound the chicken breasts with a flat meat mallet, until they are about 1/4-inch thick.
Put some flour in a shallow platter and season with a fair amount of salt and pepper; mix with a fork to distribute evenly.
In a wide bowl, beat the eggs with 3 tablespoons of water to make an egg wash. Heat the oil over medium-high flame in a large skillet.
Dredge both sides of the chicken cutlets in the seasoned flour, and then dip them in the egg wash to coat completely, letting the excess drip off.
When the oil is nice and hot, add the cutlets and fry for 2 minutes on each side until golden, turning once. Remove the chicken cutlets to a large platter in a single layer to keep warm.
Toss the lemon slices into the pan and cook for 1 to 2 minutes, until fragrant.
Add the wine, broth, and lemon juice, simmer for 5 minutes to reduce the sauce slightly.
Roll the butter in some flour and add it to the skillet, this will thicken the sauce. Stir to incorporate and dissolve the flour.
Reduce the heat to medium-low and return the chicken to the pan; place the lemon slices on top of the cutlets.
Simmer gently for 2 minutes to heat the chicken through.
Season with salt and pepper and garnish with chopped parsley before serving.


posted by Open Blogger at
04:20 PM
|
Access Comments