« Saturday Morning Weird News [Misanthropic Humanitarian]
|
Main
|
Thread below the Gardening Thread: Infrastructure [KT] »
June 11, 2016
Don't Look Down (Ballot) [Y-not]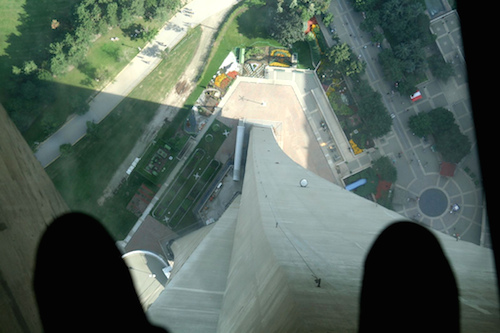 Actually, DO look down.
Last month we started looking into ways that those conservatives who are not planning on campaigning for the Republican nominee for President could best use our time. This is a follow up to that post.
To get the discussion rolling, here's a brief round up of news and commentary links pertaining to Congressional and Senate races:

Via Kyle Kondik at Rasmussen House 2016: The Balancing Act: How expectations of a Clinton victory could hinder Democrats down-ballot:
While Hillary Clinton still leads Donald Trump in most national polling, her margin is not what it once was: She's up about five points in the HuffPost Pollster average, down from nine points in mid-April, and she's up just two points in the RealClearPolitics average, also down from nine points seven weeks ago. Now that she's the presumptive nominee, Clinton will hope to restore those numbers to their prior luster.

However, the betting markets have been fairly steady on the race, giving Clinton a consistent edge even as her polling has weakened. PredictWise, which tracks these markets, gives the Democratic nominee (almost certainly Clinton) a 74% chance to win the presidency. The odds of a Democratic presidential victory have not dipped below 65% since early March.
Kondik continues:
Now, what does this have to do with the House? Well, there's some evidence that if Clinton (or Trump) becomes a prohibitive favorite in the election, that might actually reduce the power of down-ballot coattails. That's the argument of an intriguing new paper by Robert Erikson, a political scientist at Columbia University.

Erikson's study, published by Legislative Studies Quarterly , analyzes post-World War II congressional voting in presidential election years. It finds that some voters, particularly well-informed independents, will anticipate a likely victory for one party in the presidential contest and compensate for that victory by voting for a different party for Congress.
Follow the links to read the rest.
Despite the anti-establishment candidacies of both Bernie Sanders and Donald Trump, thus far House incumbents have fared well:
On Tuesday, Rep. Renee Ellmers (R, NC-2) became the first Republican House incumbent to lose this cycle, but she lost to a fellow incumbent, Rep. George Holding, in a radically redrawn district where he had a geographic advantage. Donald Trump's late endorsement of Ellmers obviously didn't do her any good, but the deck was stacked against her anyway because of court-ordered, mid-decade redistricting in North Carolina. Every other incumbent running in North Carolina won, although Rep. Robert Pittenger (R, NC-9) is clinging to a tiny lead.

Assuming Pittenger wins, House incumbents will be 168 for 170 in primaries this year: The only other loser was indicted Rep. Chaka Fattah (D, PA-2). That's very much in line with history: More than 98% of House incumbents who sought renomination got it in the post-World War II era.
Again, follow the link to read the rest. Their overall prediction as of last week is a "236-199 Republican House, or a net gain of 11 seats for the Democrats, 19 short of the 30 they need to win control."
Speaking of the House, one worrisome poll that I saw last week suggests that Rep. Mia Love (R-Utah) may be in trouble:
Freshman Rep. Mia Love (R-Utah) is trailing Democratic candidate and attorney Doug Owens by 6 points in a rematch for her targeted House seat, a new poll finds.

Owens received support from 51 percent of likely voters compared to 45 percent for Love, according to the Salt Lake Tribune/Hinckley Institute poll conducted by SurveyUSA found. Four percent said they were undecided or supporting a third-party candidate.
This may be a bad poll, but before you dismiss it, recall that there have been some signs that Utahns are looking for an alternative to Donald Trump. (The poll by Gravis Marketing found:
"If you had to vote today in a matchup between Hillary Clinton, Donald Trump and Gary Johnson, who would you vote for?" In this scenario, Donald Trump and the 'other' candidate tied with 29 percent each, Hillary Clinton received 26 percent support, while Gary Johnson, the Libertarian candidate received 16 percent.
Given that Mitt Romney has slammed the door shut on a possible Presidential bid, I suspect that a future poll will find that Candidate Other will lose support, with most of it going to Trump and the balance going to Gary Johnson and Hillary Clinton. (Believe it or not, there ARE Democrats in Utah.)
Finally, over at Ricochet Canadian Cincinnatus looks at Senate races. Using The Hill's list of ten Senate seats that are in jeopardy of flipping (many of which are occupied by so-called RINOs), Cincinnatus makes the case for why you should care:
In order to maintain control of the Senate Judiciary Committee, as many of these nine Republican seats as possible must be held.

Now, it is true that many of these imperiled GOP Senators are RINOs. But it is also true that the party balance in the Senate determines who controls the committees, and who controls the committees largely determines which bills get voted on and what get shuffled aside. Simply put, electing these RINOs makes it more likely that the Senate Judiciary Committee is controlled by a team that includes Senators Mike Lee, Jeff Sessions, and Ted Cruz rather than one that includes Senators Patrick Leahy, Chuck Schumer, Dianne Feinstein, Dick Durbin, and Al Franken. This, ladies and gentlemen, should not present a dilemma.
Seems like a good argument to me.

What down ballot races are YOU watching right now?

posted by Open Blogger at
09:30 AM
|
Access Comments