« Sunday Morning Open Thread for Politics [OregonMuse]
|
Main
|
Orlando Terror Attack News Links Roundup [Y-not] »
June 12, 2016
Sunday Morning Book Thread 06-12-2016: Everything You Know Is Wrong [OregonMuse]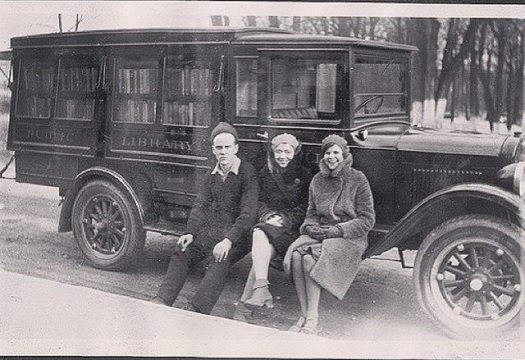 Vintage Book Pimpmobile - With Book Pimp And A Couple of His "Librarians"
Update: Discussions about politics and the Orlando Lutheran rampage should be directed to the open thread directly below this one. Thank you.
Good morning to all of you morons and moronettes and bartenders everywhere and all the ships at sea. Welcome to AoSHQ's stately, prestigious, internationally acclaimed and high-class Sunday Morning Book Thread, where men are men, all the 'ettes are lovely, space isn't safe, and snowflakes aren't particularly special. The Sunday Morning Book Thread is the only AoSHQ thread that is so hoity-toity, pants are required. Even if you want to gay them out with rhinestones and sequins, that's fine.

Losing History
I'm continuing to read Diana West's American Betrayal: The Secret Assault on Our Nation's Character and it's absolutely mind-numbing. You ever watch a comedy where there are so many jokes (Airplane! is the movie I'm thinking of) that you eventually stop laughing at the jokes because you're all laughed out? West's book is like that, only it's not laughing you'll grow tired of.
One of West's themes that she is developing is the necessity for reclaiming history, that is, we need to know what actually happened so the proper historical lessons can be learned.
And the creepy part is when West relates going back in old newspaper files to research original accounts and finding that the one edition that she needs that will tell her what she needs to know is missing. Not the newspaper for the day before, and not the one for the day after, no, they're all there, just the one she needs. That one's gone, and nobody knows where it went, or what happened to it. As if somebody went back at some point and deliberately altered the historical record.
I'm not sure how we can ever recover from something like that. The amount of historical "re-revision" that's going to have to be done is extremely daunting.
Take Lend-Lease, for example. I had always thought that it was a mostly benign operation set up to help out Great Britain, and yes, we did help out the USSR commies a bit, but they were our allies, so it was probably OK, right?
Well, to the extent that we were feeding thousands of tons of supplies to the USSR, maybe not:
Was the continuous Lend-Lease supply line to Soviet Russia, then, a case of government inertia, or was there some other justification worth ferreting out from our lost history? Could it have had anything to do with the curious priority the U.S. government attached to Soviet Lend-Lease superseding other Allied and even American military needs? (As for American civilian needs, the 217,660,666 pounds of butter shipped to the USSR during a time of strict stateside rationing offers a quick read on U.S. government priorities.)
One of the sources West relies on is a book written by Maj. George Racey Jordan, tasked by the Army as an "expediter" to manage the part of the Lend-Lease pipeline to the USSR. What the Major saw, and what he was ordered to do, was so hinky that he started to keep a diary of his experiences at Newark airport and later, the airbase at Great Falls, Montana, where he was stationed. This in accordance with advice once given to him by a senior officer, who told him that the way to survive in the Armed Forces was to keep your eyes and ears open, your mouth shut, and keep a copy of everything. So he did. As he describes it:
[T]he tremendous volume of Lend-Lease material going through under "diplomatic immunity," the infiltration of Soviet agents through the Pipeline, the shipments of non-military supplies and even military secrets, were more than I could stomach. I finally protested through proper channels, first in Great Falls, and then in Washington; nothing happened. This was in 1944, while I was still in the Army.
Of course nothing happened. The rat bastard commies working for FDR made sure of that. Jordan testified to Congress about this. He was interviewed on Fulton Lewis' national radio program about it. And even that wasn't good enough; everything went down the memory hole. But here's what Major Jordan said did happen:
I have been shocked at the efforts of the character assassins and press experts to keep the implications of this story from being brought into proper focus. A vicious attack was launched against Fulton Lewis, Jr., and the sniping at me has continued for nearly three years, in the vain hope that this story would never be evaluated and understood by the public.
"I'm totally surprised the commies attacked him", said no AoSHQ moron. Also, Jordan was wrong about one thing: the efforts of the rat bastard commies to prevent the story from being "evaluated and understood by the public" was not vain. In fact, it was actually quite successful.
So, to recap:
1. The Lend-Lease Act was used by the Soviets, with the cooperation of the FDR administration, to infiltrate a bunch of spies, moles, and agents into our country
2. The Lend-Lease Act was used by the Soviets, with the cooperation of the FDR administration, to exfiltrate atomic-related materials and top-secret classified documents, which including military secrets as well as documents relating to and from the Manhattan Project.
3. And nobody did a damn thing about it.
Major Jordan's book is appropriately titled From Major Jordan's Diaries, published in 1952, and as I found out, pdfs as well as epubs of it are available all over the internet. I have left off West's book for the time being and am reading Jordan's diaries. Fascinating stuff.
By the way, I e-mailed Ms. West and asked her if she intends to revive her original book project she started to work on before she got sidetracked, the one about the *Islamic/jihadi* infiltration of American government. Unfortunately, I didn't hear anything back.
But I'm thinking it probably won't be that hard to write. All Ms. West has to do is go back to the manuscript of American Betrayal, cross out words like "communism" and "communist" and write in "Islamic" and "jihadi" in their place, substitute some Arabic names for the Russian ones, and the book pretty much writes itself.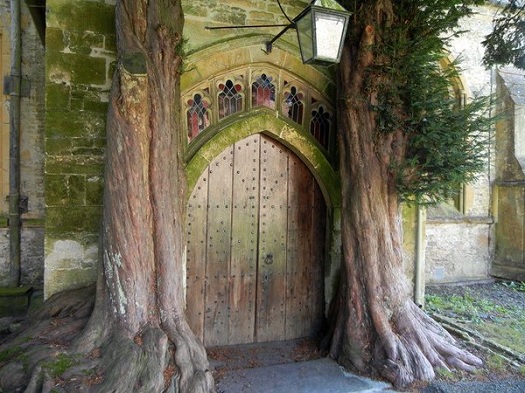 (Medieval church door in Gloucestershire, England believed to be the inspiration for J.R.R. Tolkien's entrance to Moria. Compare with Tolkien's drawing of the Moria door. Pic stolen from here. Thanks to moron commenter 'JTB' (may his tankard of ale never be empty) for the link.)

Man Bites Dog
The Amazon reviews on most books tend to be inflated positively, so here's something I don't see every day: just the opposite. The Confessions of Congressman X, which is available on Kindle for $2.99, has garnered an amazing number of 1-star reviews. For a book like this, I would expect the negative reviews coming from one side of the political aisle, or the other. But here are some of the quotes from Congressman 'X'.
"My main job is to keep my job, to get reelected. It takes precedence overeverything."

"Voters are incredibly ignorant and know little about our form of government and how it works."

"It's far easier than you think to manipulate a nation of naive, self-absorbed sheep who crave instant gratification."

"We spend money we don't have and blithely mortgage the future with a wink and a nod. Screw the next generation. It's about getting credit now, lookin' good for the upcoming election."
I can see what the 1-star reviews are complaining about. This is stuff that either everybody knows, or everybody should know. There's absolutely nothing new or earth-shaking here. It sounds bipartisanly ho-hum.
Instead, you might want to look into Peter Schweizer's exposé Clinton Cash: The Untold Story of How and Why Foreign Governments and Businesses Helped Make Bill and Hillary Rich, which I've mentioned on the book thread before:
Schweizer reveals the Clintons' troubling dealings in Kazakhstan, Colombia, Haiti, and other places at the "wild west" fringe of the global economy. In this blockbuster exposé, Schweizer merely presents the troubling facts he's uncovered. Meticulously researched and scrupulously sourced, filled with headline-making revelations, Clinton Cash raises serious questions of judgment, of possible indebtedness to an array of foreign interests, and ultimately, of fitness for high public office.
There's supposedly a companion documentary about this in the works. I don't know if it will be ready in time for the election.

Moron Recommendations
I think I'm going to be mining this thread for a very long time. It's the one from Tuesday wherein ace called for book recommendations.
But first, bensdad00, one of my chess buds tipped me to the 1965 memoir, The Situation in Flushing by Edmund G Love (1965), which he characterizes as
...remarkabl[y] sweet and loving...A childhood memoir looking back 50 years to a boyhood spent in rural Michigan circa 1918 which is now a full century past.
I thought this was interesting:
Chapter 7 could make some hay for someone of a more political bent, since it discussed the city of Flint and their habit of poisoning the drinking water for everyone downstream from them
Okey-dokey. So Flint's crappy water is not a new thing, then.
___________

From the above thread, here are some recommendations from the boss:
The List Of 7 by Mark Frost, which ace describes as "a great pulp mystery thriller actioner". This is a novel
which postulates that Dr. Arthur Conan Doyle (and he was a doctor) meets the man who will be the inspiration for Sherlock Holmes, a British agent named Jack Sparks, and they run around London solving murders and dodging attacks by strange zombie-like humanoids with sewn-closed mouths.
Sound weird? Yeah, well, Mark Frost was one of the co-creators of the 1990-1991 TV series Twin Peaks, so perhaps this shouldn't be surprising.
Ace loves him some good California creepy conspiracy novels, and really, who doesn't? So let us consider Flicker by Theodore Roszak: a "neolovecraftian [novel] with hidden texts embedded in 1940s art films from obscure German directors", as ace describes. From the Amazon blurb:
Jonathan Gates could not have anticipated that his student studies would lead him to uncover the secret history of the movies - a tale of intrigue, deception, and death that stretches back to the 14th century.
I did not know that there was such a genre as the "creepy California conspiracy." I wouldn't call it that. I would, in keeping with this book thread's theme, call it an "everything you know is wrong" novel, like Dan Brown's Da Vinci Code. Or Crooked, by Austin Grossman, which I have on my stack, which is a Lovecraftian alt-history starring the worst man in history. Worse than Hitler, worse than Stalin, worse than Mao.
We're talking Richard Nixon:
In Crooked, Nixon finally reveals the secret history of modern American politics as only Austin Grossman could reimagine it. Combining Lovecraftian suspense, international intrigue, Russian honey traps, and a presidential marriage whose secrets and battles of attrition were their own heroic saga, Grossman's novel is a masterwork of alternative history, equal parts mesmerizing character study and nail-biting Faustian thriller.
You know, that's actually a pretty good description of Diana West's book. I think Nixon, God rest his soul, could reveal a "secret" history of modern American politics where the fight is against an enemy equal to the Lovecraftian horrors invented by Grossman. But alas, he is no longer with us, so it remains for authors such as Diana West to tell the tale of modern times as it should be told.

Books By Morons
J. Gunnar Grey is an 'ette of longstanding who has written a number of books and novellas. Her mystery novel Deal with the Devil won the 2013 Chaucer Award for Historical Fiction.
August 1940...Major Faust is a prisoner of the English and he must escape before they break him. But every time he gets away, a woman is raped and murdered. The English need someone to hang. He's the hot suspect.

He's got to catch the killer, even though he's helping the enemy. It's collaboration, almost treason. It's making a Deal with the Devil.
$3.99 on Kindle.
Here's another interesting (to me, anyway) book from Ms. Grey: Ballistic Basics: A writer's primer on firearms and the forensics that track them. Written for writers:
In this compact, easy-to-understand guide, an experienced mystery writer and target shooter takes you step by entertaining step through the mysteries of firearms and the ballistics that track them. You'll learn the theory behind forensic ballistics, the timeline of firearms and forensics development dating back to the 10th century, the different categories of firearms, and what's involved in a ballistics examination. It's topped off with some examples of real-life historical crimes, showing how forensics technology advanced since 1912.
Every member of Congress should be forced read this book, at gunpoint, if need be. So when they try to pass their craptacular anti-gun legislation, they'll at least know what they're talking about.

___________
Moronette 'votermom' is putting together a list of moron authors over on the Goodreads site which is intended to be acessible to non-members. Here is the list she has compiled so far. Let her know if there's an author she's missing.
http://www.bookhorde.org/p/aoshq-authors.html
___________
Don't forget the AoSHQ reading group on Goodreads. It's meant to support horde writers and to talk about the great books that come up on the book thread. It's called AoSHQ Moron Horde and the link to it is here: https://www.goodreads.com/group/show/175335-aoshq-moron-horde.
___________
So that's all for this week. As always, book thread tips, suggestions, bribes, rumors, threats, and insults may be sent to OregonMuse, Proprietor, AoSHQ Book Thread, at the book thread e-mail address: aoshqbookthread, followed by the 'at' sign, and then 'G' mail, and then dot cee oh emm.
What have you all been reading this week? Hopefully something good, because, as you all know, life is too short to be reading lousy books.

posted by Open Blogger at
09:02 AM
|
Access Comments