ę People Are Awful [CBD]
|
Main
|
ONT 5/29/16 - You're only as good as your Tools edition. [krakatoa] Ľ
May 29, 2016
Food Thread: It's BBQ Season! [CBD]
Technically, when the sun rises in the East, it is a signal that it is BBQ season, but some poor deluded souls don't grill or smoke during the winter. If you are one of those people, just click over to TofuAndArugulaWorld.com for more appropriate food talk.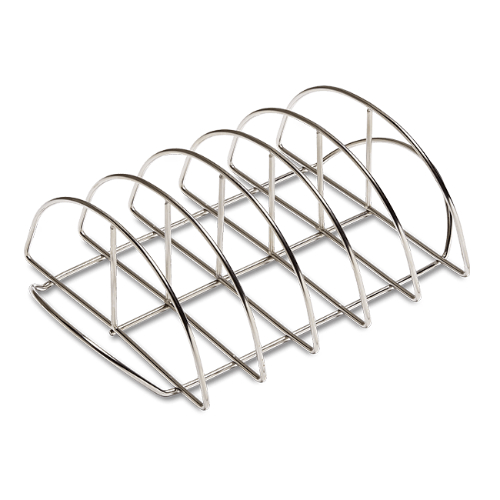 These are great for lots of racks, but it just occurred to me that I could have been using my roasting rack (turned upside down) for exactly the same thing. So now I feel stupid...or even stupider than normal.
Anyway, pork ribs or beef ribs (more of a challenge) are just perfect for a relatively quick smoked or grilled meal. Sure, they take several hours, but most of that time can be spent with your feet up on the table, drinking a beer and shooting at drones with your turkey gun. Once you decide what dry rub you will be using, the rest of it is pretty damned simple, unlike the gold standard of smoking....beef brisket.
here's a standard rub that I like for pork:
3 tablespoons Brown Sugar
3 tablespoons Granulated Sugar
3 tablespoons Paprika
2 tablespoons Kosher Salt
1½ tablespoons Garlic Powder
1½ tablespoons Dry Mustard
1 tablespoon Freshly Cracked Black Pepper
½ tablespoon Cumin
½ tablespoon Cayenne Pepper (optional)
½ tablespoon Ancho Chile Powder (optional)
½ teaspoon Cinnamon (optional)
Play around with it though; tailoring this kind of stuff for your particular and unique palate is half the fun of cooking.
For beef ribs I like a simple Kosher salt and cracked black pepper rub.
To sauce, or not to sauce -- that is the question:
Whether 'tis nobler in the mind to suffer
The slings and arrows of outrageous sweetness
Or to take arms against a sea of sugar
And by adding vinegar, end them.
Yup. it's the biggest question of the age. Once we hash this out, Trump/Clinton/Rubio/Cruz should be a piece of cake.
I like sauced ribs, but I was spoiled a long, long time ago, and can't seem to duplicate the old Flint's Barbecue sauce. It was a grand and glorious thing...not too sweet, not too spicy, not to vinegary. Just right! Unfortunately the Flint family were better cooks than businessmen, and their few storefront restaurants are now closed.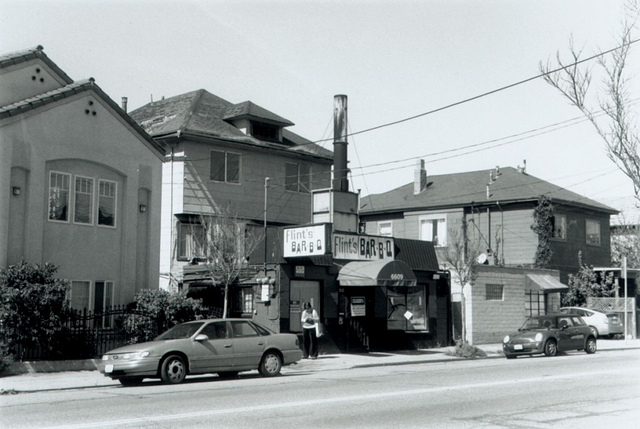 That's the Shattuck Ave. store, where there were always long lines and large women swinging cleavers behind the counter.

******
Why the government has any interest in the labeling of alcohol is beyond me. Perhaps there should be some regulation of health claims, but beyond that I simply do not accept government intrusion. But here is a brewery that is fighting back.
Flying Dog Brewery's
fight for the right to put silly and amusing labels on their beers seems silly, but it is a vital part of the push-back that all of us have to support.
Obviously this hyper-regulation is an outgrowth of the post-prohibition power grab of both the federal government and its yapping proxies in the states. It's this kind of crap that makes me a conservative, and that is driving me to build my own still. Will I be able to make better and cheaper booze than I can buy? Of course not. But it will be a thumb in the eye of the regulatory state.

******
Here is old reliable Garden & Gun with
Making a New Old-Fashioned Skillet
. It's a mildly interesting article, and it's a growing industry, which is good for people who enjoy tools that will last essentially forever.
Itís a tried-and-true process, but it's still in flux. "It's always improving," Morton says. "There are many potential routes to that perfect surface, and I'm trying to find the best way to get there."
Sorry, but for $160 I'll wait until you have arrived.

******
I don't remember whether I have posted this before, and I am far too lazy to check. But for a summer barbecue this salad is a nice counterpoint to rich ribs or steaks or burgers or whatever you will be cooking on the grill.
COUSCOUS SALAD
1 ½ cups chicken stock
1 ½ cups couscous
¼ tsp. saffron
1 cup shredded arugula
1/3 cup currents
½ cup finely chopped celery
½ cup finely chopped sweet red peppers
¼ cup chopped red onion
2 tbs. toasted pine nuts
5 tbs. lemon juice
2 tbs. olive oil
1 tbs. water
¼ tsp. cinnamon
1 large tomato, diced
Salt to taste
Bring stock and saffron to boil over high heat.
Stir in couscous, cover and remove from heat.
Let stand for 5 minutes, fluff with fork, and transfer to serving bowl to cool.
Add arugula, currents, celery, peppers onion and pine nuts and toss lightly.
Whisk together lemon juice, olive oil, water and cinnamon.
Pour dressing over couscous and toss to mix, then correct seasoning.
Sprinkle with tomatoes and serve.
Notes:
I am not sure that the saffron is necessary. I can barely taste it and it doesn't add much.
I add more olive oil after I mix the dressing in.
You can use dried cranberries in place of currents, but I prefer currents.
I usually leave out the tomatoes.

posted by Open Blogger at
05:20 PM
|
Access Comments