« "Vulgar, Incoherent Ramblings" Tom Cotton Destroys Harry Reid [CBD]
|
Main
|
TGIF Morning News Dump (5/27/16) [Mis. Hum.] »
May 26, 2016
Thursday, May 26 Overnight Thread - Dregs of the Dregs Edition [Weirddave]
This is it. The last day of your time in the wilderness. On Sunday, Maet will be back and your regularly scheduled ONTing will resume, but for tonight, one last night, y'all are stuck with me again. So consider this the dregs of the dregs* edition of the ONT.

The World's Most Handsome Horse
It's Fabio! In horse form! Yes, they use the Fabio comparison in the article linked as well, but it was my first thought on seeing the picture. That is one beautiful animal.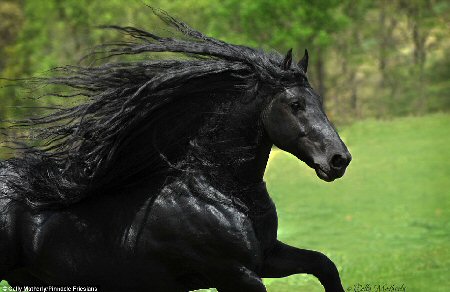 Slow Motion Video
Technical progress is a wonderful thing. Modern video techniques allow us to not just freeze a moment in time for later review, but to actually slow it down to better observe what occurred. Sports broadcasters have been using this technology for years to allow fans to better appreciate the nuances of the game, but now with proliferation of super high speed cameras, entire new worlds of wonder are accessible to the average human in a way they never have been before.
Skipping Slow Motion from photography-factory.co.uk on Vimeo.
Literary Interlude
What if David Mamet wrote 2001?

Musical Interlude

Career Choices
So you want to be a musician, but your parents are adamant that you instead take up a more traditional trade, one more likely to lead to financial security, like woodworking. What should one do when faced with such a dilemma?

Abortion News
Leftists Watch Abortion Video. Immediately Become Pro-Life On Camera!
I've long thought that when I get rich, I'd like to fund a fleet of buses, staffed with nurses and equipped with 3-D ultrasound machines. I would have these buses park close to abortion abattoirs, where they would simply offer free ultrasounds to any woman that wanted them. That's it. No pressure, no preaching, no anything else. Just free 3-D ultrasounds to any and all that wanted them. I did a little research and it looked like the equipment cost would be upwards of $100K, plus staff and of course security. Well, I'm not rich yet, but it's a hell of an idea for a non-profit.
Mid-East Update
ISIS is getting into the pet food business

But The Water Was Only Chest High to the Ducks!

Sobering
Confessions Of A Nazi Concentration Camp Survivor
Hard to read, but this man is definitely a better man than I. I loved this part, however:
What was your initial experience of America when you first arrived in 1947?

Well, when I was arrived, I was very, very overcome. I was impressed. It was just overwhelming to me.
First, I arrived in New York harbor, and of course, the skyscrapers, the lifestyle… I made a sort of promise to myself then: This is going to be the first day of your life. From this day on, there is only ONE place to go: SUCCEED. I will build a family, I will do whatever I can in my power to succeed in this United States of America.
And this was my first impression. I liked what I seen. I met people who I thought were industrious, with businesses and families and love…there's respect. I loved what I saw in America. I became American in my heart immediately. So I adopted America, and I am glad America adopted me, and allowed me to be part of it, and become a citizen.

I Can't Imagine Why
Wow, is that how people see me? I have these other aspects of my life that no one knows about. I'm an artist. I'm a musician. Nobody knows that. They just see me as the guy who tried to kill Reagan.
It's like the guy is determined to be a living embodiment of the punchline to and old joke - "But you fuck one lousy goat....".

Dystopia
In between MySpace and Facebook, there was LiveJournal. It's still big outside the US, I understand, but eight years ago, just after the election of Obama, Sigma-one-seven started a journal. It purported to be written by a member of the American Resistance, writing from the year 2033, using some type of temporal technology her cell had captured from a government laboratory. The journal was kept up for about 4 years, and it was an amazingly good read about the trials and tribulations she was going through with her cell, fighting off government agencies, helping normal citizens (for example, people in rural Virginia were freezing to death due to government prohibition against burning wood-to combat "global warming", of course-during raging blizzards that were the norm), and trying to keep the ideals of America alive. It was well written, engaging in a serial style, and the story had everything: People put in camps, genetically engineered wolves, states seceding, and lots of "history" (to her, speculative future to us. You'll never guess who the president is, for example.). It'll take a while to read it all, but it is very enjoyable. The story starts here. At the time it seemed far fetched.

Dad Jokes
When Big was about 14, I got up one morning and discovered that he had left 2 tabs open on my computer. One was his Facebook page, the other porn. I immediately updated his FB-"Big thinks his father doesn't know that he gets up early to whack off to online porn"-and changed his password. I didn't let him erase it for two days. These aren't quite as cruel, but then again, none of these kids thought they were smarter than me either.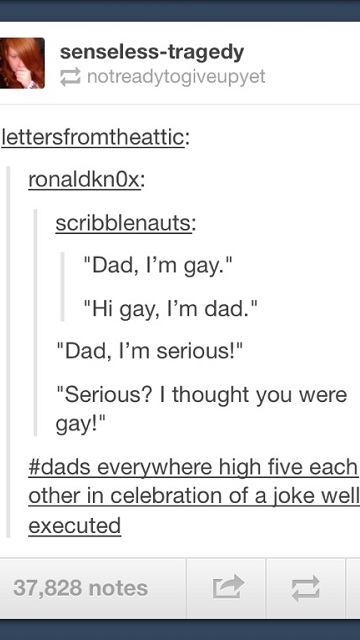 Hollywood's Economic Ignorance
Ever wonder why so many people believe so many things that just aren't so? Well, a large part of it is due to the fact that the "reality" painted by mass media is anything but. Here's an interesting four part series examining just how wrong much of the "economics" presented as common knowledge by Hollywood really is.

Thief With a Conscience
Thief returns stolen items with an apology, sheriff says
According to the sheriff, at least one of the thieves went back to the marina on Monday night and returned all of the stolen items, undamaged, along with an apology note.


The note read, "I am very sorry. I do not know why I did it in the first place. It's way out of my character. That is not what kind of person I am. I do not even remember doing it. I am so sorry. I know this does not make it ok, but it is your stuff, not mine. Again, I am very sorry."

Thief Without a Conscience
Apple Stole My Music. No, Seriously.
This guy signed up for Apple Music, and the software scanned his computer, downloaded 122GB of music, and then erased it off of his hard drive. It's part of a growing movement where corporations don't let you own any content, you simply pay them to access what you "buy". If they don't want something out there, then poof! Down the memory hole. Something similar happened to me. I have about 1000 mp3s that I've accumulated over the years. I loaded them all onto my iPhone6, and I used to put it on random and listen while I was driving. I say used to, because the last time I updated my iPhone, Apple erased them all without my permission. The guy at the phone store confirmed that yes, Apple does that. I've been very happy with my iPhone, but this may be enough to drive me back to Android next time I upgrade. Scary, scary stuff.

A Dog's Life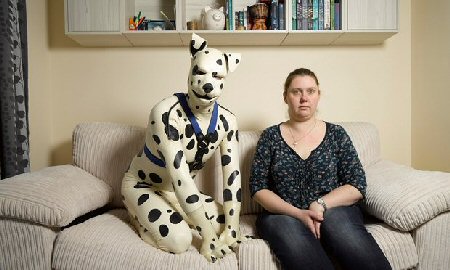 That's a face that is saying "Please, shoot me now" if I've ever seen one.
Welcome to 2016, where we condemn the normal and celebrate the unhinged.

Tonight's ONT brought to you by racks of....er, ribs. Yes, that's it, ribs.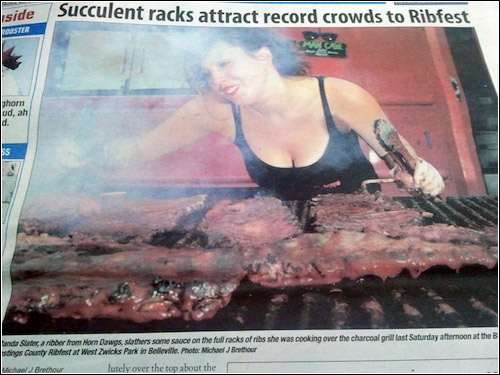 *Yes, dregs. You should see the stuff I left out, like a video of porn stars sharing the most extreme scenes they've done, a "practical joke" that involved putting capsaicin on a woman's Tampax and Yoko. Yes, there's always Yoko, so mind your manners.

posted by Open Blogger at
10:45 PM
|
Access Comments