« Food Thread: Hot, Hotter, Hottest [CBD]
|
Main
|
Monday Morning News Dump (4/18/16) [Misanthropic Humanitarian] »
April 17, 2016
Overnight Open Thread (4-17-2016)
[A] VA dentistry chief was asked if being a veteran helps someone get a dentist job in the agency. His response was "not really. And thank God," The Daily Caller News Foundation recently discovered in a court filing.
Note that the only job at the VA that is reserved exclusively for veterans is janitor.
Quote of the Day II - Educational Experts Edition
While the traits listed [being rigorous and punctual, speaking grammatical English] may simply be regarded as positive traits for success in the modern world, Dr Heather Hackman described them as traits chosen and emphasised to favour whites to the detriment of non-white groups, who are forced to assimilate 'white' traits such as good discipline and goal orientation or else be left behind. Hackman's solution, then, is to train teachers to move away from all these aspects of 'white privilege' in education. She routinely touted the benefits of collective assessments (measuring student learning at the class level instead of determining whether each student knows the material), as well as eliminating all school grades entirely.
By luck, my childhood bedroom faced the sun. I grew up on Aldus Street in the Bronx, where my family lived on the top floor of a five-story walk-up in an apartment way in the back. Each morning from my bed, I'd see a beam of sunlight with motes dancing through it pass through the window. I felt good right away. The morning sun is cheering, no matter what mood you're in.

...When you reach my age, you don't yearn for friends who are no longer here. I've always been very much to myself, and when [my late wife] Sarah was still with me, that's all the company I really needed. I do have the same excitement each morning when I see the sun. That sense of enjoying being alive is still very real. When you reach 100, you're glad you're alive. Very glad.

-- Herman Wouk on being 100 years old
Learning Nothing
U.S. Home Prices Now Have Exceeded Their 2005 Peak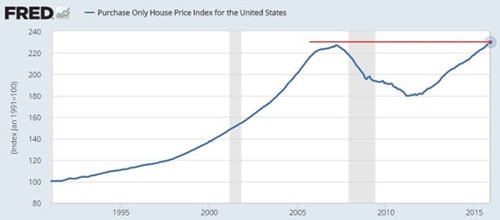 Obama Wants Banks To Give Mortgages To People With Poor Credit Scores
DePaul University Bans Chalk for Student Safety
Because some student could see something upsetting written in chalk.
DePaul University will no longer allow students to chalk political messages on the sidewalks of its campus because of the "offensive, hurtful, and divisive" nature of pro-Trump chalking found on campus last week.

"While these chalk messages are part of national agendas in a heated political battle, they appeared on campus at a time of significant racial tension in our country and on college campuses. DePaul is no exception," Depaul's vice president for student affairs Eugene Zdziarski wrote in a campus-wide email obtained by Campus Reform.

Campus Reform reached out to DePaul to ask why university officials chose to respond to this particular chalking instance despite claims that chalking "regularly" occurs on campus. No response was received in time for publication.
Why Do Democrats Hate Their Own Presidents?
AMC CEO Considers Plan to Allow Millennials to Text During Movies
When you tell a 22-year-old to turn off the phone, don't ruin the movie, they hear please cut off your left arm above the elbow. You can't tell a 22-year-old to turn off their cellphone. That's not how they live their life.
But the public pushback has been so intense that AMC now says they have no intention of allowing texting in theaters.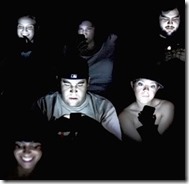 Oops: Alleged Brussels Terrorist Was Star Of Documentary About Successful Integration Of Immigrants
Andrew Klavan: Why Corporations Oppose Religious Liberty
Caitlyn Jenner Status: Still Got a Wang
And still an annoying narcissist.
Marine Corps Air Wing Being Starved to Death
Up to 70% of Marine jets and helicopters are down for maintenance which means that pilots aren't getting much practice time.
Marine jet pilots are down to 4 hours a month, less than Chinese or Russian peers and down from 25-30 hours in the air BM, which seems like a suitable acronym for Before Mabus.

...The latest Beltway Brainstorm is just to keep flying 1980s- and 90s-vintage F/A-18s, already committed to fly 2,000 hours beyond their design life of 6,000 hours, to 10,000 hours or more.

And the Marines' helicopters? Apart from a baker's dozen tiltrotor squadrons, which finally allowed the retirement of the last LBJ-era CH-46s last year, they operate patched and bandaged 1970s versions of Vietnam War types.
A [Very] Brief History of the AR-15
The AR-15 was developed in the mid-50s and the fact that it's now entering its 7th decade of use shows how much Eugene Stoner got right in its design.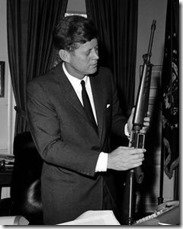 Remembering Neerja Bhanot and the Brave Crew of Pan Am Flight 73
A reminder that we've in this war for a long time. And also that Pakistan has been up to its usual tricks for a long time as well.
- The Pakistani authorities released the leader of the hijackers, Zaid Hassan Abd Latif Safarini, in September 2001, but he was quickly recaptured by the US.
- Safarini is 12 years into his 160-year sentence in a US prison. The other hijackers were released from their Pakistani jail in 2008, against the wishes of India and the US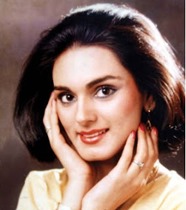 The Story Behind C-3PO's Red Arm is a Mini-Tragedy About Droids and Sacrifice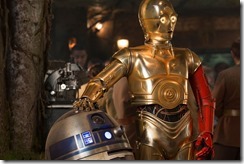 THE MOST Important Story of The Day
Weekly Commenter Standings
Top 10 commenters:
1 [436 comments] 'Ricardo Kill' [61.22 posts/day]
2 [430 comments] '@votermom'
3 [396 comments] 'Bruce With a Wang!'
4 [292 comments] 'J.J. Sefton'
5 [285 comments] 'Vic  We Have No Party'
6 [282 comments] 'ThunderB'
7 [282 comments] 'Misanthropic Humanitarian '
8 [266 comments] 'Insomniac'
9 [243 comments] 'Mike Hammer, etc., etc.'
10 [242 comments] 'Christopher Taylor'
Top 10 sockpuppeteers:
1 [55 names] 'garrett' [7.72 unique names/day]
2 [52 names] 'The Political Hat'
3 [43 names] 'James T Kirk'
4 [40 names] 'Cicero (@cicero)'
5 [38 names] 'phreshone'
6 [34 names] 'angela urkel'
7 [32 names] 'mindful webworker - oil glutton'
8 [29 names] 'It's Coming to California '
9 [29 names] 'andycanuck'
10 [28 names] 'Grump928(c) says Free Soothie!'
The group. Banned on 12 universities.
Remember that Twitter hates you - but I don't
Tonight's post brought to you by Cary Grant and Randolph Scott, 1935: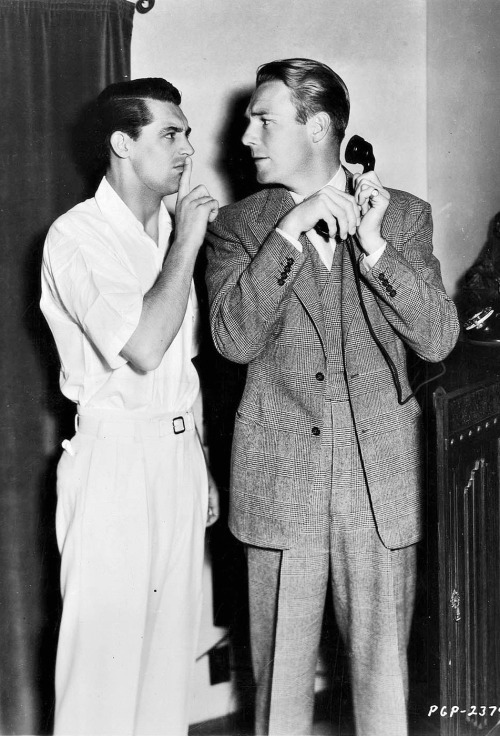 Notice: Posted by permission of AceCorp LLC. Please e-mail overnight open thread tips to maetenloch at gmail. Otherwise pester the Ace.

posted by Maetenloch at
11:05 PM
|
Access Comments