« CNN Debate Thread
|
Main
|
Morning Thread (4-15-2016) »
April 14, 2016
Overnight Open Thread (4-14-2016)
"It was a large caliber gun. A .45," Payton said. "It was designed back during World War I. And this thing just stops people. It will kill someone within four or five seconds after they are struck. You bleed out. After the first shot (that struck Smith's torso), he took three more in his back."

"We could go online and get 10 of them, and have them shipped to our house tomorrow," he said. "I don't believe that was the intention when they allowed for the right for citizens to bear arms."

-- New Orleans Saints Coach Sean Payton explaining that he hates guns
I am now the most miserable man living. If what I feel were equally distributed to the whole human family, there would not be one cheerful face on the earth. Whether I shall ever be better I can not tell; I awfully forebode I shall not. To remain as I am is impossible; I must die or be better, it appears to me. The matter you speak of on my account, you may attend to as you say, unless you shall hear of my condition forbidding it. I say this, because I fear I shall be unable to attend to any business here, and a change of scene might help me. If I could be myself, I would rather remain at home with Judge Logan. I can write no more.

-- Abraham Lincoln in an 1841 letter to his law partner while in the midst of depression
"An eye for an eye" is not a prescription for revenge. It is a limitation on the fallen human propensity to up the ante. It is a prohibition on escalation.

-- from the article Six Controversial Bible Passages the Skeptics Love to Hate-Explained
The American Poor Are Not Moving to Opportunity
Where people once picked up stakes and moved to where the jobs were they're now staying put and either retiring or going on disability or welfare. Which is bad in multiple ways.
"A state typically returns to normal after an adverse shock not because employment picks up, but because workers leave the state," economists Olivier Blanchard and Lawrence Katz wrote in a 1992 paper.

This time might be different in some ways. Three economists wrote in a National Bureau of Economic Research working paper last year that compared with the prerecession years, mass layoffs after 2007 prompted a "muted" migration response and many workers instead dropped out of the labor force.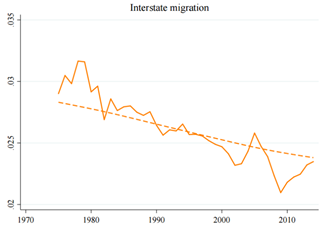 And it turns out that getting out of poor areas in search of a job makes a big difference to your kids as well:
This paper provides new evidence on the effects of moving out of disadvantaged neighborhoods on the long-run economic outcomes of children. My empirical strategy is based on public housing demolitions in Chicago which forced households to relocate to private market housing using vouchers. Specifically, I compare adult outcomes of children displaced by demolition to their peers who lived in nearby public housing that was not demolished. Displaced children are 9 percent more likely to be employed and earn 16 percent more as adults.
The unemployed hellhole you know may be a comfortable one with friends and family but in the end it's still an economic hellhole that will eventually suck you and your children down with it. This is what Kevin D. Williamson was getting at in the article that everyone loves to hate on but almost no one has actually read. You can see the gist of it in this shorter non-paywalled post: Or, As My People Say, 'Git'.
Narcissism is Increasing. So You're Not So Special
A 2010 study in the journal Social Psychological and Personality Science found that the percentage of college students exhibiting narcissistic personality traits, based on their scores on the Narcissistic Personality Inventory, a widely used diagnostic test, has increased by more than half since the early 1980s, to 30 percent. In their book "Narcissism Epidemic," the psychology professors Jean M. Twenge and W. Keith Campbell show that narcissism has increased as quickly as obesity has since the 1980s. Even our egos are getting fat.
Adam Carolla: Who NOT to Vote For
Sandy Hook Lawsuit Against Remington, Camfour Inc., and the East Windsor Gun Shop Allowed To Move Forward
Twitter Kills Pro-Second Amendment Ad Campaign
Dave Ramsey Slams Voters Who Think Politicians Will Solve All Their Problems
In fact a lot of the stuff the mass market wants to see in the paper, as we know from a century's worth of market research has been pruned by elitists wanting to elevate the tone. This isn't surprising since more than 90% of people in the business are so far left politically from at least 50% of their market that the notion of balanced press coverage today is a bad joke.

Alas, the only award that counts is circulation. Pulitzer, Hearst, and Edward Bernays all understood this.

So now the "journalists" finally have the papers that cater to THEIR tastes and there just aren't enough journalists buying news papers to support the new business model.

Exeunt omnes pursued by a bear market.
News You Can Use: Caching your Guns for a Civil War, Parts III and IV (long)
How Old Are Fairy Tales? Older Than We Thought
Celebrities That Are Surprisingly Rich
Surprisingly most of the musicians covered in this issue are still playing and touring 30+ years later.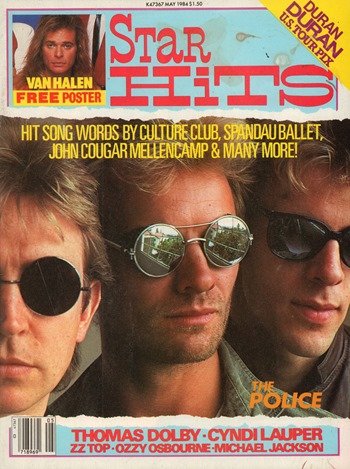 Come on be a smartie and join the yahoo group party! Who doesn't like a party?
Tonight's post brought to you by how to get around Prohibition: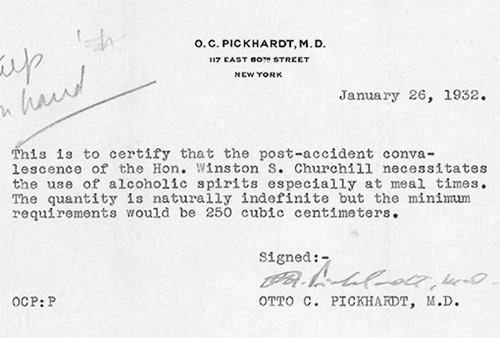 Notice: Posted by permission of AceCorp LLC. Please e-mail overnight open thread tips plus $1 for S&H (no fee for Prime members) to maetenloch at gmail. Otherwise burn them in the approved manner. Do not taunt mannequins. Note that happy-fun ball is for display only

posted by Maetenloch at
11:05 PM
|
Access Comments