« Where Things Stand on the Supreme Court Vacancy [Y-not]
|
Main
|
Survival Thread: First in a Series - Niedermeyer's Dead Horse »
March 20, 2016
Food Thread: Pepperoni, GMO, And Chocolate Peanut Butter Tarts: A Match Made In Heaven [CBD]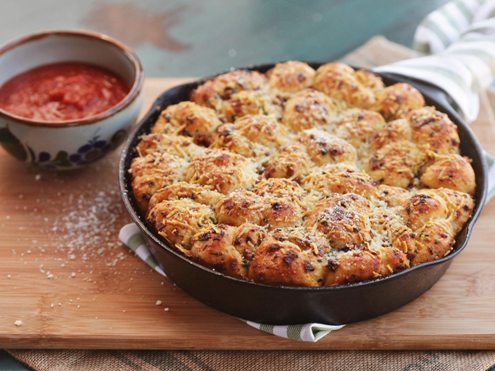 This was recommended by one of the cobloggers a year or two ago....which one? I have no recollection. Yeah; senility. What's your point? Pepperoni Garlic Knots sounds like a side dish from a pizza chain, but it's actually a pretty serious dish. I cannot vouch for the writer's suggestion that one uses store-bought pizza dough, because making your own is fast and cheap and easy. Why bother with store-bought?
I have made this several times and it's loads of fun. What's that? Why yes, they go very well with beer.
Oh....I didn't bother with the chives. That's an ingredient that I will usually skip, and it seems particularly odd in this dish.
Easy Pizza Dough
1½ teaspoons active dry yeast
2 tablespoons extra virgin olive oil, more for coating dough
1½ tablespoons Kosher salt
1 tablespoon sugar
5 cups bread flour.
1. Put 1¾ cups warm water in a mixing bowl, add yeast and stir until it dissolves.
Add oil, salt and sugar, and mix well. Stir in flour.
Knead either in mixer using dough hook or by hand on a floured surface, until dough comes together. Cover, and let rest 20 minutes.
2. Knead dough until it is springy, about 5 minutes in mixer or 10 minutes by hand. Form into a ball, coat with oil and place in a large bowl. Cover with plastic, and refrigerate overnight.
This recipe yields about 40 ounces of dough, which is more than enough for the pepperoni knots plus a couple of 10"-12" pizzas.

******
As usual, the geniuses in the United States Senate were unable to reach some rational accomodation that would protect our nation's food producers while providing some minimum amount of information to the public. The
Biotechnology Labeling Solutions Bill
would standardize labeling requirements for GMO foods, and stop the states from creating a patchwork of laws that would increase costs and add to the confusion of food labeling. Personally I don't care whether my food has GMO ingredients. We have been manipulating the genome of our food for thousands of years. That we are now doing it in the lab rather than the field is a distinction without a difference.
I do sympathize with those hopelessly deluded souls who don't want to eat GMO food. I think they are stupid and ignorant, but the desire to know what is in one's food is reasonable, and should be respected by producers.
If the food industry were a little more sensitive to the current climate of "ORGANIC IS GOD!" and explained to the American people that GMO is not going to kill us, then perhaps they wouldn't be seen as the right hand of Satan. But the food SJWs are winning this battle, and until the industry's tactics change, they will continue to be vilified.

******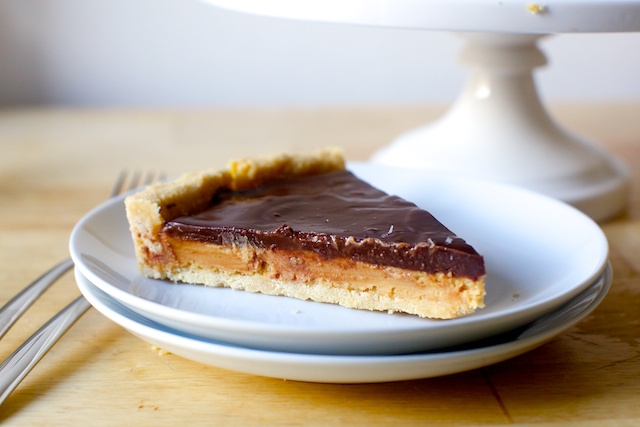 This
Chocolate Peanut Butter Tart
recipe is from Smitten Kitchen, a site that is both amusing, and a valuable resource for fun, though not always easy, recipes.
******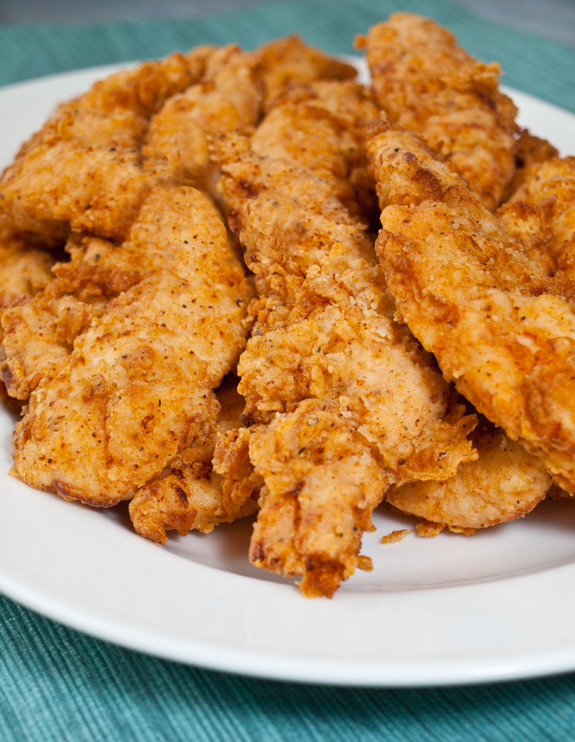 As you may have realized by now, I am not a big fan of frying things. That is not to say that I do not like fried foods. On the contrary, I absolutely love fried foods, and can't think of many things that aren't improved by being dipped in batter and tossed into some hot oil.
But it often stinks up the house, always makes a huge mess, and I find myself eating about three times as much as i should because...um....I love fried foods!
But I had a hankering for chicken tenders, and the store-bought ones are crappy. No way around that. So off to the internet I went, looking for a good recipe. And here it is! Buttermilk Fried Chicken Tenders from "Once Upon A Chef." This is one of the great things about the internet; we have access to thousands of accomplished chefs who, because of the web have been able to take the next step. 30 years ago we would never have known about Jenn Segal and her excellent cooking skills and recipe writing talent.
One small change.....Segal says to use the tenderloin, which is the long, tender piece of the breast that is a separate muscle. I didn't bother.

******
There is nothing subtle about the flavors in this dish. It's also rather easy to make, so if you are looking for some bold flavors in a simple dish; this one's for you.
Royal Chicken Breasts
Ingredients


2 ounces olive oil

4 chicken breast half without skin (large)

1 can green chiles -- 1/2 inch strips

1 cup whipping cream

1 tablespoon cilantro -- chopped

1/4 teaspoon black pepper

1/2 cup Swiss cheese -- grated

1/2 teaspoon salt

4 cups cooked rice

1 tablespoon minced chipotle chile canned in adobo

1 teaspoon cumin

1 teaspoon ancho chile powder

1 teaspoon smoked paprika

1 Onion -- caramelized
Preheat oven to 325 degrees.
Heat oil in large skillet over high heat.
Season chicken with salt and pepper and brown lightly, turning once, about 2 minutes.
Transfer chicken to glass baking dish (Just big enough to hold the chicken in one layer).
Sprinkle half the grated cheese over the chicken breasts.
Arrange chiles over chicken.
Whisk cream, cilantro, pepper, salt and spices together. and pour over chicken.
Sprinkle with the rest of the grated cheese.
Bake until chicken is tender, basting occasionally, about 35 minutes.
Garnish with onions, serve over rice and top with sauce.

posted by Open Blogger at
04:00 PM
|
Access Comments