« Washington Post Social Justice Warrior Columnist Wants to Know Why Bernie Sanders Won't Let Hillary Clinton Interrupt Him At Will, Because Women Are Kinda Entitled To Do Whatever They Want
|
Main
|
Overnight Open Thread (3-7-2016) »
March 07, 2016
No Matter How Hard We Run, We Can Never Escape Our Childhood Breakfast Cereals
Reposted from 2013. It's actually National Breakfast Cereal Day, so I'll make this my I'm-out-of-here Completely Open Thread post for the night.
...
I don't want to admit this, really, but -- and what you're about to read is pretty much actually true -- since I was a child, I've had a strong revulsion to Kaboom cereal, due to what may be called a early-childhood type of social dysmorphia.
And, ultimately, self-hatred.
You say you've never heard of Kaboom? You think I'm making Kaboom up?
Well let me explain this. You've heard of Apple Jacks, right? Sure you have. Everyone has.
I wanted to be an Apple Jacks kid.
Apple Jacks kids had so much fun in the commercials. Fresh-faced, healthy, and free, and hopeful for the future. Singing and dancing and just loving on their Apple Jacks.
And the cereal was awesome too. I had it once in a Snack-Pack that fell off a truck.
But there were no commercials for Kaboom.
It was just a dirty little secret, like massage parlors and the back room at a pawnbroker's.
That's why you never heard of it.
But Kaboom kids know. Kaboom kids understand.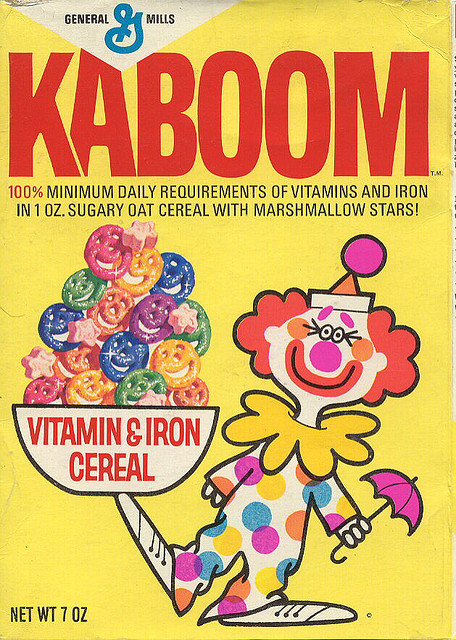 Apple Jacks was for winners.
Kaboom was the cereal of The Defeated
I mean, look at this box. Who is that box for? Who is the intended demographic here ?
People who are coming up in the world? People who are upwardly mobile?
No. Kaboom was for people -- children, I mean -- who had decided to give up on life. And it's a sad thing for a six-year-old to have already thrown in the towel and said, "Ah well. The hopes and dreams of kindergarten are ultimately exposed as so much folly. Give me the Kaboom, Ma. I'm ready to settle."
Because that's all such a cereal is fit for, those who settle, who accept, those who lower their gaze in defeat and shame. This, this horrid Clown Cereal that looks like it's some kind of weird generic brand but it's actually marketed by General Mills. I suppose this was General Mills' attempt to tap the "downscale demographic" in six-year-olds.
First of all, children hate clowns. All children. There's a joke that everyone's afraid of clowns. Well that's not true. But everyone does hate them. Children most of all, because clowns get up in your grill with horrible jokes and diseased breath, eyes glassy with vodka and pedophilia.
So who's this cereal for exactly? I suppose clowns might buy it for their victims and abductees, but that's not a large market. Well, not that large, anyway. Couple hundred thousand units a year, tops.
When marketers found that most children
described the Kaboom clown as "creepy,"
they called a meeting, and then added
a creepy bear and creepy hippo into the mix.
Note that the hippo is not really your classic circus animal
but this is in line with Kaboom's "Who Cares?" design parameters
And look at that box. Look at the colors. They're horrible. And this was not a color scheme that was in vogue back in the day, either. No, among all the other breakfast cereals, Kaboom stood out as a cereal where the manufacturers simply were not even trying, because they wanted to appeal to children who had already decided that Track 3 in reading class was probably a bridge too far and not really worth the effort.
It's like they gave a bunch of crayons and construction paper to illiterate hobos and said, "Do your best. Or your worst. We don't care. We're aiming for the dregs of second grade. Try to include a clown. Or don't. It really won't matter either way."
And the cereal was not even good. You would think that if you're selling this abortion of a breakfast cereal to the primary school underclass -- the emerging nihilistic YOLO demographic -- you would at least load it up with sugar because, what does it even matter?, the sort of kids who eat Kaboom know they're going to die young anyway. They have no illusions.
But you'd be wrong. Actually Kaboom was not very sweet at all.
I think they decided to skimp on sugar so they could put extra sugar on the more upscale cereals like Frosted Flakes and Frosted Mini-Wheats.
It was mostly just... oats.
You know: Like what they feed to the animals.
Prize at the bottom of the box? Oh no way, not with Kaboom cereal. No way they're throwing a ha'penny whistle in there for the poor kids. You're lucky they even bothered putting the cereal into a box, instead of just distributing it off a government assistance truck into your cupped hands.
I think occasionally they had mail-in sweepstakes where you could win a welfare voucher.
Or maybe a coupon for the orphanage PX. So you could buy some extra gruel and sewing supplies for the weekend.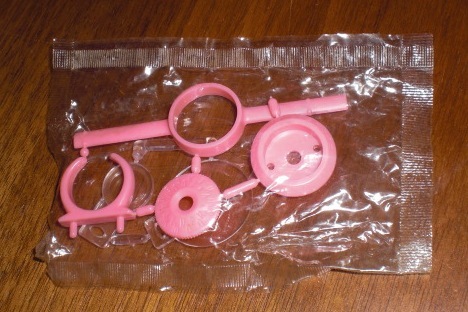 A "prize," if you can call it that, included in Kaboom cereal,
when they briefly offered such toys in 1972.
Kaboom cereal pioneered Choking Hazard technology
until tepid public criticism forced them to end the practice
and to issue a halfhearted apology.
And it was unappetizing looking in the bowl as well. The colors were off. They weren't bright friendly colors like you might find in more respectable, upwardly mobile cereals like Lucky Charms. They didn't even pay for regular food coloring. They made Kaboom with discount irregular food coloring usually used for cat treats.
Kaboom's color palette was like the bright hues of a poisonous toad designed to warn off predators, a mixture of the garishly day-glo and and bizzrrely dark (the purple was that of a deep bruise, still bleeding beneath the skin). When milk was added, Kaboom became a nightmarish swirl of ugly, angry colors not to be found in nature, making your milk look as if it was just curdling into a loathesome cheese produced by an alien mold.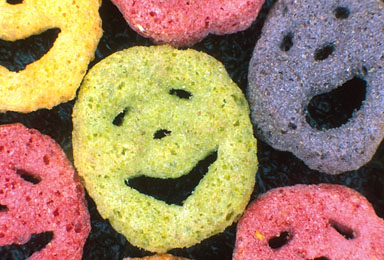 Detail of Kaboom Cereal.
Nothing says "part of a balanced breakfast"
like the Faces of the Unquiet Dead.
The famous "death mask imagery" of Kaboom
teaches children that aspiration is vanity
and all dreams are lies
They should have called it "Kabul." Just come right out with it. Let the people know what they're in for.
This is a cereal intended for bulk purchase by the United States Department of Agriculture to feed dirty foreign children. And their animals, too. One stop shopping-- they can all feed out of the same trough.
The cereal's chief use was as a humanitarian insult.
You might wonder at this point, What possible connection is there between the clown theme and explosions, as suggested by the name "Kaboom"? Well, don't bother thinking about it too hard. They sure didn't. This product was slapped together more or less randomly by People Who Didn't Even Care, intended for sale to People Who Care Just a Little Bit Less Than That.
Kaboom is not really a product designed for those who enjoy the life of the mind. Quite the opposite. It's a product designed for those whose subnormal IQs locate them in the brutish twilight existence that divides, hazily, the crude human from the cunning beast.
The cereal is essentially designed with an eye towards the inevitable devolution of the species. Future-proof, if you will.
If the Morlocks had a cereal it would be Kaboom. But they'd insist on more flavor.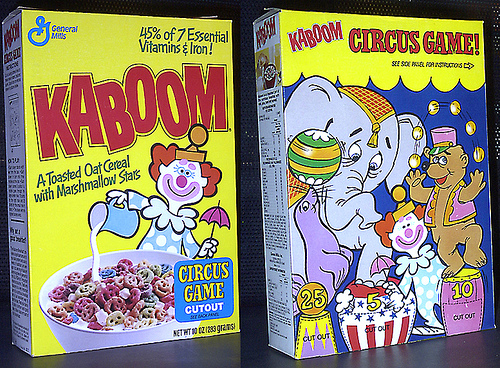 Wow, Kaboom, 45% of some vitamins and iron.
Way to swing for the fences on nutrition.
You know what 45% is in school? That's right, it's a failure.
Kaboom relentlessly transmits the message that Failure Is Freedom.
And I can't wait to cut out that "Circus Game" and
play with some cardboard, either.
It's like it's designed to teach kids that the power
of imagination will only end in embarrassment.
Kaboom was made with a special secret ingredient: Contempt.
Did I eat Kaboom as a kid? You bet I did. If I didn't, I wouldn't have such a strong memory about it. If I never ate Kaboom, I would have just said, "Oh, that's the cereal that other children whose parents don't love them eat."
But no. I ate Kaboom. Quite a few times. More times I care to remember. And every time my mom brought home that garish yellow box of sorrows, I had the same thought: "Ohhh... we're that sort of people then, eh? We're just not even keeping up appearances anymore, are we, Mother?"
We weren't. And although we struggled to deny it to ourselves, we were now Kaboom People.
The truth is a relentless hunter.
Oh, we didn't quite sink to Kaboom's level. Not at first.
We strove to endure.
We were fighters.
But the cereal did drag the family down. It very nearly ruined us all.
And this is hard to say, but -- in the end we surrendered ourselves to Kaboom.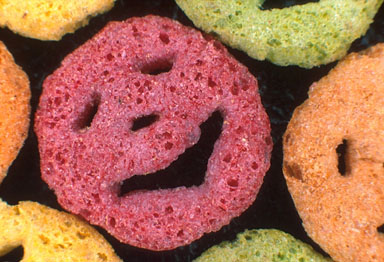 The "New Look" of Kaboom attempted
to make the cereal more "relevant" to kids in the 80s,
apparently seeking to play on fears of nuclear holocaust.

Ultimately, our sin wasn't in consuming Kaboom. Our sin was in letting Kaboom consume us.
We Descended.
We found the Kaboom Folk, or rather, they found us. The Kaboom Folk know their own. The downcast eyes, the twitch in a shameful smile. The know the Signs.
And then together we went wild into the night, without shame and without shoe, running petty scams at the carnival, stealing newspapers out of boxes and selling them for a nickel, eking out a rough existence at the grubby margins of human habitation.
Half-feral urban nomads living in communion with packs of wild dogs. For six months I wore nothing but a a fur jerkin and a genital sock.
My pack name was Mokh-Mokh.
And each night we came back from our scavengings to our shelterpit to eat our Kaboom, our shabby bowl of weirdly-colored animal feed and shame. But we no longer cared. We were free, but it was not true freedom.
It was only the dark, oatey freedom of Kaboom. A freedom I would not wish upon my worst enemy, or even the urban dogs who would fight us for pigeon carcasses.
Nowadays I can afford any sort of cereal I like. I can even spring the extra quarter for the high-class muesli-inflected Eurocereals if I like.
But I'll never escape where I came from. And where I came from was Kaboomville. Population: A ghastly clown, his stupid pink-purple parasol, and me. With my spoon, crying into my oddly discolored milk.


posted by Ace at
07:30 PM
|
Access Comments