« Race Day in Atlanta: NASCAR Thread - Niedermeyer's Dead Horse
|
Main
|
SES-9 Launch [CBD] »
February 28, 2016
Food Thread: When I Seafood, I Eat It [CBD]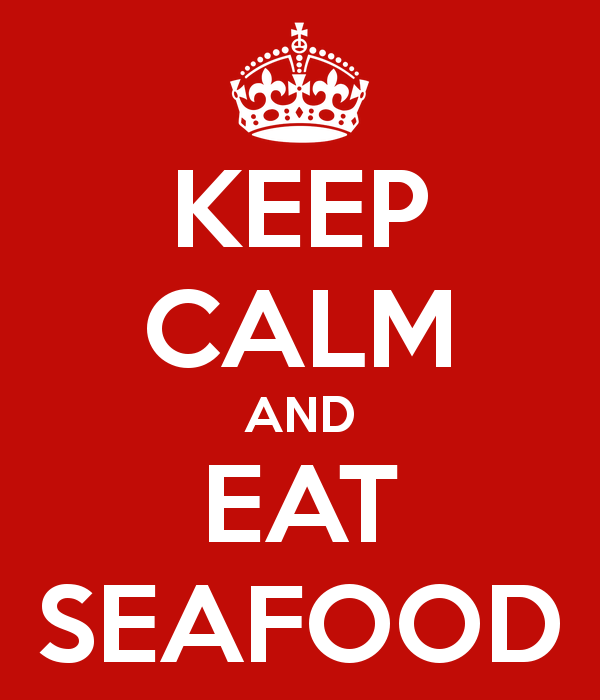 The only kind of seafood I trust is the fish stick, a totally featureless fish that doesn't have eyeballs or fins.
-- Dave Barry
It wasn't too long ago that finding fresh seafood was a difficult thing if you didn't catch it yourself or live in a coastal city. But with the explosion in demand, driven in part by health concerns, and improved technology for processing and transportation, most people have access to high-quality seafood. And aquaculture has provided a huge new source of inexpensive, reasonable quality stuff.
Farmed IQF (individually quick frozen) shrimp is now ubiquitous and inexpensive. Sure, it's not the equivalent of fresh American shrimp you can buy off the docks, but it's still pretty good.
Farmed salmon has improved tremendously in the past several years. It used to be mushy and fatty and clearly inferior to the obscenely expensive wild-caught stuff. But now, with improvements in aquaculture and a streamlined transportation system, it is, in my opinion, better than most wild caught salmon.
As demand skyrocketed so did the fishing industry's reach into previously ignored species. Chilean Sea Bass is a hipster favorite, and damned pricy too. In my neck of the woods it is well over $20/lb. But I'll bet you wouldn't pay that for Patagonian toothfish, which is a nasty-looking garbage fish that fishermen used to ignore.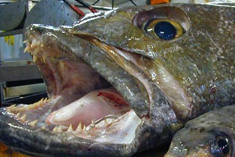 Of course, they are the same fish.
Rebranding is a beautiful thing.
Séchée de Clochard sounds good...doesn't it!
Which brings me to my point: most fish are pretty good, so you don't have to stick to the popular ones to have a good meal. Sure, salmon and tuna are great, but so is the lowly cod! Some fish are intensely flavored, such as bluefish and mackerel, because they are quite oily. They tend to be an acquired taste (I don't like bluefish, but I like mackerel), but there are so many varieties of fish that if you don't like one, there are about 50 more to try.
I'm not even going to get into shellfish. I'll let Artisanal 'ette, who has the stage today, discuss them -- and thank G-d for that. Otherwise I would have had to resort to a thread dedicated to the glory that is New Jersey barbecue.....
Oysters are the most tender and delicate of all seafoods. The stay in bed all day and night. They never work or take exercise, are stupendous drinkers, and wait for their meals to come to them.
-- Hector Bolitho
Rivers, Lakes and Oceans; a bounty of fish, seafood and shellfish.
How often do you eat fish or shellfish?
Raw or cooked?
On the weekends and holidays, are you trolling on a lake, fly fishing, crabbing on the beach, or deep-sea fishing?
Fresh or salt water?
I grew up in a home of generations of hunters and fishermen and women. I was fishing when I was a lil' one; at first with a bamboo pole where I caught catfish and sunfish and bass, and my older brothers were there to help me take the fish off the hook. Then I learned to use a rod and reel, but we never kept them, we tossed them back in. It was the sport and fun, the hanging out with brothers and sisters and friends, and exploring together. Toes in the water, sunshine, a kid's day out. As I grew older, I was able to experience deep-sea fishing; although that is when I found out I really needed motion sickness drugs on the water.
Now I just buy it all, unless I'm with my family, who continue to hunt and fish in season. Many family gatherings were and are still centered around lobster bakes, oyster shucking, blue crabs, and Frogmore stews.
From Shrimp Po'Boys, to steamed crabs, Blackened Salmon, Fish n' Chips, a warm bowl of New England clam chowder, fish tacos, gumbo, paella, lobster bisque, seafood casseroles, anchovy topped tarts and pastry, or Caesar Salads, I love them all. Ceviche is good if it's done right, and safely. The same goes for sashimi, but I tend to stay clear of raw foods these days unless I am sure of the chef/source.
I won't mention how good seafood is for you, the nutritional benefits, or how light in calories it typically is, or how it might boost your libido. Besides, now there are warnings from every corner of the food police world for the dangers of breast feeding, allergies, high levels of metals, and other contaminants or pollution. And, then the man made fishery toxin scare. The claim that the smaller seafood, like anchovies and sardines, or crustaceans are the safest, etc.
I particularly enjoy fresh trout, salmon, tuna, mahi-mahi, shrimp, lobster (bisque, all-time favorite), and blue crabs. I use a lot of the white and other fish for dishes like Fish n' Chips, or Fish Tacos, and also for casseroles, soups and fish stews (like haddock, sole, halibut, cod, etc. Monkfish, used in many European/French recipes isn't easy for me to find, but sometimes I see it available and grab it. I use sole for delicately herbed baked dishes too. Curries, shrimp pad thai, and layered fish and potato gratins. It's all good.
Seafood is so easy and fast to prepare, and tastes so good. I always keep bags of frozen shrimp and scallops in the freezer, because inevitably there comes a time when I have run out of time at the end of the day and need something quick. They thaw in minutes in a colander with running cold water, and you can use them in so many dishes: pasta, salads, stir-frys, or hors d'oeuvres. I make shrimp/seafood broth with the shells when I am in the mood, and freeze that too. I've made risotto's and paella's. So many cuisines and spice choices.
When I crave a lot of seafood and fish, I make a huge creamy seafood casserole with whatever I have on hand, including some potato chunks, spiced with saffron, topped and sealed within the dish with a pie crust. Seafood comfort food.
One of my favorite outdoor grilled meals is Blackened Salmon with drained black beans and wads of fresh baby spinach. All done in a large cast iron pan on the grill, in buckets of melted butter, then topped with sour cream. Yeah.
How about you guys?

******
This is a Bobby Flay recipe that is a nice introduction to seafood. It's a little sweet, a little tart, is pretty easy to make, and doesn't require anything odd, unlike some of his recipes that call for 4 different kinds of chilies. It is written for grilling, but can be easily converted to an indoor dish. Just make it in a big non-stick pan on the stove.
Salmon with Brown Sugar and Mustard Glaze
4 salmon fillets, 6 ounces each
2 tablespoons light brown sugar
1/2 tablespoon honey
1 1/2 tablespoons butter
1 ounce Dijon mustard
1 tablespoons soy sauce
2 teaspoons olive oil
1/2 tablespoon finely grated ginger
Vegetable oil
Salt and freshly ground black pepper

On the side burner, melt the brown sugar, honey and butter in a small saute pan over medium-high heat.
Remove from the heat and whisk in the mustard, soy sauce, olive oil and ginger. Let cool.
Preheat grill to medium heat.
Brush salmon with vegetable oil and season with salt and pepper to taste.
Place the salmon skin side down on the grill.
Coat the flesh of the salmon fillets with the brown sugar mixture.
Grill for 6 to 8 minutes to medium doneness, turning once after 5 to 6 minutes.

posted by Open Blogger at
04:00 PM
|
Access Comments