« Ladies and Gentlemen, Start Your Engines!: NASCAR 2016 - Niedermeyer's Dead Horse
|
Main
|
AoSHQ Podcast #135: South Carolina Primary »
February 21, 2016
Blue Lives Matter, Baltimore Style [Weirddave]
Harford County is a mostly rural county north of Baltimore. Farms and upper middle class housing developments share space with the city's northernmost exurbs and the U.S. Army's Aberdeen Proving Ground. I-95 bifurcates the county to the east, while to the west corn fields and horses are the order of the day. Despite a growing problem with heroin and meth that every jurisdiction in America is struggling with these days, it is generally a fairly peaceful place to live.
All that changed on February 10th. At lunchtime, a mentally disturbed homeless man named Brian Evans entered a crowded Panera Bread in Abingdon and took a booth near the back, acting strangely. Harford County sheriff's deputy Patrick Dailey, a 30 year veteran of the department, responded to the call and approached Evans, asking him if he was in need of assistance. Seeing the deputy's uniform, Evans immediately drew a gun and shot Officer Dailey in the head, killing him. As the crowded restaurant erupted in panic, Evans exited the booth, looking for another cop to kill. He found one outside, ambushing and killing 15 year veteran Deputy First Class Mark Logsdon. Two other deputies then opened fire on Evans, ending his rampage and his life.

Yesterday dawned bright and clear, one of those rare warm February days that remind you that March is around the corner. As a bright sun rose into the brilliant blue sky, the temperature climbed to 60 degrees. At Harford Community College, thousands gathered to pay their final respects to Deputy Logsdon. Deputy Dailey has been lain to rest earlier this week, and now it was Logsdon's turn. Maryland Governor Larry Hogan spoke movingly of those who lay down their life for their friends, and tears flowed freely as a life that ended too soon was remembered.
Soon enough, it was time for Deputy Logsdon to set out on his last patrol. He wouldn't be riding alone, however, as thousands of cars containing brother officers from around the state and across the country formed an honor guard to accompany the deputy to his final post. The procession, consisting of patrol cars both marked and unmarked, motorcycles, ambulances, fire trucks and other emergency vehicles, slowly snaked its way across the two lane roads of Harford County towards Interstate 95.
Now, coordinating the movement and clearing the way for what would ultimately turn out to be an honor guard stretching over 20 miles is no simple task. A small army of State Troopers and Police Auxiliaries spanned out in front of the procession, closing roads and blocking the entrance ramps to I-95, the Baltimore beltway, and I-83. Traffic on the busiest highway in America was halted, and the road cleared out, awaiting the solemn cortege to come.
And then something remarkable happened.
All along the planned route, people out enjoying the unusually warm day naturally asked the troopers blocking the entrance ramps what was going on. When they were told, some went about their business, perhaps grumbling about the inconvenience, but others, many, many others, did not. Cars were parked on the shoulder or in adjacent lots. Flags were produced, children were cautioned not to be too rambunctious and lives were put on hold.
And the overpasses started filling with people. Down below, some cars hadn't continued on their way as the road was closed behind them, but rather had pulled to the side while the people inside got out and stood at respectful attention in the breakdown lane. Oncoming traffic pulled over to the Jersey wall and drivers and passengers did the same. Central Maryland took a deep collective breath and started radiating an almost palpable wave of respect and gratitude.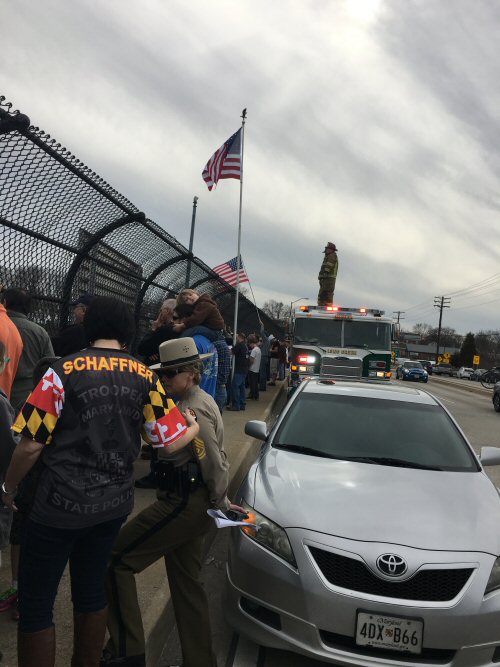 On the overpasses, conversation was muted. People talked to each other in low voices about times cops had positively impacted their lives. Some men reminisced about their time in the service, either public or armed. Women quieted children. Some tears were spilled, and a few men were rigidly braced at full attention while others stood respectfully, hands crossed at the waist. Where I was, Harford Road over the beltway, Long Green FD had brought one of their trucks, lights flashing. Hats were removed, and American flags proudly held aloft. Below us, the procession continued.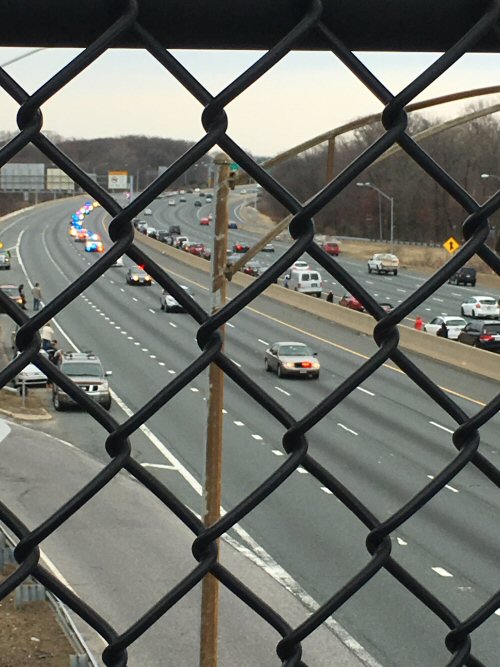 On the beltway, the cars came in groups. Here were the lads from the Eastern Shore, weather-beaten men tasked with riding herd on rednecks and watermen. Now it's Baltimore County, now it's the city boys, their cars a little older than those sported by the more affluent counties, a little more banged up, but shined to the nines anyway. Those city boys are tough, you have to be tough to put on the uniform in the city that bleeds, a city that declared war on its police last year. They know we're here, however, they know. You can see it in the way they sit erect in their seats, you can see it in the clenched fists in their laps. Once in a while one of them will briefly blow their siren in acknowledgment of our respect. They know
Above, a few more police have arrived for crowd control, but there isn't anything that's out of control. I've seen rowdier crowds in church. Instead they make their way through the crowd, slowly, pausing to shake the hands of all the men and women gathered there. They tell us that the same thing is happening at every overpass on the funeral route. "Thank you" they say again and again, and to a man the crowd responds "No sir (No ma'am), thank YOU".
Word quickly spreads through the crowd that the hearse has just passed Bel Air Rd., one exit up. People move towards the fence. Spines stiffen, and others snap to attention, myself among them. I never served in the armed forces, but I believe any Drill Sargent in the world would have been proud of me at that moment. Flanked by four motorcycle cops, Deputy Logsdon passed by on his way to Valhalla.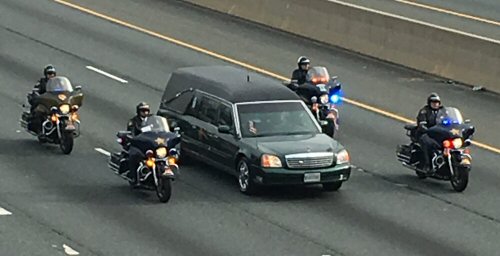 I have fought a good fight, I have finished my course, I have kept the faith
The crowd disperses as people go back to their lives, haven taken 35-40 minutes to recognize what truly matters in this world. You hear a lot about Baltimore in the news, most of it bad, and while there are parts of the city that are lawless and violent, don't you dare tell me that the people of Baltimore don't honor the men and women who put their lives on the line every day to keep us safe. Don't you DARE tell me that.
Ten thousand of us put lie to your slander yesterday.


posted by Open Blogger at
02:24 PM
|
Access Comments