« McConnell Had Better Declare a Pro Forma Session of the Senate
|
Main
|
Thought For the Day »
February 14, 2016
Food Thread: Edible Shot Glasses? [CBD]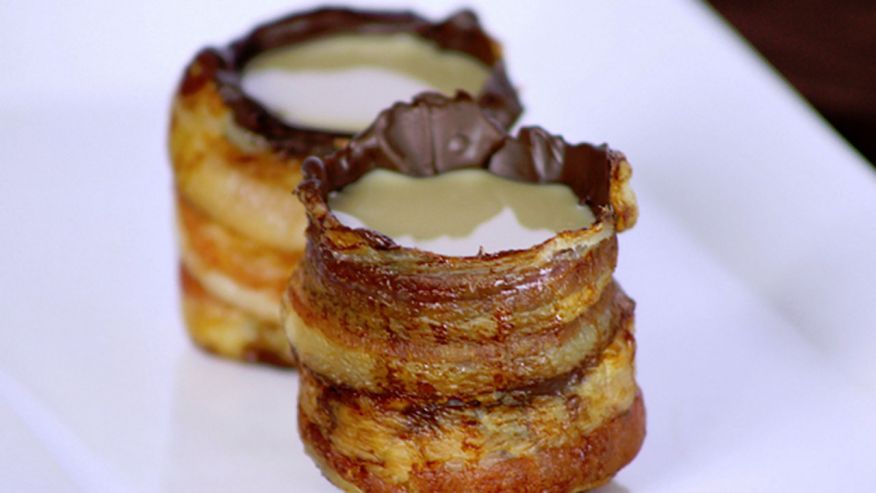 Chocolate and bacon are always good. But what the hell do you do with a shot glass made from them? Just because you can make a shot glass from chocolate and bacon doesn't mean that you should!
******
I have been reading with great pleasure and amusement a well-regarded book about booze -- pretty much everything about it.
Proof: The Science of Booze
, by Adam Rogers is a rollicking ride through alcohol's history; how its made, its effects, its biochemistry, brain chemistry, psychology....like I said....everything.
But this might be the money quote: a Mississippi state senator in the 1950s:
If, when you say whiskey, you mean the devil's brew, the poison scourge, the bloody monster that defiles innocence, yea, literally takes the bread from the mouths of little children; if you mean the evil drink that topples the Christian man and woman from the pinnacles of righteous, gracious living into the bottomless pit of degradation and despair, shame and helplessness and hopelessness, then certainly I am against it with all my power.

But if, when you say whiskey, you mean the oil of conversation, the philosophic wine, the stuff that is consumed when good fellows get together, that puts a song in their hearts and laughter on their lips and the warm glow of contentment in their eyes; if you mean Christmas cheer; if you mean the stimulating drink that puts the spring in the old gentleman's step on a frosty morning; if you mean the drink that enables a man to magnify his joy, and his happiness and to forget, if only for a little while, life's great tragedies and heartbreaks and sorrows, if you mean that drink, the sale of which pours into our treasuries untold millions of dollars, which are used to provide tender care for our little children, our blind, our deaf, our dumb, our pitiful aged and infirm, to build highways, hospitals, and schools, then certainly I am in favor of it.

This is my stand. I will not retreat from it; I will not compromise.
The book is worth a read if you like the confluence of science and popular culture, especially if your library has it. I got it on sale from Amazon for $2.

******
Speaking of drinking, I had a wild cocktail a few weeks ago in a restaurant not far from J.J. Sefton's neighborhood. It was a riff on a Dirty Martini, but without the usual overdose of olive brine that makes me want to gag. It was just a splash of the brine, and the garnish was a spicy/sweet Peppadew pepper. My guess is a 5:1 gin martini with a splash of brine. The bright red pepper was sort of like the prize in a Cracker Jack® box...only better, because it was better than I expected.
******
Has anyone eaten a dish at a restaurant and thought, "Hey! I can make this better!?" Probably all of us. But I found this after following a silly link and realized that the home version of a nondescript Olive Garden soup sounds fantastic!
Zuppa Toscana
might not be an authentic Italian food, but this version has everything I like in a soup.
******
From artisanal 'ette, a great idea.
Maybe you've done this one before.

Kind of like "why didn't I think of that," or "this tip changed my life!"

I was thinking of this while ladling the soup out of the pot for cooling and storing in the fridge. The trick where you scoop, then just "kiss" the bottom of the ladle to the fluid surface, and like magic there are no drips.

I would love to read what other people do. Time savers, enhancers, or organizing, etc.

So....what clever time savers or little tricks do you use in your kitchens? As usual, the best of the lot wins a Platinum Membership with ampersand utility and Troll-B-Gontm

******
There are millions of recipes on the internet, and another several thousand in cook books on my shelves at home, but I have my own favorite sources when I need something that I am confident will work. Tyler Florence (as you may have noticed) is one...Ina Garten is another. There are several more, and America's Test Kitchen is certainly among my favorite solid recipe sources. But here's a dud!
Classic Roast Chicken With Lemon-Thyme- Pan Sauce
looked like an easy variant on the classic roasting technique. Instead of roasting at one temperature, this recipe calls for roasting at very high heat in a preheated cast-iron pan. And then finishing by turning off the oven! Huh? Okay...I'll try it. But after the recommended 20-30 minutes at 450 degrees, the breast was nowhere near done, and another 15-20 minutes wasn't going to get it anywhere near the correct doneness. So in the interest of keeping Mr. Salmonella out of the house, I roasted it for another 30 minutes at 450 degrees with the cut lemons in the pan. I (sort of) followed the directions for the pan sauce and the result was excellent.
Give it a try....but use my modification. The sauce really was pretty damned good, and the chicken was perfectly cooked.

******
Speaking of Ina Garten....
Coconut Macaroons
Ingredients


14 ounces sweetened shredded coconut

14 ounces sweetened condensed milk

1 teaspoon pure vanilla extract

2 extra-large egg whites, at room temperature

1/4 teaspoon kosher salt
Preheat the oven to 325 degrees F.
Combine the coconut, condensed milk, and vanilla in a large bowl.
Whip the egg whites and salt on high speed in the bowl of an electric mixer fitted with the whisk attachment until they make medium-firm peaks.
Carefully fold the egg whites into the coconut mixture.
Drop the batter onto sheet pans lined with parchment paper using either a 1 3/4-inch diameter ice cream scoop, or two teaspoons.
Bake for 25 to 30 minutes, until golden brown. Cool and serve.

posted by Open Blogger at
04:40 PM
|
Access Comments