« Football Sunday in America! - NFC Playoffs Edition - [Niedermeyer's Dead Horse]
|
Main
|
Morning Thread (1-25-2016) »
January 24, 2016
Overnight Open Thread (1-24-2016)
This deprecation of individual freedom was objectionable to me. I am convinced now, as I was then, that man is an end because he is a child of God. Man is not made for the state; the state is made for man. To deprive man of freedom is to relegate him to the status of a thing, rather than elevate him to the status of a person. Man must never be treated as means to the end of the state; but always as an end within himself.

-- Martin Luther King explaining why he considered communism to be evil
Quote of the Day II - Housing Bubble 2.0 Here We Come
Under its new and cynically misnamed "HomeReady" programme, borrowers with subprime credit don't need to show that they have enough income to qualify for the mortgage they're after - they simply have to show that all the people residing in their household put together have enough income to qualify for that mortgage. We're not talking just about husbands and wives here, but any group of people who happen to share a roof and a mailing address. And some non-residents can be added, too, such as your parents. That would be one thing if all these people were applying for a mortgage together, and were jointly on the hook for the mortgage payments. But that isn't the case. HomeReady will permit borrowers to claim other people's income for the purpose for qualifying for a mortgage, but will not give mortgage lenders any actual claim against that additional income. This is madness.

-- Kevin Williamson in From Subprime to Sub-Subprime
I think the real reason is social norms in which men are expected to provide resources while women are expected to look pretty.

-- Glenn Reynolds on why fraternities throw parties and sororities don't
Can Our Government Measure Snow?
Short answer: No. Which is why Reagan National airport reported 17.8 inches of snow despite the fact that nearby residents and every other adjacent reporting station had at least 24 inches.
Even the WaPo noticed this: "it has become apparent. . .through multiple conversations with the weather observers at Reagan National Airport, that the snowfall totals submitted to the National Weather Service for that location have not been measured properly."
Moe Lane on Why People Stockpile Bread, Eggs, and Milk Before a Snow Storm
...because they're perishables that run out quickly when you're making simple, straightforward blizzard foods like French toast, or scrambled eggs, or omelets, or pancakes, or sandwiches for the kids, or what have you.  I mean, this isn't really rocket science, contra the Atlantic. Lots of people have kids, and people with kids need to have an uninterrupted supply of the foods that kids eat. I mean, I may need to walk over to the convenience store myself at some point to pick up some more milk. Hopefully not, but it may happen.
I guess it's panic when other people do it but just covering the dining bases when elite people like Atlantic journalists do it themselves.
On Trump and 'I could stand in the middle of 5th Avenue and shoot somebody and I wouldn't lose voters'
Hooh boy. Don Surber puts Trump's comment in a bit more context but still - it's a pretty odd and rather egomaniacal boast.
"They [the polls] say I have the most loyal people -- did you ever see that? -- where I could stand in the middle of Fifth Avenue and shoot somebody, and I wouldn't lose any voters," Trump said, illustrating his point by pulling his fingers into a gun shape. "OK? It's like incredible."

The crowd laughed and clapped, and someone in the audience shouted out love for the candidate.

"We love you, too, man," Trump said.
The disturbing part is that it's probably more true than not. I figure Trump would lose maybe 10% tops after a random 5th Avenue shooting. And depending on whom he shot he might even gain.
Do Iowa Voters Really Care About Ethanol Anymore?
Apparently not according to this poll. End of the line for corn pandering?
Half of respondents (50%) say they either do not care much, or do not care at all, about the RFS and federal corn ethanol mandates
Fewer than two-in-five (39%) say they want presidential candidates to spend more time talking about the RFS and federal ethanol mandates
57 percent say they do not want candidates to talk about the topic at all
Only one-third (33%) know if any of the major presidential candidates support or oppose the RFS and federal corn ethanol mandates
Euro-Refugee Watch:
Angela Merkel Calls For 'Intensive Action' to Combat Anti-Semitism
While inviting the most anti-Semitic people in the world to come live in her country.
Muslim Group Says Germany Must Ban Alcohol If They Want to Prevent Further Sex Attacks
Excusing Away the Cologne Sex Attacks: "Truth is maybe 1000 men behaved very badly. Thousands & thousands more did not."
German Government Admits It Cannot Account For 600,000 of Its 1.1 Million Asylum Seekers
Germany Will Now Take Refugees' Cash and Gold Before They Can Receive Any Aid
Migrants in Calais Camp Riot, Attempt to Storm Ferry Port to Make Their Way to the UK
The Murder Capitol of Britain Is Also The Town With the Largest Increase in Migrants
RSM on the Pump-and-Dump Feminist
Shorter Reina Gattuso: The Patriarchy stole my orgasm. You can read the longer version of the screed here.
Feminists are simply women who do not like men. They have converted their anti-male hostility into a simulacrum of a political ideology, and expect the rest of us to take their rants and screeds seriously. In the feminist's mind, she is in the position of a tenured professor and we are all a bunch of clueless kids who have signed up for her Gender Studies class. She is an expert, and we are in need of her enlightenment. The subject of today's lecture is the same as yesterday and the day before: "Men Are Bad and Stupid, and You Should Hate Them."

It really is as simple as that. The feminist is a grievance collector, who spends her life cataloguing the wrongs and evils for which men are responsible - that is to say, everything - and encouraging other women to do the same. This endless repetition of gripes and complaints about men is occasionally interrupted by endorsement of some other trendy progressive cause (global warming) as well as predictable electioneering efforts on behalf of left-wing candidates.

...How many times do we have to read variations of this same tired theme? Anything and everything that any feminist decides to complain about is always blamed on "male supremacy." Everybody has been brainwashed by the patriarchy, we are expected to believe, and therefore we need feminists to tell us The Hidden Truth of the Oppressive Conspiracy that, in this example, has cheated Ms. Gattuso out of her orgasm. But the Oppressive Conspiracy of male supremacy is so vastly powerful that it can explain whatever irritates or annoys a feminist. The patriarchy is the Swiss Army Knife of feminism, an all-purpose tool of theory and analysis.
Another Sabrina Rubin Erdely Rape Story Aimed at the Patriarchy Turns Out to be a Huge, Steaming Pile of Crap
ALS Defense Unveils Special Anti-Drone Shotgun Rounds at the SHOT Show
Leading the good fight against our cyborg overlords this year was ALS defense (Amtech Less-Lethal Systems), with their Skynet anti-drone rounds for 12ga. shotguns and 37mm/40mm launchers.  All kidding aside, this is quite a capable antidrone round.  It works by spreading apart a bolo than can entangle the rotor blades as it ascends toward the drone.  The rounds for the 12ga 3 1/2? Magnum can ascend 300ft, and achieve a 9 ft diameter, while the 2 3/4? rounds can achieve a 5ft diameter.  Once they reach the apex of their ascent, the parachute down slowly enough to be caught in one's hand.  The rounds are also non-toxic.  For drones with shrouded blades, steel shot can be inserted into cavities between the pieces of the round.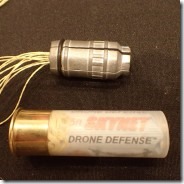 Report: The FBI Has Stopped Processing NICS Denial Appeals
Donald Rumsfeld Helped Develop an iPhone Game
Like him or hate him, Donald Rumsfeld has been a jack of all trades -- and apparently, that now includes mobile games. The veteran politician has teamed up with programmers to release Churchill Solitaire, an iOS game based on the card game that Winston Churchill supposedly played to sharpen his strategic thought processes. Rumsfeld was strictly a creative director (he's not exactly a coder by trade), but his influence is everywhere. Reflections on Churchill's life appear while you're playing, and even the pricing mirrors Rumsfeld's values -- while the base game is free, hints and retries cost money ("there are damn few undos in life," he says).

The title isn't going to make you rethink your views on Rumsfeld, but it might be worth a go if you're not averse to efforts with his name attached. It's not only considerably tougher than regular solitaire, but requires the kind of long-term thinking that's not always present in card games. A careless decision early on can ruin your chances of winning much later.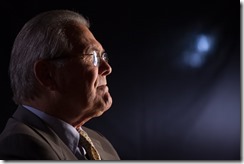 El Salvador Asks Women Not to Get Pregnant Until 2018
Elvis Presley Sings An American Trilogy (Remastered 2015 Version (1080 60p)
Here he sings a medley of Dixie, All My Trials, and the Battle Hymn of the Republic as only the King could do it. If your kids every wonder why Elvis was a big deal, have them watch this video. Every time the horns and guitars come in for the climactic finale to the Battle Hymn I get tingles down my spine.
A Brick Inside a Washing Machine on a Trampoline
Attention Morons: Are You Looking For Single Latin Ladies Who Like Guns, Hunting Pigs, Hiking in the Outdoors, and Aren't Into the Whole Money Thing?
Then read further my friend. And just think  - you with your fancy indoor plumbing, $200+ in savings, and general non-rapey ways could be their dreamboat novio.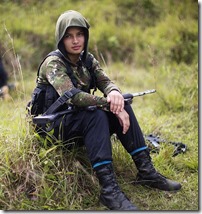 Weekly Commenter Standings
Top 10 commenters:
1 [553 comments] 'ThunderB, Bitchin Betty' [77.63 posts/day]
2 [419 comments] 'Insomniac - Pale Horse/Death 2016'
3 [413 comments] 'Mike Hammer, etc., etc.'
4 [371 comments] 'Ricardo Kill'
5 [370 comments] 'Grump928(C) says Free Soothie!, with purchase of commenter of equal or greater value'
6 [362 comments] 'L, Elle'
7 [346 comments] 'Ghost of kari'
8 [334 comments] 'Anna Puma'
9 [333 comments] 'Nevergiveup'
10 [333 comments] 'J.J. Sefton'
Top 10 sockpuppeteers:
1 [99 names] 'Teh Hoodie' [13.90 unique names/day]
2 [62 names] 'Amy Schumer'
3 [56 names] 'Caitlyn Jenner'
4 [53 names] 'Prince Ludwig the #Problematic'
5 [48 names] 'The Political Hat'
6 [43 names] 'Adriane the Technophobe ...'
7 [41 names] 'Cicero (@cicero)'
8 [32 names] 'Mugabe Giffords'
9 [31 names] 'Grump928(c) says Free Soothie!, with purchase of commentor with equal or greater value'
10 [31 names] 'andycanuck'
The group. Banned on 12 universities.
Where it's at - the Twitter
Tonight's post brought to you by they see me rollin', they hatin':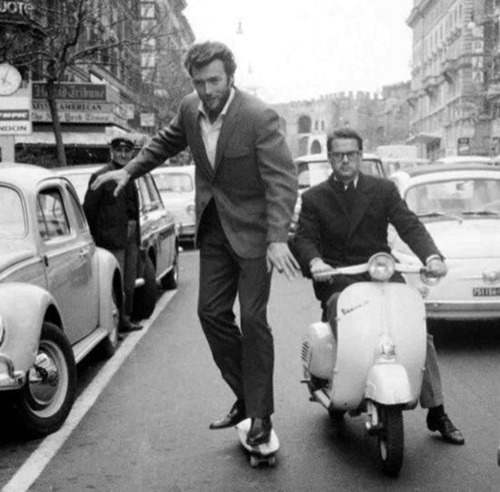 Notice: Posted by permission of AceCorp LLC. Please e-mail overnight open thread tips to the AoSHQ fax line. New blog policy: No non-mammalian service animals allowed in the ONT.

posted by Maetenloch at
11:06 PM
|
Access Comments