« Obama And Ryan Plan To Meet [CBD]
|
Main
|
Ah....Eugenics Next? [CBD] »
January 23, 2016
Saturday Gardening Thread: State Department Edition [Y-not and KT]
**FOR IMMEDIATE RELEASE:
SPECIAL DISPATCH FROM THE U.S. DEPARTMENT OF STATE**
The National Weather Service has declared a blizzard warning to be in effect from 3 PM Friday, January 22 until 6 AM Sunday, January 24. The Office of Personnel Management AoSHQ closed federal co-blogger offices at noon Friday. The Washington Metropolitan Area Transit Authority has announced that bus and rail service will be suspended over the weekend. Because the Clinton email Saturday Gardening Thread team must perform its work onsite in the dumpster behind the train station this storm will disrupt the Clinton email Saturday Gardening Thread team's current plans to work a significant number of hours throughout the upcoming weekend and could affect the number of documents Saturday Gardening Thread content that can be produced on January 29 23, 2016.

Y-not:
A good many of us are "enjoying" Snowmageddon. Here at my new Old Kentucky Home the outside world has been transformed by about a foot of snow into an Eyvind Earle serigraph: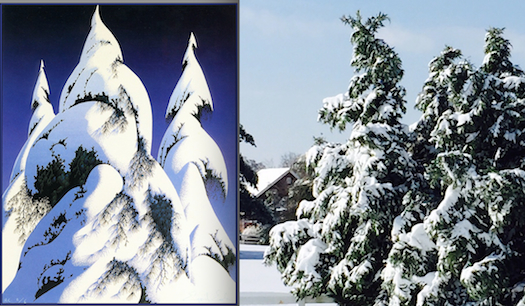 It looks like we'll lose at least one of our Eastern cedars, unfortunately.
**Update: The tree I'm worried about is on the left.**


Our neighbor has definitely lost at least one large evergreen (it appears to be uprooted, whereas our tree is just very bent), as has the golf course behind us. Such a shame, but when you get an ice storm immediately before a foot of snow, I don't think there's much that can be done.
The incomparable KT sent a lot of great content this week, but I re-injured my arm shoveling, before I had formatted the thread. So my sincere apologies to her and all of you for this abbreviated thread.
In the meantime, if you're also facing storm damage to your trees, here's a link from the NC State cooperative extension office that may be of some help.

Open thread.


posted by Open Blogger at
04:10 PM
|
Access Comments