« Postprandial Christmas Open Thread
|
Main
|
EMT 11/26/15 [krakatoa] »
December 25, 2015
Overnight Open Thread (Christmas Edition)
Misanthropic Humanitarian has graciously provided tonight's ONT. Merry Christmas you morons!
Luke 2 King James Version (KJV)
2 And it came to pass in those days, that there went out a decree from Caesar Augustus that all the world should be taxed.
2 (And this taxing was first made when Cyrenius was governor of Syria.)
3 And all went to be taxed, every one into his own city.
4 And Joseph also went up from Galilee, out of the city of Nazareth, into Judaea, unto the city of David, which is called Bethlehem; (because he was of the house and lineage of David)
5 To be taxed with Mary his espoused wife, being great with child.
6 And so it was, that, while they were there, the days were accomplished that she should be delivered.
7 And she brought forth her firstborn son, and wrapped him in swaddling clothes, and laid him in a manger; because there was no room for them in the inn.
8 And there were in the same country shepherds abiding in the field, keeping watch over their flock by night.
9 And, lo, the angel of the Lord came upon them, and the glory of the Lord shone round about them: and they were sore afraid.
10 And the angel said unto them, Fear not: for, behold, I bring you good tidings of great joy, which shall be to all people.
11 For unto you is born this day in the city of David a Saviour, which is Christ the Lord.

Leading up to Christmas is autumn. Depending where you are in the continuous 48, Alaska and Hawaii you might have leaf problems. Or in our case pine tree needle problems. Here's an ingenious father exposing his son to work while teaching him to use Moar power. Future 'ron?

Many of the Horde have pets. Have you ever thought about putting them to work at Christmas time? I think pets can lead the Moron lifestyle too.

Some of you travel over the river and through the woods to see Grandma & Grandpa at Christmas too. Did you ever think about that bridge and how it was built? I have always been fascinated by bridge construction. Had I only applied myself, right?

How many of you have a real Christmas tree up? Ever wonder how the trees get to market? High tech.

I use to live in an area that had numerous Xmas tree farms.
It's a time consuming and labor intensive endeavor
.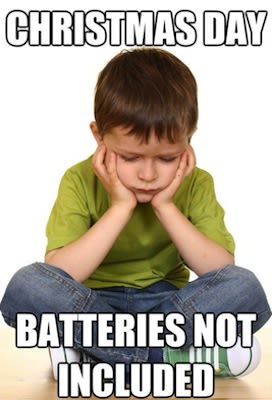 Looks like me as a child when I found out I didn't get the pet raccoon for Christmas that year. A pet raccoon is odd, don't you think? Did any of you Morons have odd pets as a child growing up? Did you receive any odd Christmas gifts? Have you ever given any odd Christmas presents? Did anyone forget the batteries this year?
Speaking of presents, I never had a BB gun. As a matter of fact I know 2 people who shot an eye out with a BB gun. My father thought it was safer for me to have a H&R 20 gauge single shot shotgun for a Christmas present when I was 12. Unfortunately, I lost that gun in a boating accident while duck hunting many years ago. How many here have received or given a BB gun for Christmas?

Do any of you folks celebrate the 12 days of Christmas? If you do, you must have a lot of time to shop. There are 364 gifts mentioned in "The Twelve Days of Christmas". That has to be true, I read it on the internet. Did you know that The Puritans forbade the singing of Christmas carols? Who knew today's Progressives were Puritans? Other interesting Christmas facts you can awe friends and family can be found here.

Wouldn't you rather discuss these than the benefits and blessings of Obama Care? OK, no more politics.

One of the traditions that my better half brought into our home is making my mother's recipe of fruit cake. This recipe is very close to Mom's. She uses brandy instead of rum and there are no cranberries in her recipe. I love fruit cake if it's done right.

Peace on earth good will toward cats.
Since it is still Christmas, how about some Christmas Carols, rock 'n roll style?


The NCAA & NFL are attempting to attract more women fans. Both organizations are marketing clothing for women. Get ready for this onslaught on TV in the upcoming weeks.


I'm guessing these folks were on Santa's Naughty List this year. Did they get coal? Not if President 4Putt and the EPA had their way.
Shop With A Trooper parent leaves Morehead Walmart in handcuffs. Not father of the year material.
Man Wearing Tin Foil Hat Faces Firearm Raps. Let me guess he will also receive a promotion and bonus from Lois Learner.
Cops: Man Said He Stole Taxi Because He Did Not Want To Walk Six Blocks To His Home.
Cops: Florida Woman, 23, Used Periscope To Live Broadcast Her Drunk Driving.
7' 4" Man Busted For 7-Eleven Armed Robbery.
Maetenloch quotes Mark Styen frequently. I find Steyn brilliant in so many ways. Now I find him musically quirky as well.

Tonight's mandated warning by some Alphabetical Named Federal Agency.

CONTACT YOUR DOCTOR IMMEDIATELY AFTER READING THE ONT if you experience sharp or crushing chest pain; sudden shortness of breath; sudden leg pain; sudden severe headache, vomiting, dizziness, or fainting; changes in vision; numbness of an arm or leg; slurred speech; one-sided weakness; sudden unexplained weight gain; change in amount of urine produced; severe or persistent stomach pain; vomit that looks like coffee grounds; black tarry stools; itching, reddened, swollen, blistered, painful, or peeling skin; yellowing of the skin or eyes; dark urine; right-sided tenderness; severe or persistent tiredness; fever, chills, or sore throat; severe or persistent nausea; swelling of hands, ankles, feet, face, lips, eyes, throat, or tongue; difficulty swallowing or breathing; or hoarseness
Notice: Posted by permission of AceCorp LLC. You may send tips, cash & unopened bottles of Valu-Rite to ace. Or you can keep them for yourself because at this point, what difference does it make?
Open Blogger-Misanthropic Humanitarian

posted by CDR M at
10:15 PM
|
Access Comments