« Woman Drives Car Into Las Vegas Strip Sidewalk In "Deliberate Act," Killing One, Injuring Dozens
|
Main
|
Good Lord, Steve Harvey Announces the Wrong Name of the Winner in Miss Universe Pageant »
December 21, 2015
Boeing 777 Flight From Mauritius to Paris Makes An Emergency Landing In Kenya After a Fake Bomb Is Discovered in the Bathroom
Do you want to see my invention?
The Boeing 777, on its way from Mauritius to Paris, was evacuated at Mombasa airport and the suspicious device taken away for examination.

Air France chief Frederic Gagey later said it was made of a cardboard box, paper and a timer.

He described it as an "extremely aggressive act".
Nah. It was an invention. Invite him to the White House.
Cool clock, kid!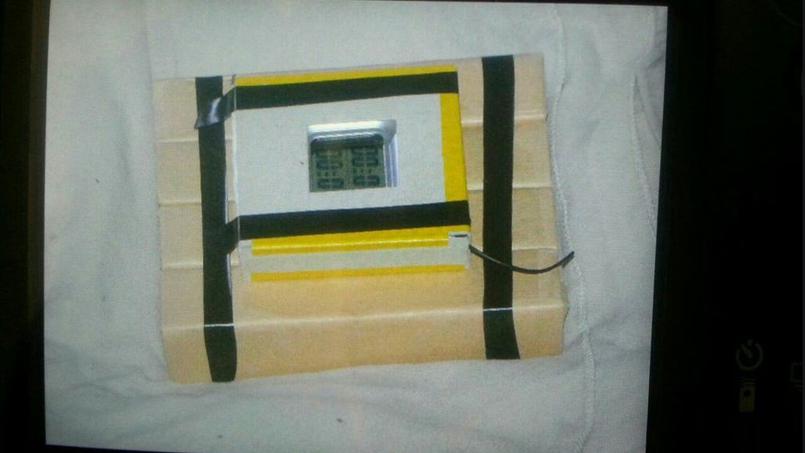 The fake bomb. Note the prominent ticking
digital clock which screams "I am a bomb."
This French account describes a man interviewed in connection with the incident, retired policeman who had aroused suspicions when he kept going to the bathroom.
The cost of 500,000 euros was caused by the alarm on the Boeing 777. A former policeman was in custody, then released Monday.

Monday night, the border police released the retired policeman who they'd interviewed since the morning after the discover of a simulated bomb in the toilets of flight AF 463 before reaching Paris from the island of Mauritius. Picked up without incident at 6:50 am. on the tarmac of Roissy, the former civil servant was put in custody [by] an inquest opened by the court of Bobigny for "hindering the navigation of the skies and putting in danger the lives of others." His companion (girlfriend, live-in girlfriend?) had been interviewed as a witness.

58 years old and retired for 8 years, the former policeman had aroused suspicions by taking many trips back and forth to the restrooms in which the object was discovered, in a little box cupboard behind a mirror [they have those in airplane bathrooms?!], by a passenger surprised by a worrying ticking...

The civil servant set free, the biggest mystery remains then the identity of the person who had concocted the device, assembling it, in all likelihood, from its component pieces in mid-flight.

Seems like an Inspire magazine DIY project.
Part of the reason they're saying it must have been assembled in mid-flight is that they're saying they would have spotted it in its assembled form had it gone through security.
Yeah, I don't know about that. A lot of this crap gets through.
One thing I cut out of the piece, which is important, is something I couldn't translate-- but I think it might mean they were hesitant to charge him because his frequent trips to the bathroom were explained by his prostate condition.
So this guy actually might be innocent, and his troublesome prostate might have alerted passengers despite having nothing to do with the bomb -- and then those suspicions led to the discovery of the fake bomb.
Like I said, that sentence baffled me. This is my best guess.
The evacuation was costly partly because the emergency air-chutes had been used in the evacuation. I guess those cost a lot of money to replace.

posted by Ace at
04:24 PM
|
Access Comments