« Morning Thread (12-17-2015)
|
Main
|
Thursday Morning News Dump »
December 17, 2015
The Book Fetish
[Note: I've been away for a long time, babies. Apologies for the long absence. Consider this a peace offering.]
What happens when homes have no books? (You'll have to imagine me saying these words in a rather aghast tone, much as one might use when asking what happens in homes that don't have flush toilets.)
Well, fear not. The question is misphrased. The problem is not houses without books, as it turns out -- the problem is houses without engaged parents.

They have this thing called the internet now, where all sorts of things are available to read at little or no cost. Written matter on the internet is far, far cheaper than a personal library of paper books. And less of a hassle to store and move (trust me on this one -- my personal library at one point encompassed more than three thousand volumes, and when I moved, boxing and moving that vast mountain of paper was the biggest headache of the whole process).
I'm all for getting kids to read and love reading, but this fetishization of books sort of misses the point. Reading books isn't like eating brussels sprouts, or at least shouldn't be -- books at their best provide food for the mind and balm for the heart; adventure, romance, hilarity, insight, solace, and pure information. But those things can be had from other media -- a book is a way to gain that information, it is not the only way. I am second to no one in my appreciation for the power of the written word, but that power can be delivered in any number of ways these days apart from being printed on paper and being bound between two covers.
I've often said that my Amazon Kindle re-ignited (appropriately enough, given the name) a passion for reading that had begun to cool as I grew older. Part of the problem was that my eyesight has gotten worse, and I found much of the print in my vast collection of books too small to read comfortably. I'm also an omnivorous reader and I crave variety: I often have two or three different books going at the same time. But since my taste in books tends to involve large heavy tomes, carrying all these books with me all the time is burdensome to say the least. The Kindle allows me to have every book I own with me at all times, and in any print size from small to VERY LARGE, depending on how fatigued my eyes are. The Amazon Kindle (and its e-reader brethren) are the best thing to happen to the written word in centuries, in my opinion. They're not flawless, certainly, but neither is the paper book.
It bugs me when people substitute the word "book" for "reading". I do a lot of reading -- a LOT of reading -- but I rarely crack an actual book these days unless I absolutely cannot find it for my Kindle. (As happened with Orlando Figes' A People's Tragedy, alas.) The problem besetting poor kids is not so much a lack of books as it is a lack of responsible adults in the house who invest the time and effort to engage them in reading -- whether the written words are in book or on an LCD screen. What's lacking here are not bound slabs of paper, but engaged parents.
And for adults? Reading of so-called "serious literature" has declined in recent decades because a lot of so-called "serious literature" is shit. The general cultural debasement started to exhibit first in the turgid academic book field, and since has metastasized out into every field of literary endeavor. Even the sci-fi and mystery ghettos have been infested with the rot of post-modernism and race/class/gender nonsense. And where that has not happened, we get the sub-adolescent rot of stuff like Twilight or its many imitators. This is the modern equivalent of the penny-dreadful, and serves as proof that just because it's a book, that doesn't mean the words inside of it are any guarantee of quality or even coherence.
It may be that most people these days eschew books for more engaging audio/visual entertainment, but that's hardly surprising: that's been the norm for most of our tenure on earth. Human beings are geared to prefer direct audio/visual stimulus over abstract symbolic input. The ability of common people to buy and consume printed books is a fairly recent one in human history -- until the 18th century, most common folk couldn't afford many books, and probably couldn't read them either (literacy being nowhere near as universal as today). And in any case most of them wouldn't have the time to while away reading -- it was an age of manual labor and no electric light. You worked the daylight hours away, and when it got dark you went to bed.
I guess what I'm saying is: there are certainly worse things than being a lover of books, but be sure you're loving the content of the book. (You can love the actual book as well, I guess, as an object of pure art or craft, but that's a different thing.) And remember that the content of the book can be delivered in any number of ways. Don't fetishize the delivery vehicle.
UPDATE: stevegg says that a proper peace offering would involve a picture of a feline reading a book. Very well.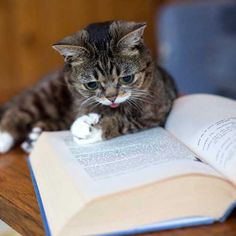 posted by Monty at
08:46 AM
|
Access Comments