« Football Sunday in America! - [Niedermeyer's Dead Horse]
|
Main
|
Football Thread: Late Game Edition [CBD] »
December 13, 2015
Food Thread: Knives: They'll Cut You In The Strangest Places [CBD]
My favorite knife is a 5 1/2 inch chef's knife from J.A. Henckels. It's got a well shaped handle so it's very comfortable and stable to hold, and the curve of the blade is perfect for rocking it back and forth to mince onions and garlic. It's also small enough for fine work, but hefty enough for cutting through joints and carrots and other foods that require some force behind the knife.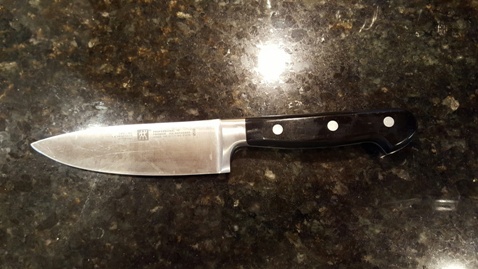 But....The top of the blade is squared off, and the edges are so sharp that if I am not careful I can cut my fingers.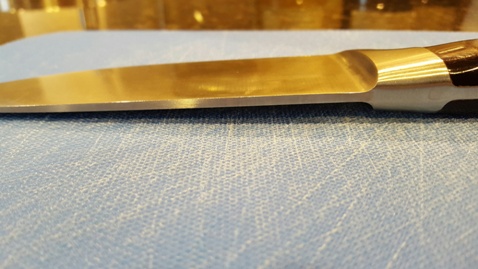 I wonder what the designers were thinking? The spine is wide enough to control the knife, and the loss of a few hundredths by smoothing the corner wouldn't change that. Maybe they just wanted to show off how precisely they could manufacture their knives?
Whatever the reason, the next time I get this knife professionally sharpened I will have the guy smooth those edges. But I do that so infrequently that I am resigned to bleeding all over the cutting board now and then.

******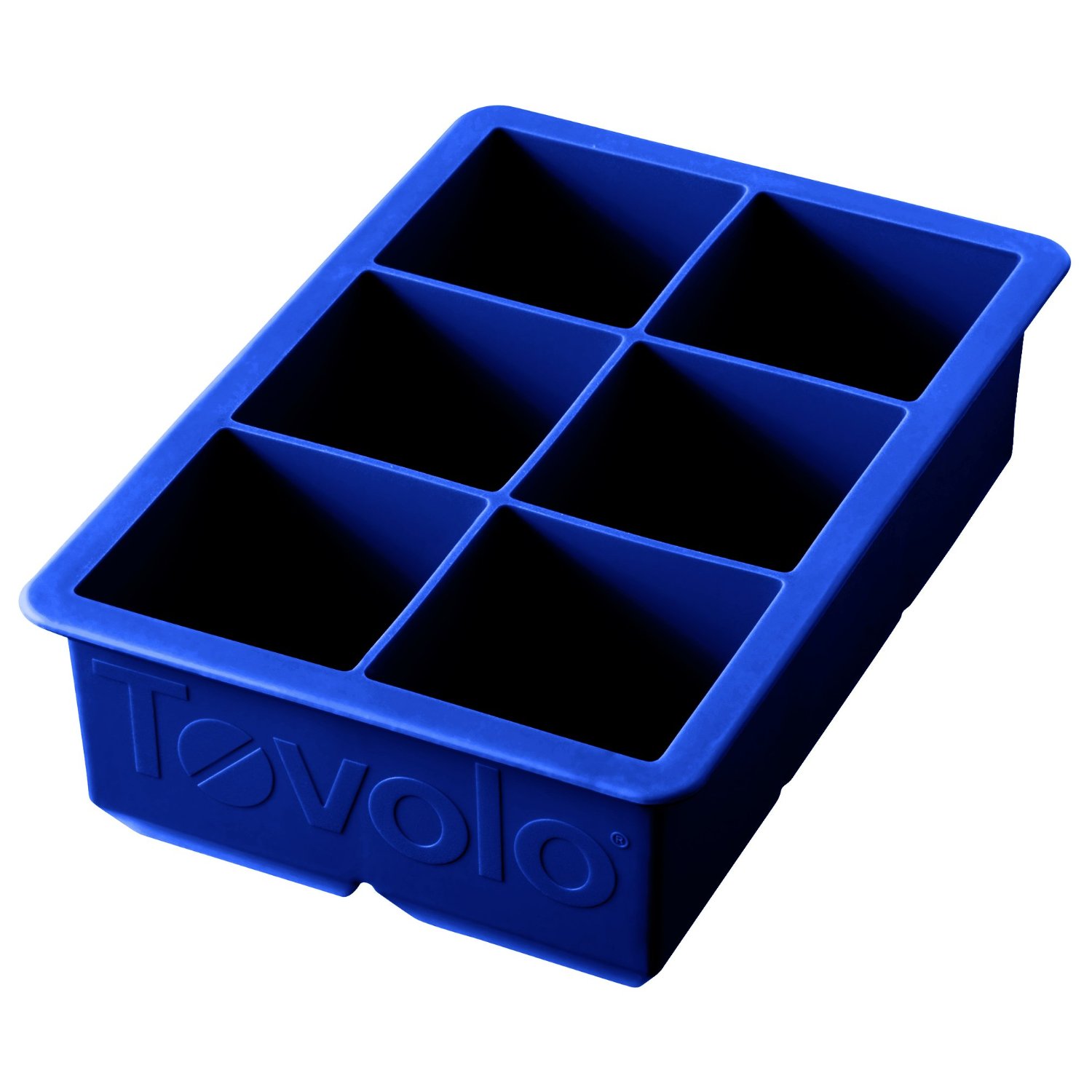 Ice is an ingredient in cocktails, and not just for its cooling power. Alcohol is hydrophilic, and absorbs the melting ice quite readily; smoothing out the drink and easing the alcohol bite. But tap water is processed to be safe, not to taste good, and many of us suffer from crappy-tap-syndrome. The water around here is pretty shitty, and when I make ice for cocktails from it I notice the flavor, especially toward the end of the cube's life. There is a sciency explanation for that, but simply put is all of the crap in the water being concentrated in the last bit of unfrozen water, which is usually in the middle of the cube.
So I used filtered water for ice cubes, but still got the hazy, bubbly look of a hastily made ice cube. Then I tried boiling the water to drive out as much of the dissolved gasses as I could. And while that helped, it still did not yield clear cubes. One issue that I have discovered through experimentation is that the slower the water freezes, the clearer the cubes. But I keep my freezer very cold, for all the obvious reasons. And while I obsess about many things, taking three days to make six ice cubes may be too compulsive even for me.
Any suggestions? Maybe I should use this mold....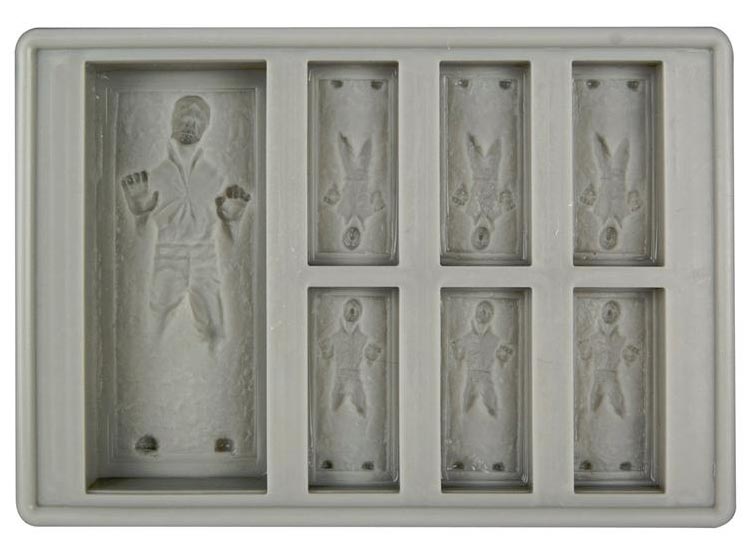 ******
Alexandra's kitchen is a nice cooking site, but I visit it for the photographs as well. And this recipe she just put up has some great ones!
Cacio e pepe
is a deceptively simple dish. It has very few ingredients, but as most of us have discovered to our chagrin, it is easy to screw up when the balance between the ingredients in a simple dish is just a bit off. But try it anyway...maybe a few times, and note how different the dish will be with surprisingly minor changes.
******
I teased artisanal 'ette's red beans and rice recipe last week, so here it is. And notice that she notes changes whenever she deviates. That is smart.
Here's the chicken scratch that I wrote down (which had no proportions, etc, so I add my estimates -- I, like you, most likely, customize a recipe as you go and to taste, plus whatever you have on hand). Below it, were more of my hand written notes as I added to the recipe over time from other recipes or ideas.
Red Beans and Rice
Serves 6 (maybe...)


2 cups dried red beans

2 1/2 quarts water

3T bacon fat (or shortening if you do not have the fat)

1 large chopped onion

1 small chopped green pepper

1/4 lb salt pork or ham bone (whatever you have on hand)

1 pod garlic

1 bay leaf

2T chopped parsley

1 1/2 cups uncooked rice

salt and pepper to taste

Optional ingredients (my additions, depending on what I have on hand)


1 rib celery, chopped

1 small hot red pepper, chopped

1/4 tsp dried thyme

1/4 tsp dried oregano

1/2 lb garlic or smoked sausage, sliced thin

1T cider vinegar

For cooking rice, if you want to add more flavor to the rice while cooking it:
chicken broth versus water
diced cooked ham (1/2-3/4 cup)
1. soak beans in water overnight
2. melt fat in iron pot and saute onion, green pepper (and celery if using; could use some leaf tops, too)
3. add beans, soaking water, plus additional water to make 2 1/2 quarts, pork or ham bone, garlic, bay leaf (and if using, any or all of the red pepper, thyme, oregano, sausage and cider vinegar)
4. simmer slowly 3-4 hours or until creamy (may be less)
5. season to taste
6. add parsley
7. serve over cooked rice with chopped red onion sprinkled over each portion
8. serve with hot sauce as condiments, of course!


posted by Open Blogger at
04:00 PM
|
Access Comments