« Trump Says Something New, Both Political Establishments Heavily Invested in Legacy Failure Freak Out, Again
|
Main
|
Morning Thread (12-9-2015) »
December 08, 2015
Overnight Open Thread (12-8-2015)
Quote of the Day - Rarity of Courage Edition
Like Mark Steyn I've been doing these 'defend free speech' gigs for some years now and as Mark recently mordantly observed, I also sometimes wonder why I keep ascending up the running order only to realise that it's because everybody who used to be ahead of me is either in hiding or dead.

...In answer to new readers, I'm afraid for security reasons I can no longer give advance notice of speaking engagements. Hope this changes.

-- Douglas Murray
So Would a Complete Shutdown of Muslim Immigration Be Constitutional?
The consensus seems to be that foreign immigrants can be turned away for any reason at all - including religion - it's strictly up to Congress to set the rules. But refusing entry to Muslim American citizens solely due to religion would almost certainly be unconstitutional.
L.A. Times Editorial: Should people on the no-fly list be able to buy guns? Yes.
The Nation: The Terrorists Arsenal Was As American As Apple Pie
And no I don't think they're just being snarky here.
Many in the media say it suggests a level of planning typical of terrorists. But, in fact, millions of Americans have that kind of "arsenal" at home. The AR-15 is the most popular gun in America-around 8 million have been sold. Two thousand five hundred rounds of ammo for the AR-15 seems horrifying to an anti-gun, middle-class liberal like me-that's enough bullets to kill 2,500 people!-but, in fact, ammo is sold in 1,000-round boxes, and it's not unusual for gun owners to buy several boxes when the price is low.

I asked Marc Cooper about it-he's an award-winning journalist and a friend who's also a gun person. Two thousand five hundred rounds? "Believe it or not, these are modest amounts of ammo," he told me. "A gun hobbyist, a target shooter, can easily go through 500 rounds in one two-hour visit to the range. The amount found in this guy's apartment in no way by itself indicates anything strange."

Another friend said, "It's like buying 48 rolls of toilet paper when you go to Costco."

If possessing two AR-15s and 2,500 rounds of ammo makes you a terror suspect, then we need to investigate several million Americans, most of whom are older white men-and Republicans.
Where The Hate Crimes Really Are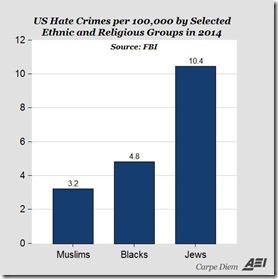 Hero From London Tube Stabbing Furious at Ghouls Who Just Stood Around Filming As He Fought the Attacker
An engineer told last night how he fought a terror suspect while fellow Tube passengers filmed on their mobiles.

David Pethers, 33, said he and another commuter took on the knifeman to protect passing children.

The maniac tried to decapitate one victim while shouting 'This is for Syria'.

Mr Pethers was also slashed in the neck in Saturday night's incident but managed to keep up the fight until police arrived. 'There were other adult men standing there, just filming it on their phones,' he said last night.

...'There were so many opportunities where someone could have grabbed him. One guy came up to me afterwards and said "well done, I want to shake your hand, you are the only one who did anything, I got the whole thing on film".

'I was so angry, I nearly turned on him but I walked away. I thought "Are you crazy? You are standing there filming and did nothing". I was really angry afterwards. I had to go for a walk for about two hours to calm down.'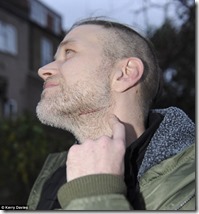 American Intelligence Doing Poorly in Cold War II
One interesting tidbit from the article is that spies are more and more carrying guns during their operations.
After the War on Terrorism began, the Cold War rules began to rapidly disappear. For one thing, Afghanistan, Pakistan, and Iraq, along with most places that CIA officers operate today, are actual war zones with nothing "cold" about them. During traditional peacetime case officers don't really have to worry about their own safety, just that of their informants. Once you get involved with terrorists or an actual shooting war starts, all of that changes, and intelligence officers (whether CIA or Army Intelligence) become major high-value targets for terrorist and insurgents. Since 2001, over a dozen (the exact number is classified) CIA officers have been killed in the line of duty. In short, the espionage business has gotten far more dangerous in a very short period of time.

This has necessitated a number of dramatic changes in the way the Americans, British, and other professional intelligence services do business where they are needed most (in war zones). For one, the spooks are getting strapped. Case officers working in places like Pakistan, Afghanistan, and even Egypt routinely carry handguns everywhere they go to defend themselves should the need arise. During the Cold War this was unnecessary and generally considered a stupid liability since being caught with a weapon would probably get you booted out of the country you operated in. Not anymore.

Besides carrying guns, agencies and case officers are paying extra attention to things like counter-surveillance, disguises, and evasive driving. Carrying a sidearm is necessary for a case officer working in a city like Karachi or Kabul, the truth remains that getting into a gunfight is still the last resort and should be avoided at all costs. Case officers know that the most effective way to avoided being a terrorist target is to avoid following the same routines every day, varying routes to and from work/meetings, never sleeping in the same safe house for too long, and generally making one's life as varied and unpredictable as possible.
NATO: Umm we're going to pass on the whole ground troops thing against ISIS too, thanks
Of the 653 Detainees Released From Gitmo, 196 Are Confirmed or Suspected of Being Back on the Battlefield
What Kind of Person is Sad About So Few Rapes on College Campuses?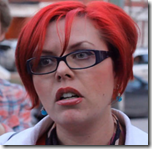 The Navy's Newest Destroyer, the USS Zumwalt, Is Commanded by....Captain James Kirk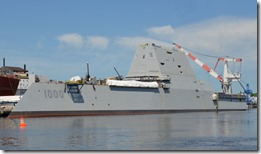 Master Sergeant Roddie Edmonds of the US 422nd Infantry Regiment was captured during the Battle of the Bulge and soon found himself the senior American officer of the Stalag IXA prisoner of war camp. When the Germans tried to separate Jewish soldiers from the other POWs Edmonds had a pretty good idea what they had in store for them.
When Nazi guards demanded all Jewish prisoners report the following morning, in a move reminiscent of the movie Spartacus, Edmonds instructed all soldier inmates in the camp to show up alongside their Jewish comrades.

When camp commandant Major Siegmann saw the entire American contingent standing and identifying as Jews he exclaimed, "they cannot all be Jews," and Edmonds replied, "we are all Jews."

Siegmann then drew his pistol on Edmonds, who coolly responded that "according to the Geneva Convention, we only have to give our name, rank and serial number. If you shoot me, you will have to shoot all of us, and after the war you will be tried for war crimes."

Outfaced by Edmonds, the commandant turned and walked away.
The Germans backed down and eventually treated the Jewish POWs the same as other American POWs. Roddie Edmonds died in 1985. Last week he was posthumously recognized as Righteous Among the Nations.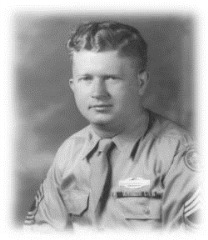 Reviewing the Cheapie $3 Chinese Flashlights
I've got a bunch of these that I keep filled with rechargeable batteries. They work fine for me and if I break or lose one, it's no big deal. Most work with Li-ion 14500 3.6V batteries too (same form-factor as AAs) for extra light output.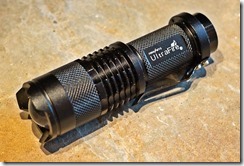 Intense Police Chase and Gunfight That Happened in Seattle on Sunday
The driver was eventually shot and killed by police at the end of the video.
18 Scams Everyone Should Be Aware Of
Why oh why hasn't the Home Depot-McDonalds-Girls scam ever happened to me?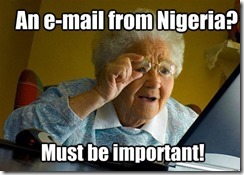 Second Look at Zuism - The Religion of Ancient Sumerian Gods and Tax Rebates
WTB One Healthy Baby For My 14 yo Daughter, No Disableds Pls
The Yahoo group is for closers only.
Teh Tweet!
Tonight's post brought to you by the 1960s-era CIA rectal escape kit: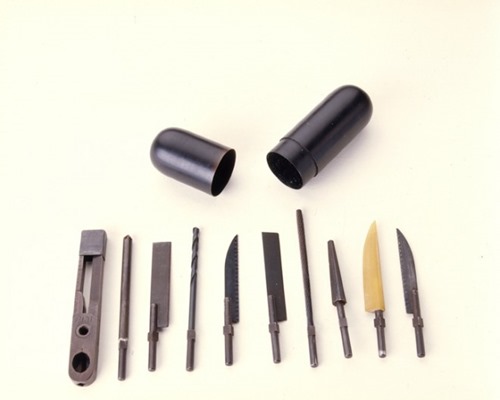 Notice: Posted for AceCorp LLC. Do not open the pod bay door until you are told to by authorized personnel.
Reminder: the old New Banning Policy is still very much in effect.

posted by Maetenloch at
09:44 PM
|
Access Comments